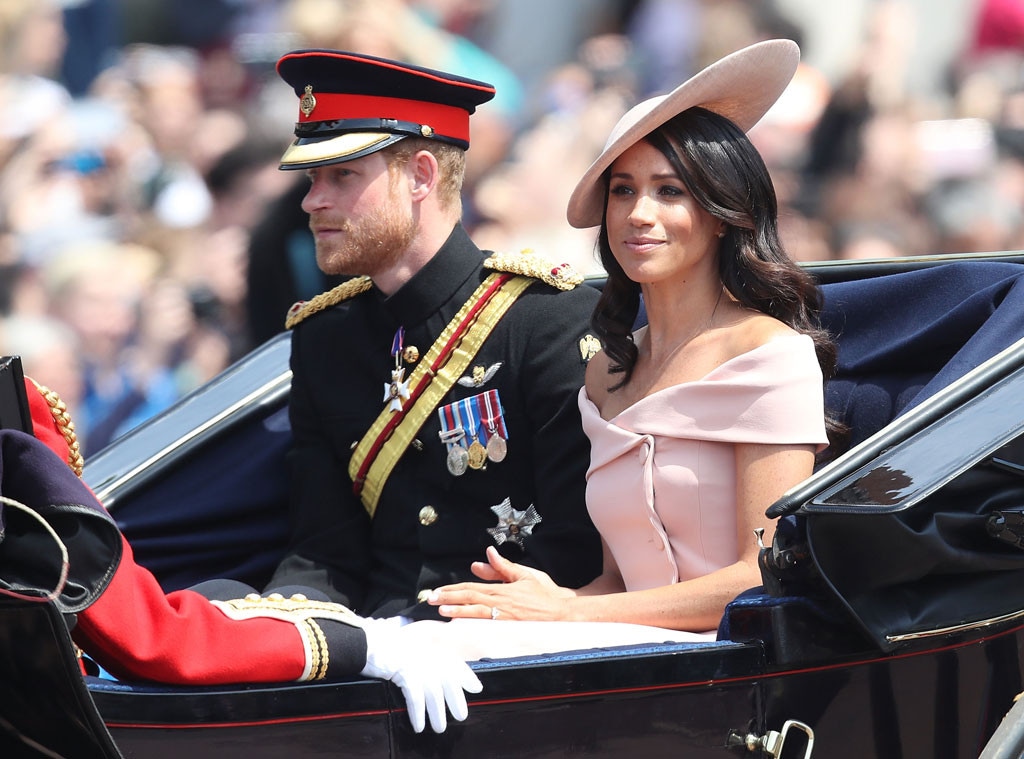 Chris Jackson/Getty Images
Prince Harry's new wife Meghan Markle was pretty in pink and appeared to break royal protocol again with her outfit at her first Trooping the Colour parade, where she made her Buckingham Palace debut.
At the annual event, a belated birthday celebrating for Queen Elizabeth II, who turned 92 in April, Meghan, Duchess of Sussex, wore a blush, off-the-shoulder, buttoned Carolina Herrera skirt suit, paired with a Philip Treacy hat. Members of the royal family typically cover their shoulders at royal events.
"Meghan looked very much regally appropriate for such an important royal event," Amanda Dishaw of Meghan's Mirror told E! News. "Wearing a chic pink bespoke Carolina Herrera skirt suit, she still managed to have exposed shoulders that were an unexpected touch when compared to the royal women looks of the past—a subtle nod to her style looks of the past with a widely exposed boatneck that exposed clavicles never seen on the balcony at Buckingham Palace before! We loved that she was still very much Meghan while also still embracing her role as the Duchess of Sussex."
"Meghan's new role in the Royal Family is one that she's carving out for herself - and seeing her skirt some of the unspoken rules of royal fashion (such as baring shoulders and clavicles) on the balcony at Buckingham Palace is just one of the ways she's figuring out how to blend her personal style with the role in which she now occupies," Dishaw said. "It's definitely understood that there would not have been any looks today that would have been too far past the line, as Meghan was gathered with the entirety of Harry's family, but we can't think of another time when so much skin was on display at such a formal event. Meghan just chose to show skin in such a way that was still classic and elegant."
Meghan paired the look with Birks jewelry, which Dishaw said was "obviously now looking to be Meghan's jeweler of choice" and which were "a nice nod to her Canadian "roots" (whilst not being Canadian) while also still including more diamonds as befitting her new status."
Meghan also had her hair styled in a bouncy blowout.
"We also loved how her flowing hair was down in majestic curls and we can't ignore the huge smile on her face," Dishaw said.
The duchess has often broken royal protocol by wearing her hair in a messy bun at royal events. She also showcased a similar hairstyle at her and Harry's wedding and showed some skin with a Givenchy wedding dress that had a bateau neckline.
This marks Meghan and Harry's first joint public appearance since they attended a 70th birthday celebration for Charles on May 21, three days after their wedding, and following recent reports that they had been on honeymoon. Kensington Palace has not confirmed the trip. On Friday, Harry attended a charity gala solo.
"It must have been quite a moment to step out onto the balcony at Buckingham Palace for Meghan—seeing the crowds and the pomp and pageantry for the first time," Dishaw told E! News. "What a way to come back from a honeymoon!"
Harry and Meghan arrived at the Trooping the Colour event via a horse-drawn carriage as part of a procession. On the Buckingham Palace balcony, they and other members of the royal family assembled to watch the festivities, which included a military aircraft flypast. She and Kate curtsied to the queen.
Meghan and Harry were joined by the queen, Harry's dad Prince Charles, his wife Camilla, Duchess of Cornwall, Prince William, Kate Middleton, their two eldest children Prince George and Princess Charlotte, and other members of the royal family.
Kate, Duchess of Cambridge, wore a pale blue squareneck Alexander McQueen dress and a matching Juliette Botterill hat. William and Harry wore military uniforms. Charlotte wore a blue dress.
The queen attended the event weeks after undergoing successful eye surgery to remove a cataract. The palace confirmed the news on Friday, after the monarch was spotted several times wearing sunglasses in public. She did not wear any at the Trooping the Colour parade.
Prince Philip, the Queen's husband and Harry's paternal grandfather, did not attend the event as he had retired from public life last year.