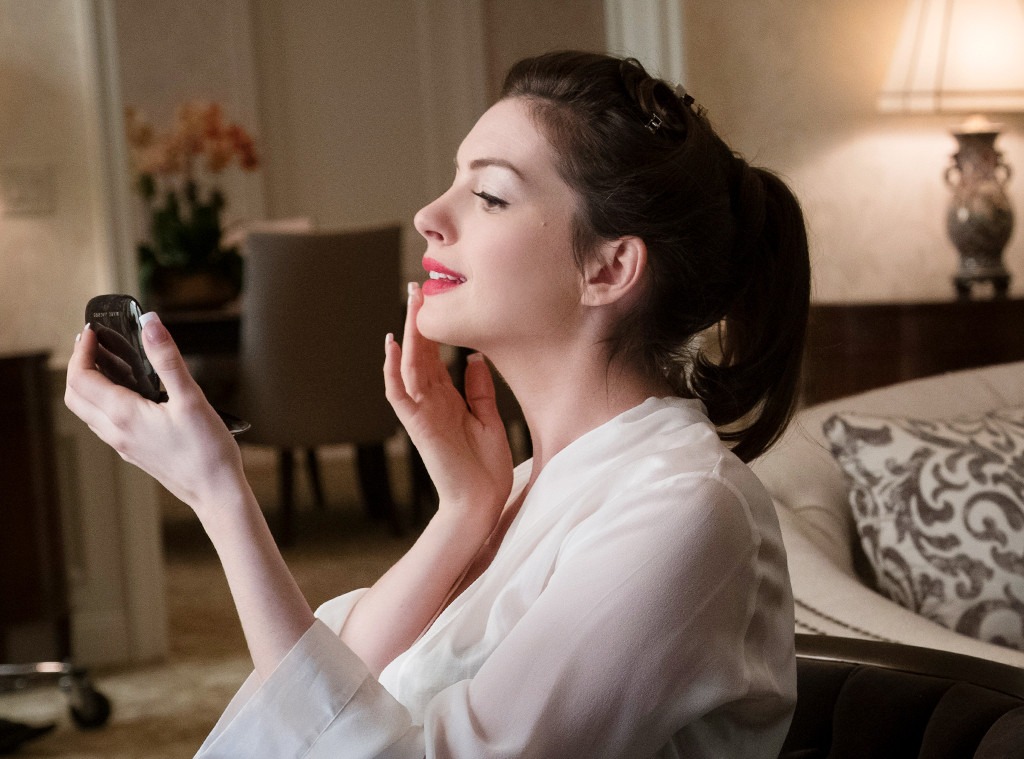 Barry Wetcher/Warner Bros.
It's easy to be mesmerized by the beauty in Ocean's 8.
The new film with an all-female cast, which includes Rihanna, Mindy Kaling, Sandra Bullock and Anne Hathaway, centers on the heist of a $150 million Cartier necklace at the royalty-themed Met Gala, where Anna Wintour, Kim Kardashian, Kylie Jenner and Naomi Campbell make cameos. Basically, it's an one hour and fifty minutes of next-level style and beauty—get ready!
As you can imagine, backstage during the making of the thriller was just as glamorous. Luckily, lead makeup artist Louise McCarthy revealed to E! News what it took to perfect the makeup of 8 wildly different characters.
"We wanted to make all of the characters individuals, and I think it all really worked because they all stand out," she told us. "For Anne, we went vintage Barbie, old Hollywood—that royalty look. I kept the focus [of her makeup] on her lips and kept the eyes neutral."
Anne plays the actress wearing the Cartier necklace to the Gala, so naturally her look is more involved than other cast members. Louise, who oversaw the makeup in the film, did Anne's makeup, while her team and Sandra, Rihanna and Cate's personal makeup artists worked with the other cast members, who had more natural looks.
Barry Wetcher/Warner Bros.
"Like Sarah Paulson, she's a mom," Louise explained. "She's at home, so isn't going to be that glamorous. We kept her lip very neutral."
All in all, the makeup artist revealed that the cast used a simple formula for long-lasting, HD light-proof makeup: "You use a primer and foundation, then set it. For the most once you put the makeup on, it really does stay."
While foundation and setting powder are well-known must-haves, the beauty professional places an extra emphasis on primer, especially for oily skin. 
"Recently, I used Rihanna's primer, which I absolutely loved," she shared, referring to the Fenty Pro Filt'r. "Especially with oily skin, it's fantastic. On set, I used a Laura Mercier primer and Benefit Porefessional...It acts like a barrier so that the makeup sits on top. For me, I would use primer on combination to oily skin because when put foundation on [without primer], it just sinks into the skin."
Barry Wetcher/Warner Bros.
With such a diverse cast, the makeup pro kept a lot of different brands and products in her makeup kit. Check out the makeup products used on set below!