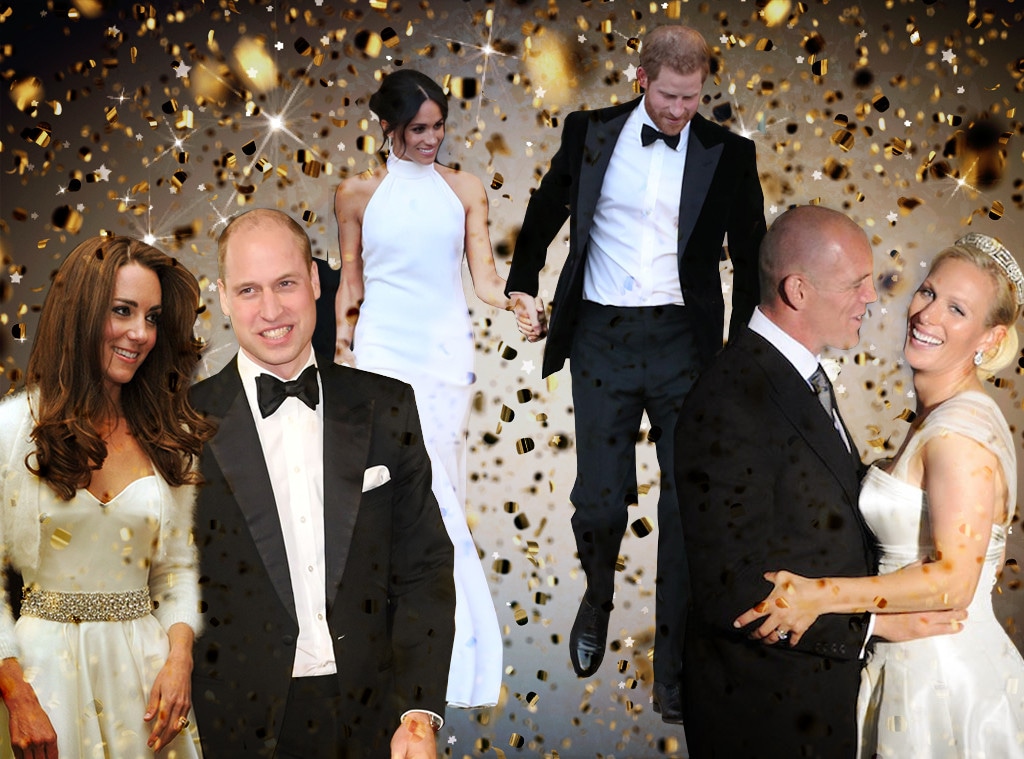 E! Illustration
Britain's royal family may look staid, but...
Well, they're pretty staid. Imbued with a sense of duty and purpose from an early age, even the younger generations are well aware that their behavior matters when it comes to the overall image of the entire family, and propriety in public is best. They all learn, eventually.
So, when royals get married, the ceremonies are always the very picture of tradition and protocol—and even when they're different, as Prince Harry and Meghan Markle's Americanized yet still-quite-Anglican I-dos were, they're pretty much the same.
It's at the wedding parties, where not even the BBC's cameras are allowed inside, where the ties are loosened, the hair is let down and the good times roll.
A truly riotous party is more of a late-20th/21st-century thing, of course, but we still consider the 11 cakes that the future Queen Elizabeth II and Prince Philip had at their wedding to be an over-the-top embellishment.
While not all 2,000 guests who were invited to the ceremony made the cut for the wedding brunch afterward, there was still enough dessert for an army. The main confection, baked by McVitie and Price and dubbed the "10,000 Mile Cake" because it utilized ingredients from all over the commonwealth, including sugar from Australia, comprised four tiers and fully constructed with the risers and flowers stood 9-feet-tall. With a behemoth like that, it was only fitting that Philip's Mountbatten sword was used to cut the first piece.
Wedding breakfasts and lunches remain very much in fashion from the days when couples wanted the entire evening to themselves—head-over-heels-in-love Queen Victoria fell ill after a quiet dinner with Prince Albert and was in bed by 10:30—or were perhaps embarking on their honeymoon that very night. 
Historically the newlyweds would appear outside after their I-dos—moments later, like Meghan and Harry, or his cousin Zara Phillips and her husband, Mike Tindall—for a kiss that all the world can see; or about an hour later on the Buckingham Palace balcony, as was the case for the queen, Prince Charles and Princess Diana, and second-in-line Prince William and Kate Middleton. Then they'd eat and head off into their future together.
But eventually the royals realized that they really needed to start partying harder, with or without the bride and groom.
Anwar Hussein/WireImage.com
Charles and Diana had already left to get a jump on their honeymoon—sailing the Mediterranean aboard the yacht Britannia before a stay at a hunting lodge near the royal family's Balmoral estate in Scotland—when guests including Princess Grace of Monaco and then-U.S. first lady Nancy Reagan filed into the ballroom at Claridge's for a black-tie reception hosted by the queen (who tasked Lady Elizabeth Shakerley with the planning).
Interior designer and wedding guest Nicky Haslam wrote in the Daily Mail in 2011 that there was traditional British breakfast food for dinner—eggs, baked beans, kedgeree, etc.—condiments such as marmalade and ketchup at the ready and "rivers of champagne." 
Aside from the queen's table, guests could sit wherever they wished and an orchestra led by American bandleader Lester Lanin provided the music—which, as the evening wore on, veered into the very upbeat, and a conga line snaked all over the room.
"Stumbling out into the early dawn, I knew I could hardly hope to witness so extraordinary an event ever again," Haslam wrote.
By the time Charles and Diana's son Prince William married Kate Middleton 30 years later, however, the newlyweds weren't going to miss the evening festivities.
The queen hosted a lunch at Buckingham Palace for about 650 guests after Will and Kate became husband and wife at Westminster Abbey and smooched on the BP balcony; but then, not wanting to stick around for the evening's debauchery, she and Philip were ferried away for the weekend by helicopter.
That left about 300 people, including the bride and groom's parents, to fete the Duke and Duchess of Cambridge at the palace, where the throne room was converted into a nightclub and the dancing lasted till dawn. William changed into a classic black tux, while Kate put on a strapless silk gown with a circle skirt designed, like her wedding gown, by Sarah Burton. The fluffy matching cardigan she showed up in was quickly cast aside as the party got underway.
The Pol Roger champagne started flowing at the queen's luncheon and continued into the night (hence the lineup of coaches and chauffeured vehicles at the ready later to take guests safely home).
John Stillwell - WPA Pool/Getty Images
The proud groom gave a speech that reportedly turned emotional as he called Kate his "rock," and the newlyweds enjoyed their first dance to Elton John's "Your Song," sung by Ellie Goulding (the Rocket Man himself, who adored the late Princess Diana, attended the ceremony). Tables were named after Will and Kate's favorite places. A full-on buffet dinner was served and lingering revelers in the wee hours were treated to bacon sandwiches and ice cream. A fireworks display marked the theoretical end of the evening at 3 a.m.
While Kate and William eventually retired for the night to the Belgian Suite at Buckingham Palace, Prince Harry, cousins Princess Beatrice and Princess Eugenie, Harry's off-and-on girlfriend Chelsy Davy and the bride's siblings Pippa and James Middleton reportedly reconvened at the Goring Hotel, where the Middletons were staying, for an unofficial after-party. Beatrice was photographed leaving the hotel having swapped her heels for sneakers.
"I am glad the weather held off. We had a great day," Kate demurely told a photographer the next day.
A few months later, the royal family did it all over again—though not to quite the same degree—when Princess Anne's daughter, Zara Phillips, married rugby player Mike Tindall on July 30, 2011, in Edinburgh, Scotland. Their wedding weekend kicked off Friday night, with a cocktail reception aboard the Britannia, after which some of the youngsters kept the evening going amid the clubs and bars on George Street. Zara's said to have worn skinny jeans and flipflops to the wedding rehearsal.
Zara Phillips and Mike Tindall/ via Getty Images
After a champagne reception following the ceremony at the Canongate Kirk, the party at Holyroodhouse was fittingly raucous, considering all the sports stars in attendance (the bar tab for Mike's stag party weekend was a reported $16,000) along with the fun-loving royals. Guests dined on lobster, venison and a chocolate fondant with summer strawberries amid sips of Laurent Perrier champagne.
A vodka fountain ensured that the revelers stayed well-lubricated for karaoke. The newlyweds serenaded the room with some ABBA, and Prince William famously belted out Bon Jovi's "Livin' on a Prayer." 
Transported back to their carefree university days, "Kate stayed down in front of the stage but clapped and cheered," an insider told Britain's Daily Star afterward. "It was more like a school disco than a royal wedding."
Zara had worn a gown by Stewart Parvin for the vows, which were not televised (though the arrivals and departures were covered extensively), and reportedly changed into a Paul Costelloe dress for the reception. (Few photos were made available to the public, the family perhaps still smarting from the 60-page spread in Hello! chronicling Zara's brother Peter Phillips and Autumn Kelly's wedding in 2008—the queen, whose permission was not sought before the couple made the deal with the magazine, was rumored to be livid.)
Mike Tindall, perhaps the most loquacious member of the family these days (it helps that Anne didn't give Zara a title, therefore there's no HRH or dukedom bogging down his candor), recently recalled on Good Morning Britain William's first attempt to leave the reception.
Tindall recalled, "Everyone was on the bus and Prince William was making his way back to the hotel and Lesley Vainikolo—a huge Tongan man who played for England at rugby as well—tackled him, threw him over his shoulder and said, 'Hey cuz, you're coming with me,' got him on the bus, put him on the back of the bus, and was probably making him drink, a lot, and the police sort of [Mike feigned laughter] and went, 'It's OK,' because Lesley is a big old man. After about five minutes, the police said, 'No we need him back,' and Lesley made the smart decision to let him go."
Mike, who met Zara through Prince Harry, has always insisted that the royals are about as nice and normal—when you get them in the right circumstances—as can be.
"The best thing about the royal family is that they're so lovely, they'll spot the people who are looking a little bit nervous and go straight over and take all that tension straight out the room," he said. "That's what they're amazing at, and then suddenly you're in the family and they welcome you with open arms."
Meghan Markle is the latest to feel that cautious yet ultimately warm embrace. She and Harry are the newlyweds now (next up, in October, Princess Eugenie and Jack Brooksbank) and their evening reception on May 19 at Frogmore House in Windsor was as close to the Vanity Fair Oscar party as a royal wedding is likely to get anytime soon.
Whittled down to an exclusive 200 guests, James Corden was the go-to master of ceremonies, Idris Elba deejayed a set and George Clooney played bartender, serving up Casamigos tequila, the brand he and partner Rande Gerber sold last year for a reported $1 billion. "He was the life of the party and always on the dance floor," a source told E! News about the Oscar winner. "And you know George takes Casamigos with him everywhere he goes." (Not that he had to supply it—Harry and Meghan happen to be fans.)
The newlyweds busted their first move as husband and wife to Whitney Houston's "I Wanna Dance With Somebody" and a 12-piece jazz band played while guests noshed on burgers and swilled a signature cocktail called When Harry Met Meghan. After the appropriate number of shots had been passed out, Clooney—in attendance with wife Amal Clooney, one of the bride's best new friends in London—took a gentlemanly turn on the dance floor with both Meghan and Kate.
A rumor went round that guests, including Serena Williams, were playing beer pong, but Corden and Williams have since insisted that no beer pong took place. (Perhaps a guest didn't really know what beer pong is and thought people were playing it. Or perhaps a small ball just coincidentally ended up bouncing into someone's pint.)
What did occur was a dance-off between Harry and his dad, Meghan Markle—who memorably changed from her Givenchy wedding gown into a sleek, sleeveless number by Stella McCartney— took the opportunity to give a speech herself in a break from tradition, and Prince William reportedly had quite the bawdy things to say about his brother in his own speech.
"William was in a jokey, wonderful mood at the party," a wedding guest told People afterward. "He must have been relieved that it wasn't all about him."
Before the fireworks could be set off, a rope had to be found to move the swans outside, or else it  would've been way too explosive of an evening.
"It was the most magical night I've ever had," a guest told E! News. "It was one of those experiences that money can't buy."