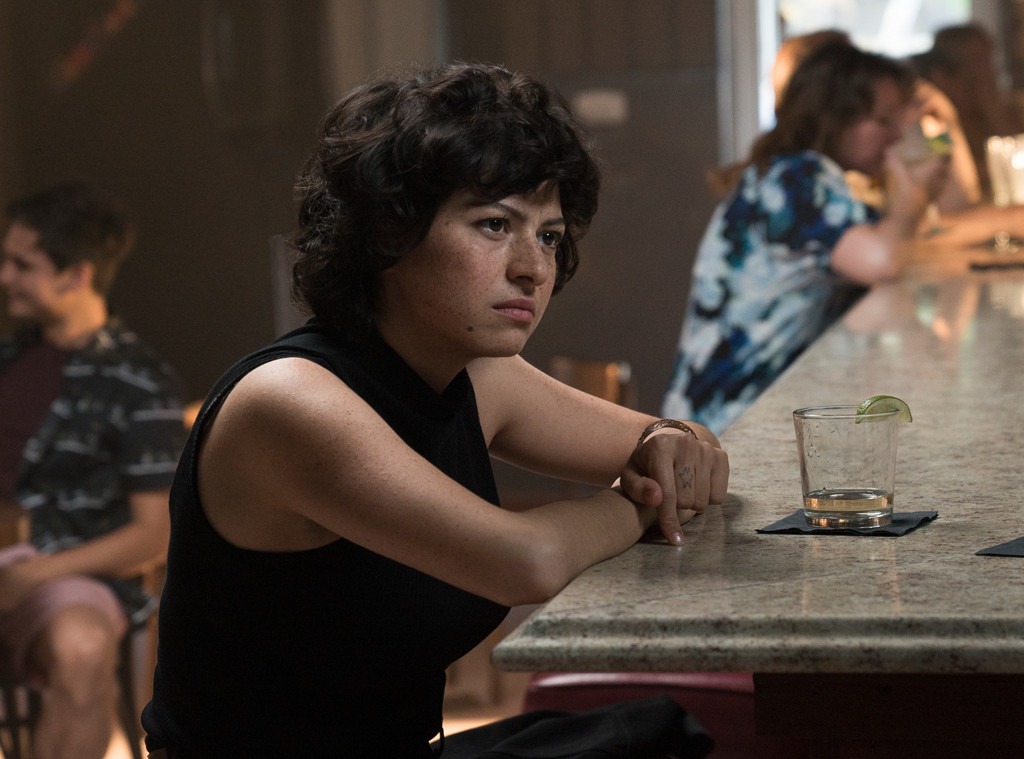 Netflix
An interview with the cast of Arrested Development sent viewers and critics into a frenzy on the internet, and now one of the cast members in the room during it all, Alia Shawkat, is speaking out.
During a group interview with The New York Times, Jeffrey Tambor's outburst at Jessica Walter was brought up.
"I have to let go of being angry at him," Walter told The New York Times, noting in "almost 60 years of working, I've never had anybody yell at me like that on a set and it's hard to deal with, but I'm over it now."
Watler's costars, including Jason Bateman and Tony Hale, seemed to excuse Tambor's treatment of the actress as normal Hollywood behavior. Then Shawkat jumped in.  "But that doesn't mean it's acceptable," Shawkat she told her costars in the Times.
In a new interview with Broadly, Shawkat said as the other actors tried to excuse the behavior, it made her feel uncomfortable. "It just kept going and I, all of a sudden, started to feel hot inside," she said. "Because I was like, okay, if they say all this, then I now have to say, 'But, this is a bigger issue,'" Shawkat said.
Shawkat said the cast had not discussed how they were going to discuss Tambor's exit from Transparent and the alleged behavior involved in it.
"I looked at Jessica and I could see how it was sitting with her, and it wasn't good," Shawkat said. "She comes in and she tries to speak for a little while, and again they keep going."
Once Shawkat spoke up was when Walter got emotional, she said.
"I finally got a word in edgewise, and [that's when] Jessica got very emotional and started crying. Once that happened, I realized we were having a public and private conversation at the same time, which is very unnatural. All of a sudden, we're having this intense moment as a group of people who've known each other for 15 years—and it's being recorded," she said. "They were almost trying to cover themselves up while simultaneously talking, instead of actually listening to each other—which is the biggest theme that I learned from this whole experience, this 20-minute interview that made so much noise. The minute Jessica started crying, my instinct was just to go up to her and hug her and be like, 'This interview's over.'"
Shawkat said she cried after the interview was over.
"I felt like I didn't say enough to defend her. I felt like I didn't say enough to explain that the movement is so important—and that Jeffrey's story is a piece of this movement, and we can't silence it," she said. "Women's voices need to be heard, and, ironically enough—I wasn't able to be heard. I was really scared that the interviewer didn't even hear me."
After the interview hit the web and the public outrage hit a fever pitch, Shawkat's costars publicly apologized to Walter, noting they also did it privately.
In a series of tweets, Bateman said, "Based on listening to the NYT interview and hearing people's thoughts online, I realize that I was wrong here. I sound like I'm condoning yelling at work. I do not. It sounds like I'm excusing Jeffery. I do not. It sounds like I'm insensitive to Jessica. I am not. In fact, I'm horrified that I wasn't more aware of how this incident affected her. I was so eager to let Jeffrey know that he was supported in his attempt to learn, grow and apologize that I completely underestimated the feelings of the victim, another person I deeply love—and she was sitting right there! I'm incredibly embarrassed and deeply sorry to have done that to Jessica. This is a big learning moment for me. I shouldn't have tried so hard to mansplain, or fix a fight, or make everything okay. I should've focused more on what the most important part of it all is—there's never any excuse for abuse, in any form, from any gender. And, the victim's voice needs to be heard and respected. Period. I didn't say that and instead said a bunch of other stuff and not very well. I deeply, and sincerely, apologize."
Hale also tweeted and David Cross also apologized.
Shawkat said she checked in with her costars, including Walter, after the interview became a thing.
"I tried to explain to them that, in defending Jeffrey, we covered up something that was more important in the conversation—which was Jessica's feelings in the moment, and also any voice that I felt I had," she said. Shawkat said they apologized to her afterward.
Read the full interview on Broadly.
The first batch of Arrested Development season five episodes are now streaming on Netflix.