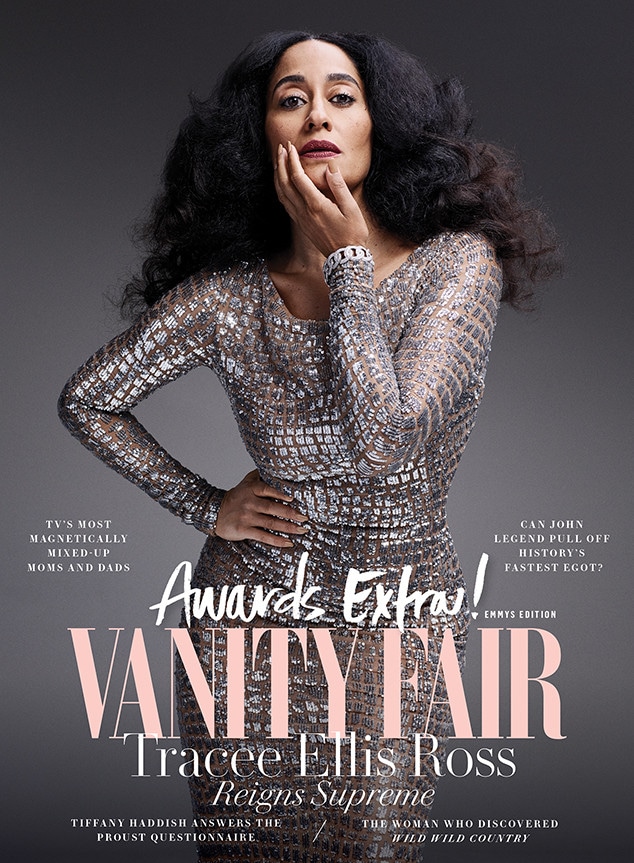 Lauren Dukoff/Vanity Fair
It's important to set boundaries, as Tracee Ellis Ross can attest.
Take, for example, how the happily single star felt when she was promoting the third season of ABC's Black-ish in 2016 and 2017. Because Ellis Ross' character was expecting her fifth child, she was often asked whether she ever wanted to become a mother in real life. "Last year, I was pregnant all season," the 45-year-old actress says in a special edition of Vanity Fair. "That brought on a lot of comments and questions and pontifications from people with no invitation."
Ellis Ross, in her no-nonsense way, would tell anyone who asked to back off. "I literally have said to people, for real, no joke, 'Why don't you just get out of my womb? Like, get out of my uterus. What are you doing in there? And why are you asking those questions? And what makes you think you can ask that?'" According to the actress, patriarchy has created a "siloed-off experience" for women—not just actresses—"with one answer for what a good life looks like."
But Ellis Ross refuses to accept that archaic, sexist notion.
As the daughter of Diana Ross, she says, "I saw a woman who just was making a path and doing it on her own. She didn't have hundreds of people doing everything for her—my mom always packed her own bags and cooked our food." Ellis Ross adds that other women, real and fictional, "informed" the woman she is today. Citing Lucille Ball, Carol Burnett and Wonder Woman as some of her earliest heroes, she tells Vanity Fair, "They were not women of color, but look what's here now...We know that storytelling changes how we see ourselves and how others see us. There's evidence of this. These things make a difference. They're not for naught."
Ellis Ross is equally as passionate about what goes on behind the scenes in Hollywood. Earlier this year, news that Ross earned less money than her male co-star, Anthony Anderson, went public. "That was really f--king awkward. I don't know how that information got out. But I understand the interest because there is a larger, deeper, more important conversation going on that is not about me, but is about people being paid appropriately for their contribution and the work that they do, not because of their gender, race, or anything. And it is a valid, real, important, past-due conversation that should no longer be a conversation, that should just be handled...across all industries." Ellis Ross, who hired a new team of female agents this spring, would rather not discuss her pay disparity experience further, saying, "That has been resolved."