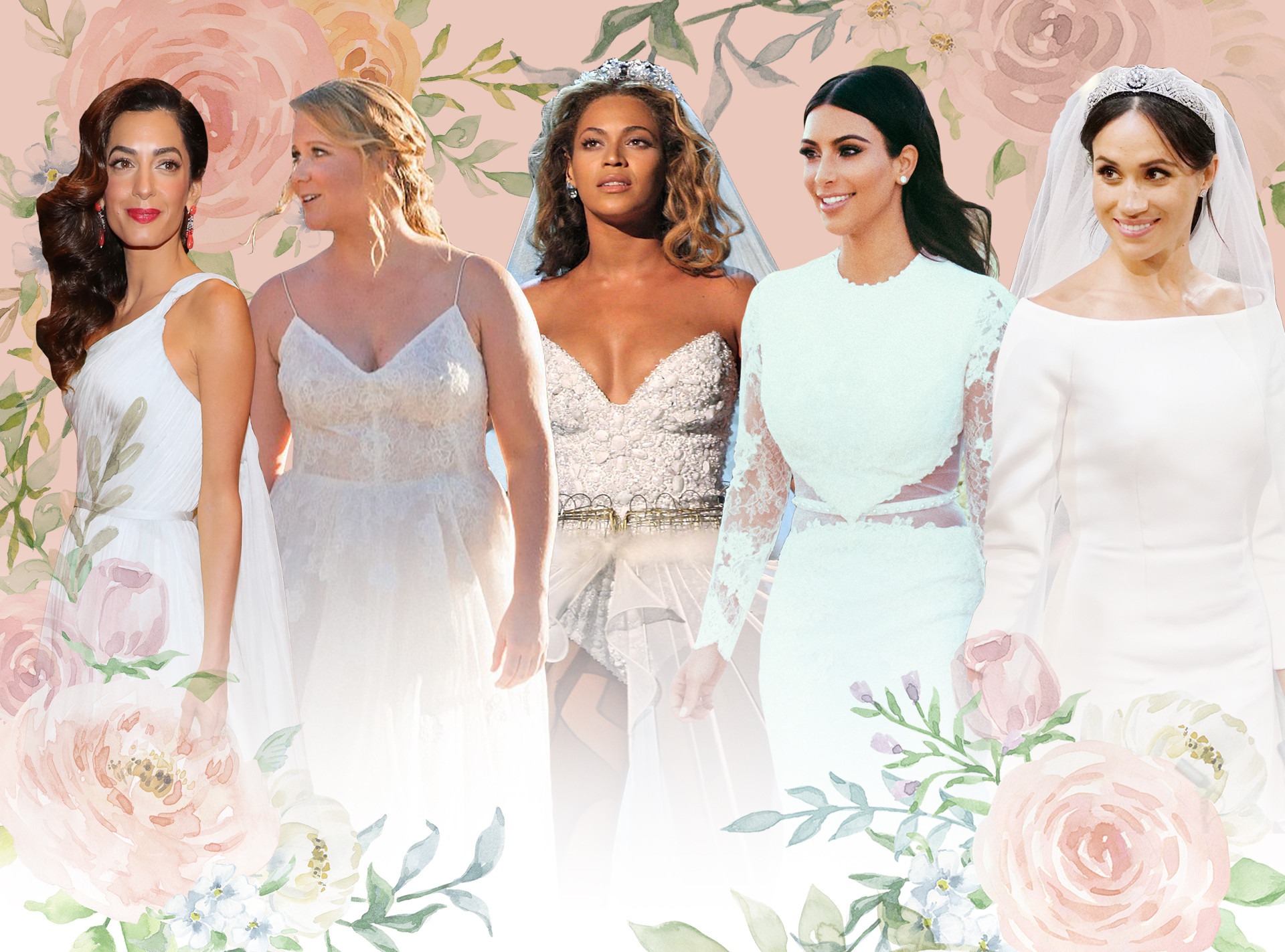 Melissa Herwitt / E! Illustration
While mere mortals can't exactly replicate all the trappings of a celebrity wedding, they can certainly relate when it comes to the preparation, nerves and excitement that lead up to the big day.
Brides take varying approaches to the big day, but it doesn't matter if you're on a budget or telling the wedding planner to spare no expense. Because whether you're tying the knot at a house of worship, a hotel, your house, a friend's house or the Queen of England's house, on the beach or on a rooftop, with your soul mate or with a starter husband, you're going to want everything to be just right when you say "I do."
And maybe there is a famous bride whose choices you're feeling more than others.
Take our quiz and get some insight into your celebrity aisle style:
1. How long did you know the groom before getting engaged?
a. More than five years
b. More than a year
c. Less than a year
2. Is this your first marriage?
a. Yes
b. No
3. How did you go about picking a dress?
a. With utmost care, going with a designer after careful personal, stylistic and cultural considerations
b. Vogue was kind enough to chronicle the process with a designer who signified class and is known for dressing a long line of first ladies
c. My bestie does dresses
d. My stylist brought it over and it fit
e. Under duress
4. Your wedding prep included:
a. Daily workouts, cutting out carbs, spray tan, rigorous skin care, maybe a little Botox or laser-hair removal
b. Green juice, yoga, listening to Beyoncé 
c. What prep? I always look this pulled together
d. Falling in love and putting on a dress
e. Prep? Why, is someone getting married?
5. The first photos of your wedding will be revealed:
a. Never. Or at least not for years. No one who wasn't there will see my dress for at least three years, then it will be another three years for a glimpse inside the wedding. If the wedding happened. Who knows?
b. On the cover of a magazine, with all proceeds going to charity
c. On Instagram, obvs
d. A pre-agreed-upon reveal with E! News
d. Every photographer in the world will be there, so take your pick, you'll be awash in images for days
6. Where's the honeymoon?

a. Europe!
b. A tropical island
c. No passports necessary
d. Wouldn't you like to know?
e. On hold, duty calls
Add up your score:
1. a=1, b=2, c=3
2. a=1, b=2
3. a=3, b=5, c=4, d=2, e=1
4. a=4, b=3, c=5, d=2, e=1
5. a=1, b=5, c=2, d=4, e=3
6. a=2, b=4, c=1, d=5, e=3
6-7:
Congratulations, you're Beyoncé! You married your partner in crime, the love of your life, the Jay to your Bey, seven years after you first met at your apartment building in New York—and even though you're a big, huge star, you didn't show anyone what your dress looked like until 2011. But in addition to wanting to maintain your privacy, maybe you just weren't that in love with the gown, which you wore because your mom made it...?
"She was so sweet to let me do that," Tina Knowles said on Today in 2016. "She came back later one day and she said, 'You know, when my daughter gets married, I'm going to let her pick out her own dress.' Maybe she wasn't so excited about it at the time, but she's a sweetheart." 
For the honeymoon, the couple stayed in the States, carving out their own slice of heaven in Paradise Valley, Ariz.
8-12:
All of a sudden we woke up one day and Instagram informed us that Amy Schumer was married. Enough planning went into the super-secret nuptials at an oceanfront Malibu estate to get her beloved dad across the country and have Jennifer Lawrence in attendance. But aside from the Monique Lhuillier gown she tried on and went with, one and done, Schumer's big prep move was simply falling in love with chef Chris Fischer, whom she'd known for barely a year and got involved with not too long after her previous relationship ended. But vive la whirlwind romance!
For their honeymoon, they ate their way through Italy and asked Instagram followers for recommendations.
Ben Birchhall/pool photo via AP
13-16:
Just because you're not marrying a prince doesn't mean you aren't the Meghan Markle of civilian brides. After a little over a year of dating, and with his family's blessing, Prince Harry proposed to the divorced American actress, further modernizing the monarchy in one fell swoop. Having presided over her own lifestyle blog prior to starting unofficial royal boot camp, Meghan's healthy ways translated easily into wedding prep, and who can blame her for having some pre-wedding jitters amid all that pomp and circumstance? Both dresses—the carefully selected ceremony gown by Givenchy creative director Clare Waight Keller—French brand, British designer--and the Stella McCartney party dress--will be copied by commoner brides for years to come. And unlike with your average celebrity wedding, when the world has to wait, no photo angle was left unturned by the global media between the arrivals and the moment the newlyweds drove off in their custom electric Jaguar to the queen's afternoon reception. Pictures galore.
So far a variety of sources have shot down reports that they're going to be honeymooning in either Namibia or Jasper National Park in Canada; but regardless, they've yet to depart, instead making their first public appearance together—a birthday event for Prince Charles—just days after the wedding.
17-18:
No bride was more ready to get it right than Kim Kardashian when she finally ended up with soul mate Kanye West, whom she'd known for more than a decade when they finally got together. The proposal at AT&T Park in 2013 was epic, as were their nuptials in Florence after a week of fun in Paris with their wedding party. We know darn well that Kim is deeply committed to her fitness routine and glam squad on most days, so leading up to the wedding was no exception—except when she finally got to the City of Light and indulged in celebratory treats like ice cream. Her close pal Riccardo Tisci, the the creative director of Givenchy, designed her dress. And while the paparazzi swarmed the festivities, the bride and groom were most particular about which photos were released and when.
After France and Italy, the couple honeymooned in Ireland, having fallen in love with Dublin a few years prior on a trip for Kanye's birthday.
19 and higher:
Amal Clooney was looking for Mr. Perfect but, you know, she settled for George Clooney. The Oscar winner proposed barely seven months after fate delivered the human rights lawyer to his door. The late, great Oscar de la Renta designed her dress for their September 2014 nuptials in Italy. "George and I wanted a wedding that was romantic and elegant, and I can't imagine anyone more able than Oscar to capture this mood in a dress," she told Vogue about the lacy, off-the-shoulder gown the couturier crafted for her big day. Meanwhile, she presumably eats right and exercises (she's got to keep her brain in top shape for the long hours, problem solving and attention to detail her work demands), but Amal's hair, makeup and effortless style never wavers, be it on her big day or an average Tuesday. People and Hello! shared the wedding album exclusive.
The Clooneys reportedly honeymooned in the Seychelles, a chain of islands in the Indian Ocean boasting some of the most exclusive resorts in the world, but obviously neither has said one word about it.