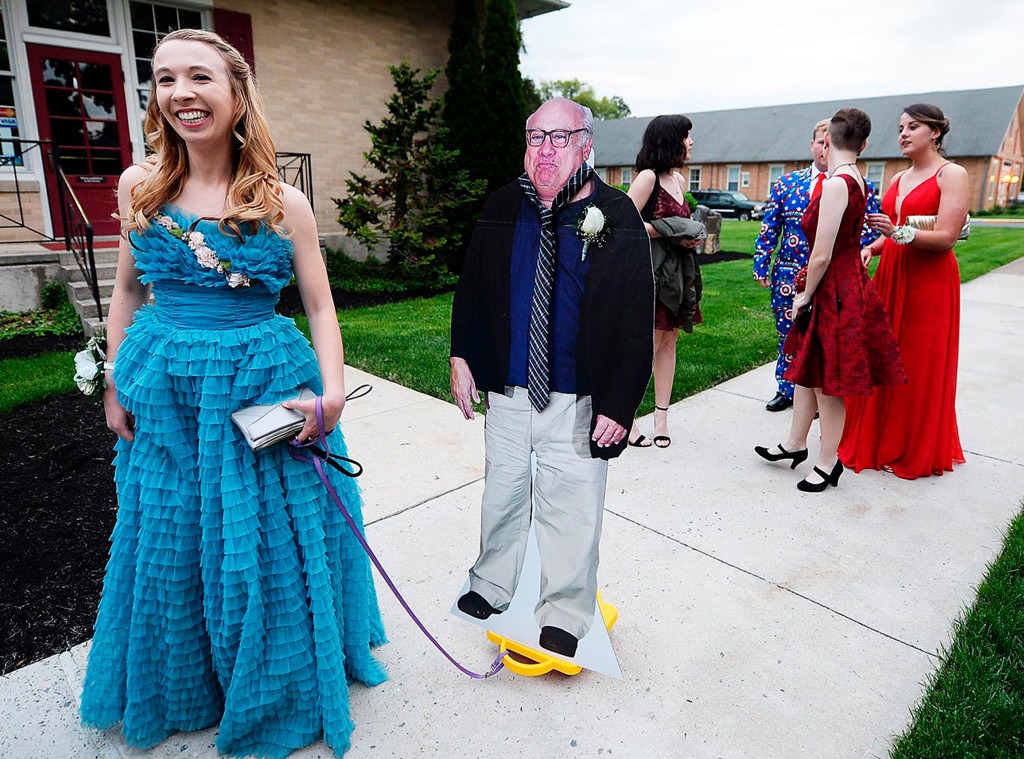 Michael Bupp /The Sentinel via AP
She loves Danny DeVito's work, so she took him to prom!
Last month, now-Pennsylvania high school graduate Allison Closs brought a cardboard cutout of the 73-year-old It's Always Sunny in Philadelphia actor with her to the dance. She posted on Instagram photos of herself posing with her prom "date" in a photo booth, writing, "A night I'll never forget."
DeVito returned the favor.
Earlier this week, his co-star Rob McElhenney posted a picture on Instagram of the actor posing with a cutout of Allison in her prom dress on the Paddy's Pub set of It's Always Sunny in Philadelphia.
"Hey Allison- I heard you took cardboard Danny to Prom. What a coincidence. He took cardboard Allison to Paddy's," he said.
"I AM SHOOKETH," Allison tweeted.
"Thank you SO, SO MUCH @RMcElhenney and @DannyDeVito for fulfilling my dream of visiting Paddy's Pub from @alwayssunny !!" she said. "It feels so incredible to be acknowledged by these big name Hollywood actors. I feel more honored and lucky now than ever. The only thing that could make this better would be actually being invited to set! I am extremely flattered and can't thank the cast of @alwayssunny enough!"
She also joked, "I'm so glad that this is going to be my high school legacy..."
In a YouTube video, she explained that she bought a life-size cutout of DeVito on Amazon for $100 and spent another $20 on a sit-down child's scooter, which she combined with a leash to move him around. She dressed her "date" in a tie she borrowed from her brother and also had him wear a white rose boutonniere, which matched her corsage.
"I was having trouble finding a prom date. It seems like all the good guys were taken and all the ones who weren't taken, I wasn't really interested in," she said. "Until one day, I had this idea. What if I just brought a cardboard cutout of Danny DeVito to prom? So I did."
Allison also recorded a video of her and her "date" meant to be sent for a news station. Her prom experience has garnered much media attention.
"I have always loved Danny. I loved him on It's Always Sunny in Philadelphia," she said in the video. "I loved him in Hercules and Matilda. I just love him in every form he takes. Danny was there for me when I really needed him. He treats me the way a woman should be treated. I guess you could say we were made for one another.