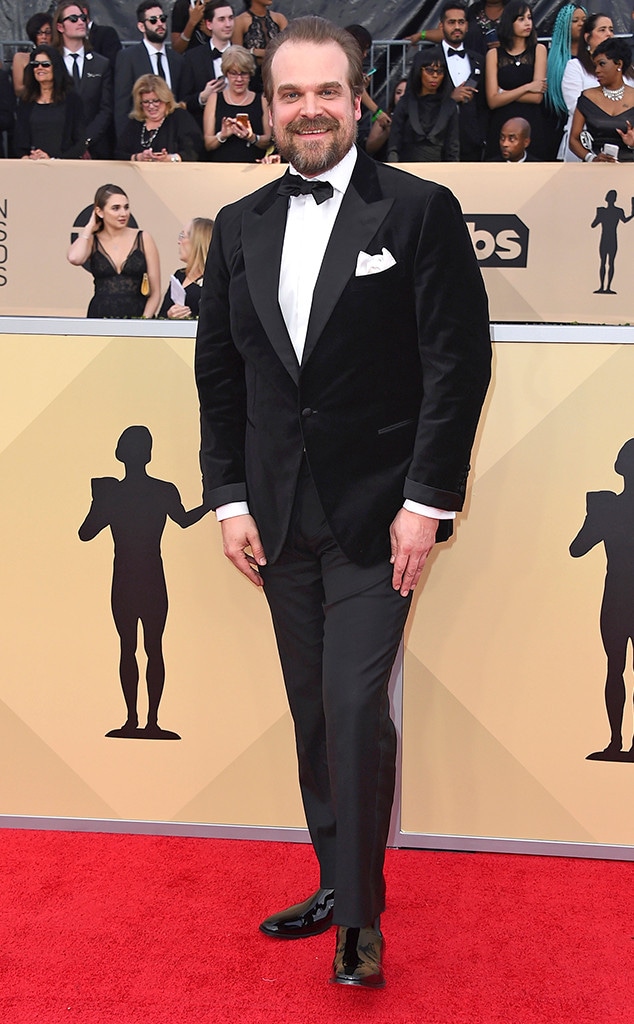 Jordan Strauss/Invision/AP
Stranger Things star David Harbour has revealed that he spent time in a mental asylum years ago and was treated for bipolar disorder.
In an interview with comedian Marc Maron on his WTF podcast, released this week, the popular 43-year-old actor, who plays police chief Jim Hopper on the Netflix series, talked about how he had for years battled issues such as anxiety, self-hatred and alcohol abuse and was diagnosed with bipolar disorder. He said that in his mid-20s, he got sober and spiritual—becoming interested in Catholicism and mystic saints—and had a manic episode.
"I really had like a bit of a break where I thought I was in connection to some sort of God that I wasn't really in connection to," he said. "And writing a lot."
He said he did not take drugs at the time, adding, "I realized that I don't really need them, that I have a capacity to see the elves in the corners of my room if I really allow myself to go there."
Harbour said his parents took him to an asylum for treatment.
"And I have to say one thing about the mental asylum...really, really not as fun as you think it is," he joked. "You do have a romantic idea...and it just ends up being sad and smells like s--t. And the other thing was boating. I recently went out on a ship in open water, and I'd read Moby Dick a million times, and it's really not sexy, it's horrible. It's very similar to the mental asylum experience."
"Have you ever been to a mental asylum?" he added. "The only thing that defines a 'crazy' person and a 'normal' person...is they're convinced they're sane. Crazy people are convinced they're sane, like, 'I'm the only one that gets it.' It's incredible."
He said he was diagnosed as bipolar.
"That's actually when the drugs came in," he said. "I've had a struggle, going on and off the medications."
Harbour, who is also a Tony-nominated Broadway star, made his onscreen acting debut in 1999 and starred on programs such as various Law & Order shows, HBO's The Newsroom and NBC's State of Affairs before Stranger Things debuted in 2016.
A year later, he and the rest of the cast won the SAG award for Outstanding Performance by an Ensemble in a Drama Series. He gave a fiery, pseudo-political acceptance speech that appeared to confuse co-star Winona Ryder and went viral.
In his interview with Maron, Harbour also detailed how his personal struggles that started when he was a teenager led him to acting.
"When I got to be like in high school and stuff, I sort of was drawn to that feeling of feeling uncomfortable in my skin and being confused by human beings, like just constantly confused," he said. "[It] led me to a couple different outlets, one of which was drinking and then there was also this other outlet, where I would see people behave in certain ways and I wouldn't believe them. Like, they would say certain things and I felt like they would mean something different. I just started to see subtext."
"People were like, 'Haha, we're friends, we're friends! I love you!' And you'd just feel like, you hate that person," he said. "And then the question becomes, 'Why are you lying? Why do you have to lie?'...I was so fascinated by why they make the choices that they do, why they lock themselves into situations that they seem to not like, why don't people live the way they want to, what it is that they're doing? That led me to acting."