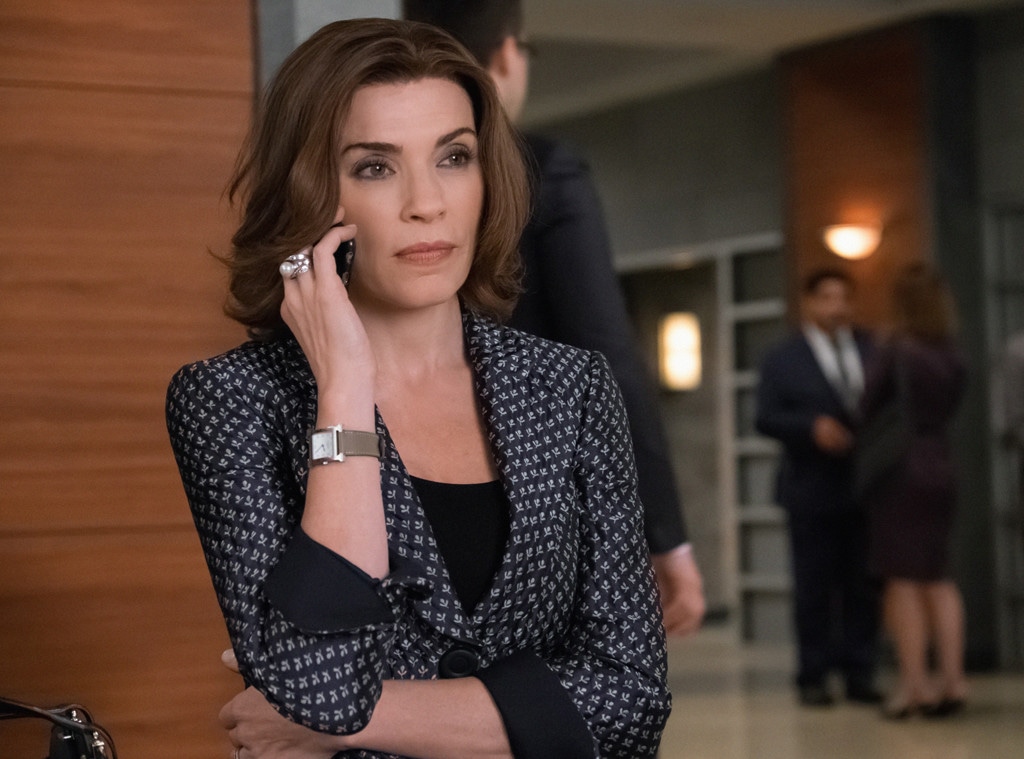 CBS
You (maybe) haven't seen the last of The Good Wife's Alicia Florrick.
"Never say never," Julianna Margulies told E! News about reprising her Alicia Florrick role on The Good Fight, the CBS All Access streaming series spinoff of her Emmy-winning legal drama.
Margulies, who sat down with E! News to discuss her new series AMC series Dietland, ended her tenure as Alicia Florrick with a slap to the face. Diane Lockhart (Christine Baranski), Alicia's one-time friend, slapped her in a hallway after Alicia made Diane's marital problems very public in court. The ending of The Good Wife mirrored the beginning of the series, a slap woke up Alicia to what was happening to her.
The Good Fight, which  stars Baranski as Diane Lockhart, Cush Jumbo as Lucca Quinn, Rose Leslie as Maia Rindell, Delroy Lindo as Adrian Boseman, Sarah Steele as Marissa Gold and Audra McDonald as Liz Reddick Lawrence, picked up a year after those events with Alicia Florrick seemingly having left the Chicago legal world.
"They asked me the first season if I would come back and to be honest, I'm just one of those people—First of all, it would take away—I felt it would take away from Christine and Cush and Rose," Margulies said. "It's their show now and I handed off that torch happily to them. But, never say never. Now that they've been able to establish those characters, who knows? I'm always open."
"We talked to Julianna about the show and her relationship to it and we kind of agreed that The Good Wife ended that story," The Good Wife and The Good Fight co-creator Robert King told reporters in 2017. "I don't think you'd expect that this year."
Because it's on CBS All Access, a streaming platform, the show is not bound by broadcast standards. There's cursing and nudity. Yes, Baranski gets to hurl f-bombs around, a prospect Margulies laughed at.
"I don't think the timing for the first season—they had to get on their own two feet and stand up for themselves before Alicia came back and did that," she said. "But I'm always open, I've always told them that."
The Good Fight recently wrapped up its second season and a third is already in the works.
"The Good Fight is a perfect example of what we strive for a CBS All Access original series to be: thought-provoking, boundary-pushing and, most of all, incredibly entertaining," Julie McNamara, executive vice president of original content at CBS All Access, said in a statement. "We can't wait to see what Robert and Michelle King, their creative team and the incomparable cast will bring to audiences in season three."