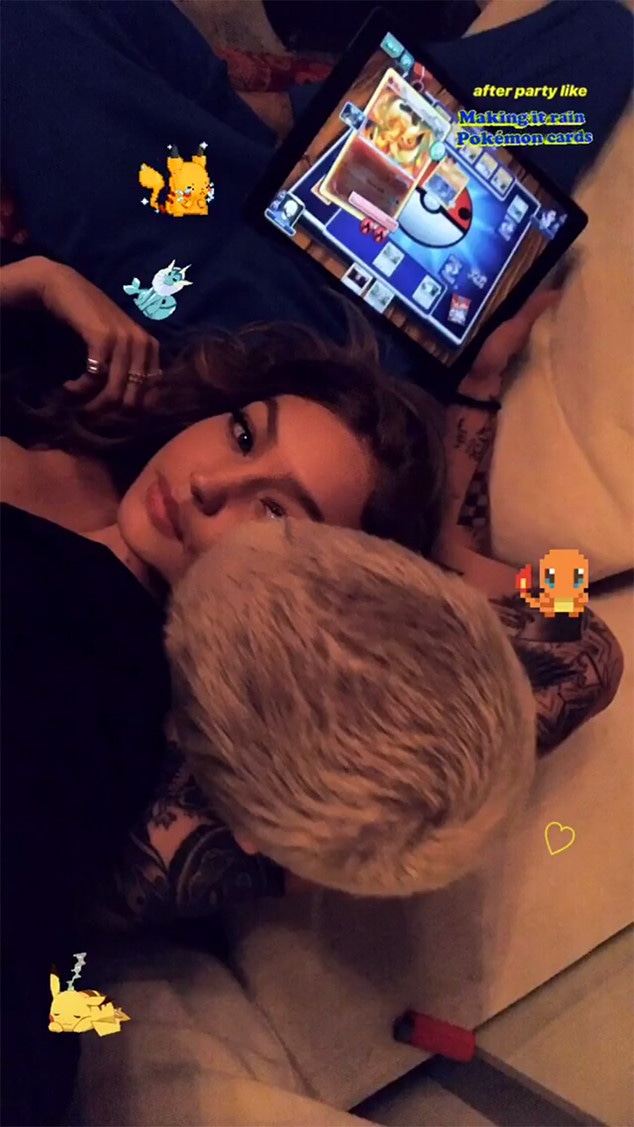 Instagram Stories
It looks as if Gigi Hadid and Zayn Malik are together again.
After walking the red carpet with Lily Aldridge at the world premiere of Ocean's 8 at Alice Tully Hall in New York City Tuesday night, Hadid uploaded a photo of herself with Malik on Instagram Stories. While the "Entertainer" singer's face isn't visible in the picture, his bleach blond buzz cut and tattoos are easily recognizable. In the fairly mild PDA photo, Hadid rested her head in her man's lap as he played on his iPad, captioning the shot, "After party like making it rain Pokémon cards." She also scribbled over the image with Pokémon gifs and a heart emoji.
Hadid and Malik ended their two-year romance in March, only to be photographed kissing in the street a month later. At the time of their split, Malik tweeted, "Gigi and I had an incredibly meaningful, loving and fun relationship and I have a huge amount of respect and adoration for Gigi as a woman and friend. She has such an incredible soul. I'm grateful to all of our fans for respecting this difficult decision and our privacy at this time; we wish this news could have come from us first. We love you all." The supermodel also tweeted about their split, telling her millions of fans, "Breakup statements often seem impersonal because there is really no way to put into words what two people experience over a few years...not only in the relationship, but in life in general. I'm forever grateful for the love, time, and life lessons that Z and I shared."
"I want nothing but the best for him and will continue to support him as a friend that I have immense respect and love for," she added. "As for the future, whatever's meant to be will be."
Before they reconnected in April, Malik spoke to Ryan Seacrest about what he was going through "seven or eight months ago" when he wrote "Let Me," saying, "I was in love—and I think that's pretty evident. I was aspiring to be in love with someone for the rest of my life and the rest of theirs, as we all do. Things change and we move forward in life. Times change, but that's what I was thinking when I wrote it." Furthermore, "We go through experiences so we have memories and stories and things to write down and contemplate and think about," he said. "You get to really put your experience into something. It should be remembered forever."