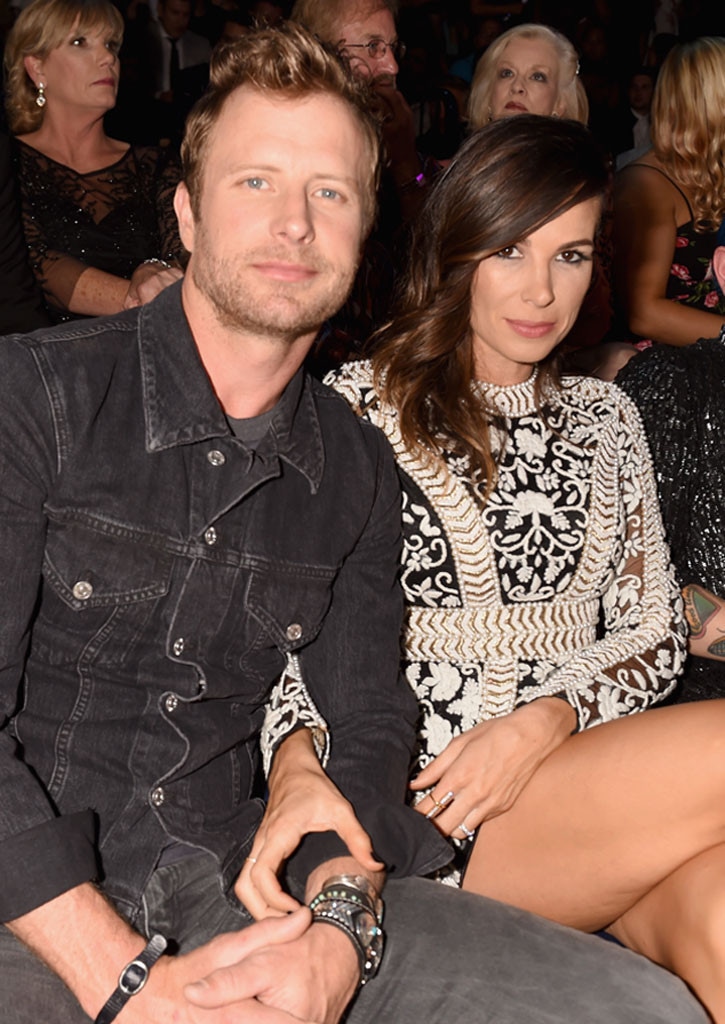 Jeff Kravitz/FilmMagic
Who's the woman who gives Dierks Bentley faith, grace, hope, strength and love without end? It's his wife Cassidy Black, of course.
Country music fans are very much familiar with the singer's latest hit song titled "Women, Amen."
In fact, the track inspired by the woman he chose to marry more than 15 years ago is featured on his new album titled The Mountain out this Friday.
But some may not know the pair's whole love story that started all the way back in middle school.
"We met in eighth grade, back in Arizona. It's a pretty crazy story of just going back and forth with the right time or the wrong time, or right place, wrong time, all that stuff," Dierks once told reporters." Finally, I was playing a show in Las Vegas, and opening for George Strait, and she walked on the bus. I kind of knew that that was the moment."
The duo got engaged in December of 2005 and the morning after Dierks proposed, the couple headed to Mexico to elope.
"I ended that tour in Las Vegas, playing the House of Blues, and we went to Mexico, and three days later, we got married," the Grammy nominee recalled. "Probably one of the things I'm most grateful for is some of the success coming later as it has, because it's really nice to share it with somebody. When it starts, it's so nice to share a lot of ups, a lot of downs, a lot of in-between moments with her. It's been a crazy, crazy ride."
While you won't see the couple posting on Instagram regularly or attending countless red carpet parties in and around Hollywood, there's no doubt these two share an unbreakable bond.
Whenever Dierks attends a major music award show, his wife is close by supporting him. In fact, she received a special surprise at the 2018 ACM Awards when Dierks performed his song "Woman, Amen." Before the track came to an end, the performer went into the audience to serenade his wife and give her a kiss.
"This really was one of my more personal songs about her and about the way I feel…a song that talks about how I'd be lost without [her]," Dierks previously shared with Billboard when discussing the meaningful single. "I feel like it all starts at home with my wife. She is who grounds me, she is also the one who has helped me to grow as a person over all these years, so I feel if I'm going to tell these stories [on this album] right, I need to start with her."
This track isn't the first song that was influenced by Cassidy. Dierks' earlier hit titled "Black" is also based upon his wife whose maiden name happens to be Black.
She even makes an appearance in the music video.
"I had the idea of putting my wife in the video, which is totally taking her out of her comfort zone, but I just couldn't imagine doing a video for this song without her in it and she reluctantly agreed…but then totally nailed it," Dierks previously shared. "It wouldn't have been genuine without her."
As Dierks celebrates his new album out this Friday and a summer tour featuring Brothers Osborne and LANCO, he can count on his wife to remain his biggest fan.
And whether it's a big win at tonight's CMT Music Awards or a special new title like People's Sexiest Man in Country Music, Dierks always has his leading lady in his corner.
"I think you're really cute, very photogenic and very cute," Cassidy told her husband on Entertainment Tonight shortly after he was given the title. Dierks replied, "See, there you go. That's all that matters."
After all, he just wants his world to go black.
The 2018 CMT Music Awards air tonight at 8 p.m. only on CMT.