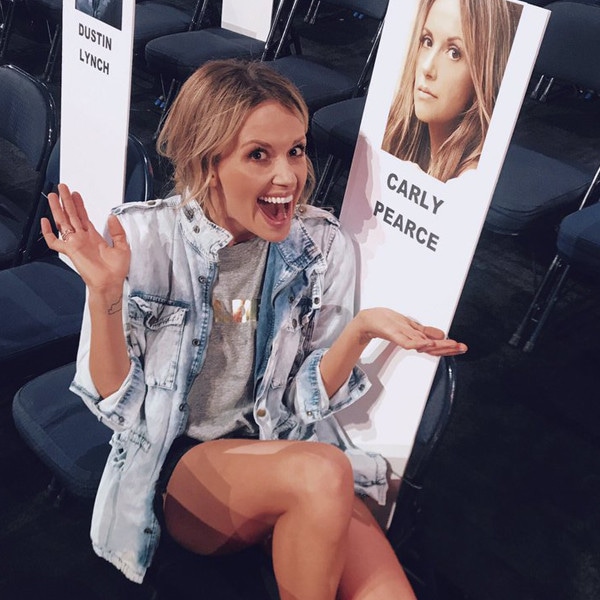 Twitter
Ladies and gentlemen, it's time to pay attention to Carly Pearce.
As country music's biggest stars come together later tonight at the 2018 CMT Music Awards, fans will likely be keeping their eyes on the "Every Little Thing" singer who has quickly made a name for herself in the genre.
Maybe it's because she has already had the opportunity to tour with Thomas Rhett, Blake Shelton and Rascal Flatts. Perhaps it's because of her genuine personality that is put on display everyday on social media. Or maybe the 28-year-old deserves praise for her powerful voice and catchy tunes that speak to a large audience.
"I'm a woman talking about things that women go through," Carly shared with E! News ahead of tonight's big show. "It's definitely country, but it has this vulnerability yet strength to it."
From the beginning, her record label Big Machine Label Group said she was "the most important female artist we've signed since Taylor Swift." And instead of freaking out over the comparison, Carly took it as motivation to fulfill her hopes and dreams.
Phillip Faraone/Getty Images for Bentonville Film Festival
"It is so humbling and exciting. I definitely feel like it lit a fire under me even stronger to do my best and to hopefully walk into situations with that mindset of 'What would Taylor do?' because I think that there is really nobody better that you can look at somebody who has handled their career with grace and continued to evolve and still stay very true to who she is," Carly explained. "It's probably the biggest honor that I could receive from them."
Her presence in country music has been a longtime goal that started at a very young age. Carly said she's loved the genre "since the time I could talk." Her grandparents were huge blue grass and classic country fans. But when Carly entered elementary and middle school, she grew to love strong female singers like Faith Hill, Shania Twain and Sara Evans.
"I feel like those women are where I really started to figure out the kind of country music I wanted to make," she explained. "Those influences and where I come from in Kentucky all kind of fueled my sound."
That sound will soon be heard all summer as she hits the road with Rascal Flatts. In addition, the "Hide the Wine" singer will travel with Luke Bryan on his What Makes You Country Tour where several stadiums are on the schedule.
"This year has been crazy because I'm the female on four of the biggest male country acts tours. It started with Blake and then I moved to Thomas Rhett. I'm going to be out with Rascal Flatts all summer and then I end my year with Luke," she shared with us. "I think all four of those artists are obviously country artists but they all have a different thing to them. They have a different crowd, different sound, different way of approaching a show and I'm so fortunate to be a fan of all four of them and also learn from them."
And as the Female Video of the Year nominee faces off against Carrie Underwood, Miranda Lambert and other talented artists, Carly feels nothing but gratitude for the love and support she has received from artists, fans and the community she has embraced from a young age.
"I'm still a fan of these people—I'm such a fan—and I still have a hard time believing that I'm starting to make my name into these shows and award shows and different tours," Carly shared. "It's weird."
The 2018 CMT Music Awards airs Wednesday night at 8 p.m. only on CMT.