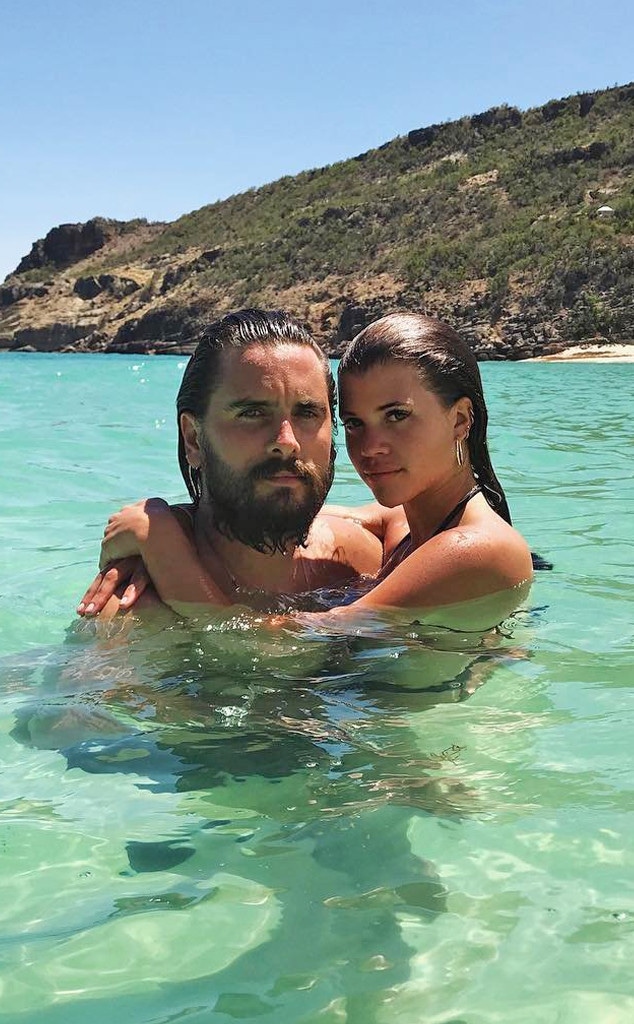 Sofia Richie/Instagram
What's really going on between Scott Disick and Sofia Richie?
It's been just a couple of days since the 19-year-old model called it quits with the 35-year-old E! star after he was spotted getting cozy with a mystery blonde at Kanye West's album release party in Jackson Hole, Wyoming, but it appears that the duo is back together. Sofia and Scott were spotted having lunch at Nobu in Malibu, Calif. on Monday, where a source tells E! News the duo was "smiling" and "looked happy" as they both arrived and left the restaurant.
Sofia also posted a photo with Scott on Instagram Story on Tuesday with the caption, "Whole [heart emoji]." She then wrote on a second post, "Never believe the internet."
Now E! News is learning new details about what exactly happened between the duo amid the rocky romance rumors.
"Scott and Sofia did break up for two whole days, and are now back together," one insider tells us, adding that Sofia "never got her belongings out of his house" and was just staying at dad Lionel Richie's to "clear her head."
"Lionel and her family encouraged the split and are very upset and disappointed that she decided to get back with him," the source says. "Scott begged for her back and wanted to make things right with her. He felt bad that he had a drunken episode and made many promises to Sofia that he could make it right. Scott is very good at convincing that he 'has changed' or 'will change' and Sofia does love him. She believes in him."
The insider adds that Sofia's dad "does not agree and is very upset with her about this decision." Sofia has been staying at Scott's since Sunday night and has not been back at Lionel's, according to the source.
Another insider tells E! News that Sofia "was furious after seeing what Scott was up to in Jackson Hole."
"She broke it off in the heat of the moment and said she was done," the second source shares. "It's not the first time this has happened and its becoming a pattern. Scott didn't even flinch and knew she would come around. He told her he was just drunk and nothing happened. It was just the booze talking and completely meaningless."
"He gave Sofia some space to calm down and then told her how much he loves her and wants to be with her. Sofia believes it and is very committed to Scott," the insider continues. "He said he would make it up to her and show her how much he loves and cares for her. Sofia wants to see only the good in Scott. She really believes that she has changed him for the better and that he wants to stay on track for her."
The source adds, "She feels responsible and that she needs to be there for him. She wants it to work and wants to be with him. By Sunday night she was back at Scott's house ready to give him another chance."
Scott also posted a photo with Sofia to Instagram on Monday from their Malibu date.