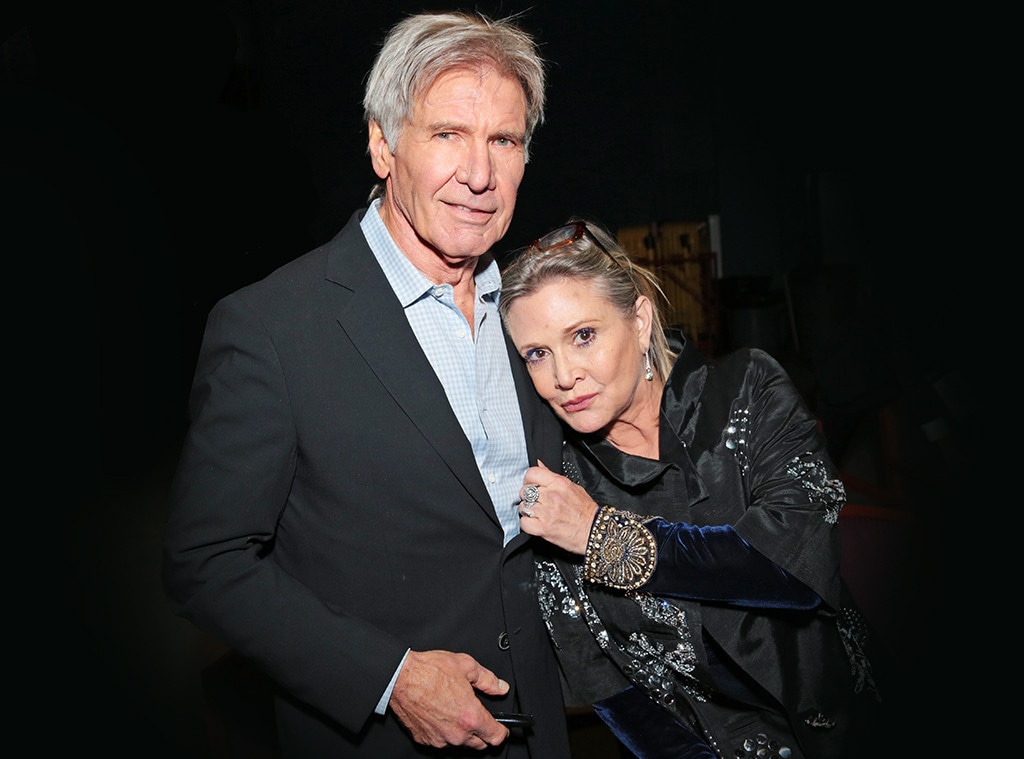 Alex J. Berliner/ABImages via AP Images
Todd Fisher is opening up about his late mother, Debbie Reynolds, and sister, Carrie Fisher.
In a new memoir, My Girls: A Lifetime with Carrie and Debbie, Todd talks about growing up with Debbie and Carrie, including details about Carrie's days filming Star Wars. Todd even reveals that his sister had "regret" over revealing her affair with co-star Harrison Ford in her book, The Princess Diarist.
"Neither of them had any illusions that they had a future together. They were simply acting on a strong mutual attraction while making a movie together, as if that's not one of the oldest stories in Hollywood," Todd writes.
Debbie first heard about the affair years later when Carrie was writing The Princess Diarist. Debbie told her the story was too personal to put in the book, but Carrie included it anyway and she later regretted it.
Todd shares, "What Harrison and everyone else may not know is that Carrie went to mom right after the book became such a big deal and said, 'You were right, I shouldn't have told that story.' For what it's worth, Harrison, she really did regret telling the story of that affair."
In the book, Todd also talks about the heartbreaking passing of his beloved mom and sister.
Days after suffering a heart attack on an airplane, Carrie died at the age of 60 on Dec. 27, 2016. One day later, mom Debbie passed away at the age of 84. In the memoir, Todd writes about receiving a call from Carrie's assistant, telling him what had happened to Carrie on the plane. Todd was in Las Vegas when he got the call and rushed back to Los Angeles, where Carrie had been taken to the hospital.
When Todd arrived to the hospital, Carrie's daughter, Billie Lourd, and Carrie's ex Bryan Lourd, were there.
"They'd restarted her heart, her body temperature had been dropped to protect her brain and she was on life support," Todd writes in the book.
Carrie's cause of death was revealed in June 2017. The Los Angeles County Department of Medical Examiner-Coroner confirmed to E! News that Fisher passed away from sleep apnea and "other undetermined factors."
Following Carrie's death, the Medical Examiner performed an autopsy on Dec. 30.
According to their report, the manner of her death has been ruled as undetermined. It went on to add that her cardiac arrest was caused by multiple drug intake along with "significance not ascertained."
Todd writes in the book that he, Billie and Bryan were given the toxicology report on Carrie, but didn't want or need to hear what was in it.
He shares, "He wasn't even two sentences into it when the three of us held up our hands to stop him, silently gesturing, 'We don't need to hear this. We already know.' There were a whole lot of drugs in her system and, sadly, it didn't surprise me."
Todd also shares that Billie ultimately decided to take her mom off life support. "I'll always hate that it was up to Billie to make the decision," Todd writes.
Tim Boxer/Hulton Archive/Getty Images
The day after Carrie died, Todd writes, Debbie woke up and told him, "'I want to be with Carrie,' she said into my eyes."
She then laid back down as if to take a nap. But Todd noticed she was snoring—she never snored—and her lip had dropped. Her doctor was called, who then discovered she was unresponsive. Todd was again joined at the hospital by Billie and Bryan. They were told Debbie had had a massive hemorrhage to the base of her brain. She passed away shortly after.
"The common theory about mom's passing was that, after losing Carrie, Debbie Reynolds died of a broken heart," Todd writes. "Take it from the son who was there, who knew her better than anyone else on earth — that's simply not true. Debbie Reynolds willed herself right off this planet to personally see to it that Carrie would never be alone."
My Girls: A Lifetime with Carrie and Debbie is out now.