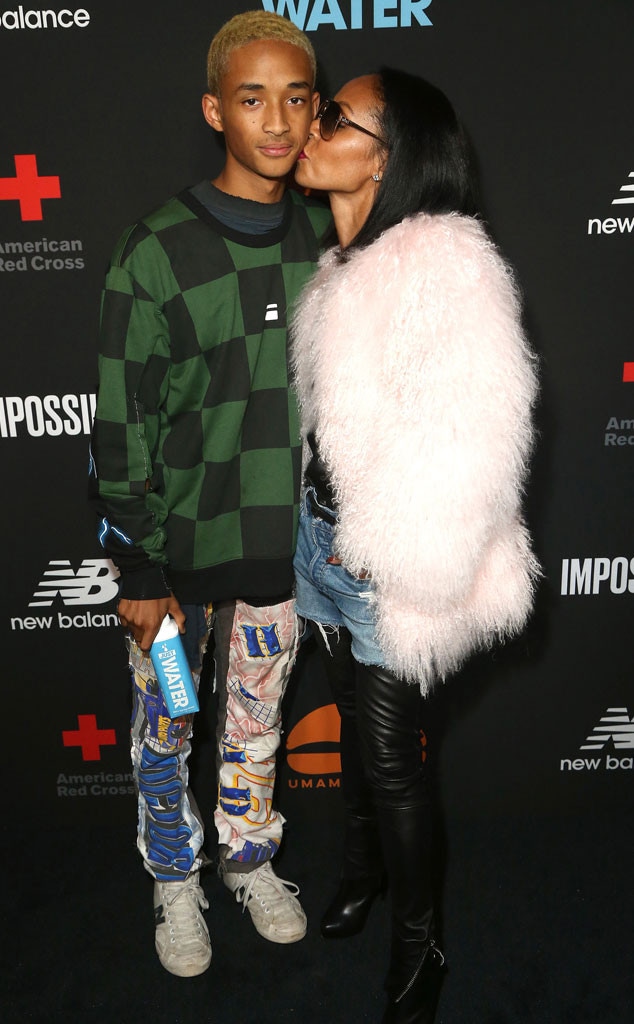 Tommaso Boddi/Getty Images for Umami Burger x Jaden Smith Artist Series
For Jada Pinkett Smith, this was one of the most "heartbreaking" moments of her life.
During a new episode of the actress' web talk show, Red Table Talk, on Monday, Smith recalled how her firstborn son, Jaden Smith, asked to leave their house when he was 15 years old. 
"I remember this day specifically. It was probably one of the most heartbreaking moments of my life," she said at the table as Jaden sat across from her with her mother Adrienne Banfield-Jones and daughter Willow Smith also at the table. "You got to a point here. You told me straight up—you were like, 'Mom, I have to leave here to live my life.'"
"I remember thinking to myself, as devastated as I was, I was like, 'He's right. The time is now. He's 15. It's time for him to leave the house," Jada continued. 
Despite her feelings, the famous mom of two was not surprised about Jaden's request. "I knew. I told Will when Jaden was smaller. I said, 'We'll be lucky to keep him in the house 'til he's 16 because he was so mature," she recalled. "He could really manage his own life."
"Being in this lifestyle, in this world is a bubble and he wanted out and I understood that," the actress continued. "I knew that the sooner I let him go, the faster he was gonna come back."
Jaden sounded like he was in agreement. "It just makes you appreciate being at home, being with your parents, spending quality time with family," he added. "You get out into the world and then you kinda just understand things."
As Jada put it earlier in the episode, "Every child needs something different." 
While rumors sprang up in 2013 that Jaden was looking to get legally emancipated as a 15th birthday present, he later told Ellen DeGeneres, "See, here's the thing. I'm not going anywhere. The thing that people don't get is everything at this house is free."
As the then-14-year-old continued, "I can get anything and everything at his house, so I'm going to be there for 20, 30 years. He says as soon as I have a movie that's bigger than one of [dad Will Smith's] movies, I can get my own house."
According to reports in early 2017, Jaden had officially moved out of the family home and into his own house.