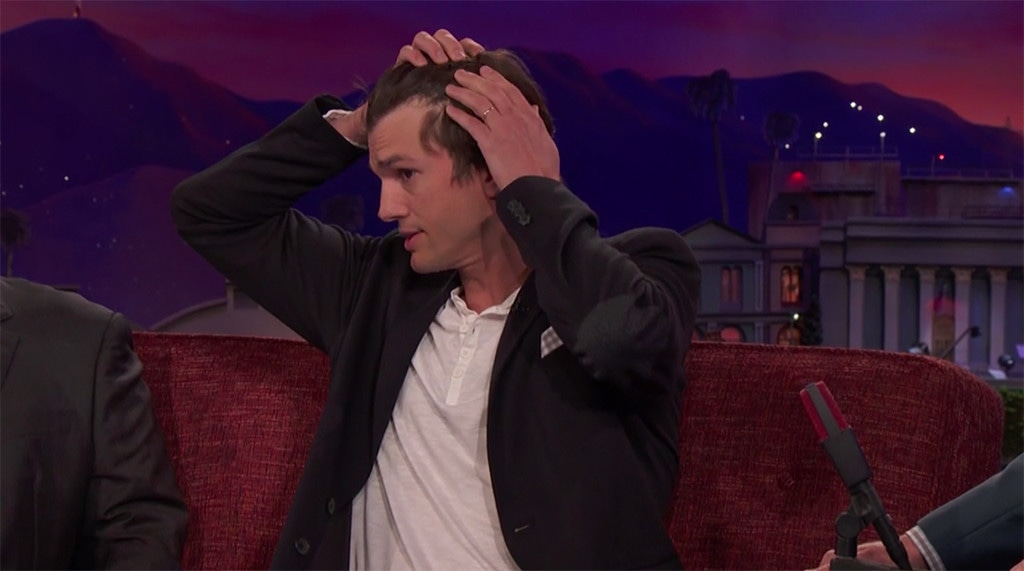 TBS
These days, Ashton Kutcher is anything but vain.
When he appeared on TBS' Conan Monday to promote The Ranch, Conan O'Brien took a moment to compliment his guest. "You always look good," he said. "You've got good hair."
"I'm going a little bit, though. I'm losing it," the 40-year-old actor said. Running his fingers through his thinning hair, he added, "If I really get up in there, guys, it's starting to disappear."
"When I was like 25, I noticed it was starting to go. I went to the hair guy doctor, and he put me on this medication called Avodart. Have you ever heard of this stuff?" Kutcher said. Essentially, he said, "Your body produces testosterone. The byproduct of testosterone actually causes follicles to get weaker and fall out, so you take this stuff and it washes away the byproduct of testosterone. But, we don't know what else might be used for that could be good in the body."
Kutcher was "holding on" to his hair, but when he decided to have kids with Mila Kunis, he worried about the possible side effects. "I didn't know: Is it safe to take? So, I stopped taking the stuff about three years ago and now I'm experiencing the hair loss. It's starting to go. I'm a baseball cap guy, so I think I'm OK. I've established myself as a baseball cap wearing individual. When it does go, you're not going to know that it's gone, because I'm just going to have a ball cap on." He dislikes toupees, saying, "I'll just let it go. I'll [be a] character actor or something."
The actor last spoke about balding in February, when Dax Shepard interviewed him on Armchair Expert. After going off Avodart, he said, "I did really good for a year, and now it's thinning out. I've actually become comfortable with it. I'm just good with it. I've got kids now."