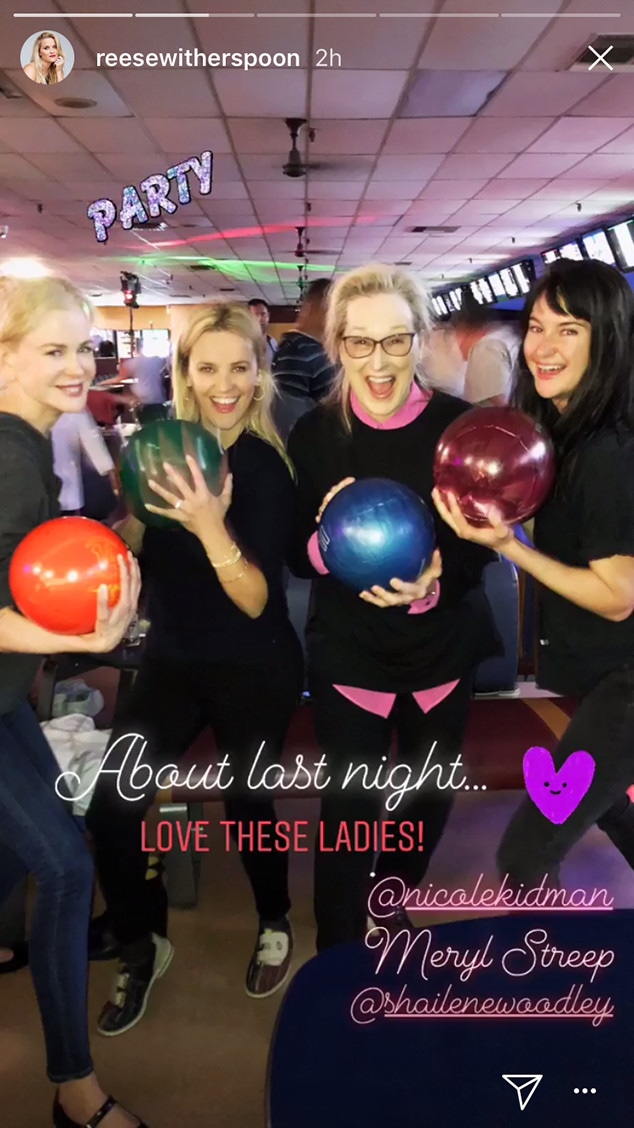 Instagram
The Big Little Lies cast knows how to party—at the bowling alley.
While you were at home Sunday night lounging on the couch or getting ready for the work week, the cast of HBO's huge hit came together for a casual evening out.
As documented on social media, cast members including Reese Witherspoon, Meryl Streep and Nicole Kidman were able to bowl, play pool and even have some beer.
"We work and we play!" Reese shared on Instagram during game night. "Bowl-a-Rama party with the ladies of #BigLittleLies! @nicolekidman #MerylStreep @shailenewoodley."
Nicole added, "Sunday night fun with our amazing #BigLittleLies crew."
Shailene Woodley and Zoe Kravitz also took to social media and shared photos from when they played pool with some special accessories. They would also pose in the photo booth with Reese.
The fun night out comes after Laura Dern joined the crew at the movies earlier in the weekend to support Shailene's latest film.
"WHAT TRUE SUPPORT AND SISTERHOOD LOOKS LIKE," the actress shared on Instagram as Laura, Reese and Zoe posed in front of a movie theatre with movie tickets in hand. "I feel so shown up for. #adrift @adriftmovie."
Back in March, E! News confirmed that Big Little Lies season two was officially in production. HBO said the new season will "explore the malignancy of lies, the durability of friendships, the fragility of marriage and, of course, the vicious ferocity of sound parenting. Relationships will fray, loyalties will erode…the potential for emotional and bodily injury shall loom."
The cast for season two also includes Adam Scott, James Tupper, Jeffrey Nordling and Iain Armitage. No premiere date has officially been set for Big Little Lies, but 2019 is eyed.