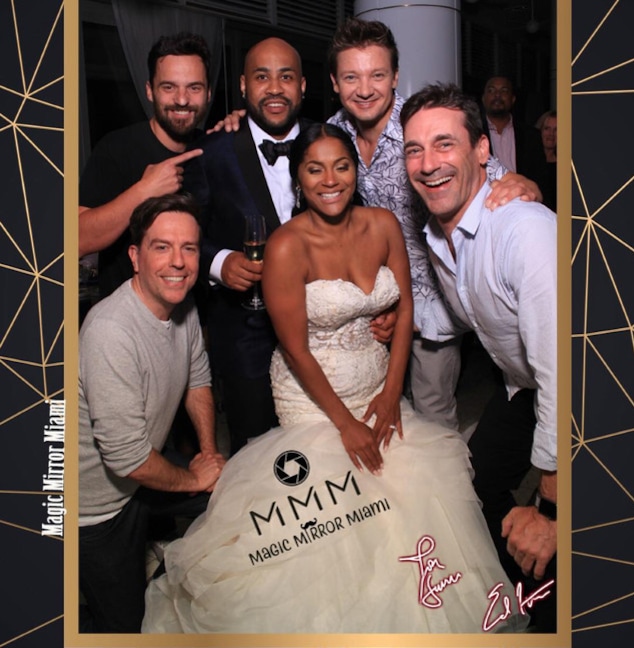 Magic Mirror Miami
Consider this wedding crashed! 
While on the road promoting their new flick Tag, titular stars Jon Hamm, Ed Helms, Jeremy Renner and Jake Johnson took one unsuspecting couple by surprise when they dropped in on their nuptials. Held at the Fontainebleau Miami Beach on Sunday evening, the groom's Best Man was giving a speech during the reception when Jeremy stole the mic (and the spotlight!). 
Telling attendees that he was in the midst of a game of tag with his co-stars, the entire wedding party interrupted into applause when Hamm, Helms and Johnson walked in without any warning. 
The newlyweds welcomed the celebs with open arms, and the men of Tag gladly posed with Mr. and Mrs. Thompson in their photo booth. 
"That wedding we crashed while doing press for #TagMovie in Miami. It was a beautiful wedding. Thank you for the drinks & hospitality," Jake captioned the moment on social media. 
Ed added, "CONGRATS Mr. & Mrs. Thompson!!!! Beautiful wedding!!!" 
Watch the couple's epic reaction to Jon, Ed, Jeremy and Jake's arrival in the video above. And for even more celebrity wedding crashers (think Tom Hanks, Taylor Swift and Beyoncé) check out our jam-packed gallery. 
Don't miss Tag when it hits theaters June 15.