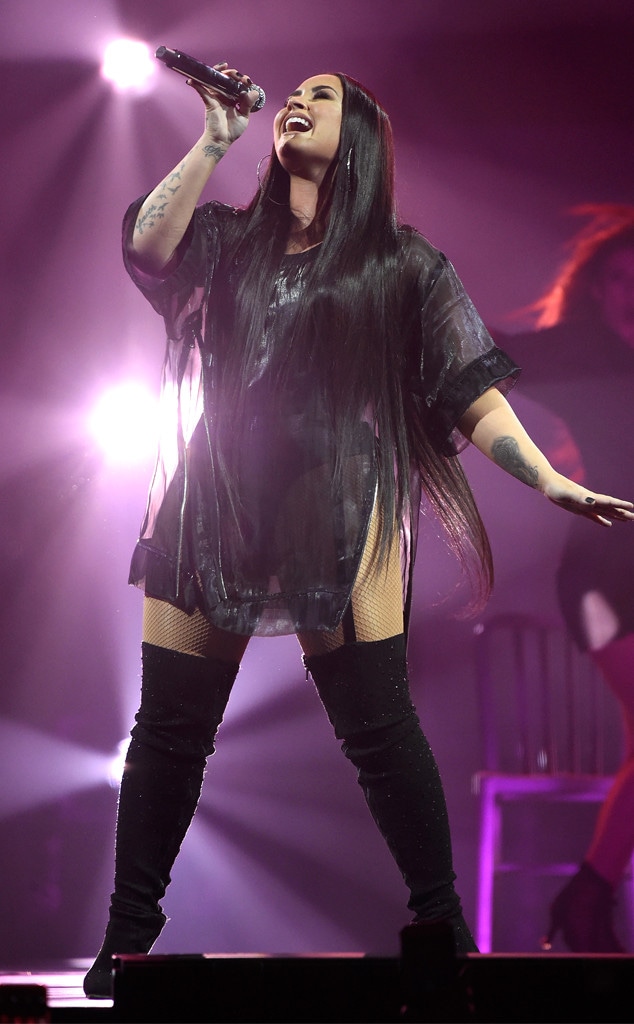 Kevin Mazur/Getty Images for Philymack
On Sunday, in the midst of her European tour, Demi Lovato decided to do an impromptu Twitter Q&A. In the span of 45 minutes, she revealed the "weirdest rumor" she's ever heard about herself ("I leak my own pictures/captions from my private account") and the biggest lesson she learned last year ("You can't always trust people who you once thought saved you").
Things took a turn, however, once a fan asked the "Solo" singer to name the best prank she's ever pulled on her bodyguard. "I hired a lady of the night in Vegas and sent her to Max's hotel room to surprise him," said Lovato, who deleted the tweet afterward. "She walked into his room without permission and grabbed him in his 'area' and he freaked the f--k out hahahaha."
Some of Lovato's fans argued that hiring a woman to touch Max Lea without his consent is a form of sexual assault, and one of her followers tweeted she was "beyond disgusted" over it. In response, Lovato tweeted, "I swear I could tweet something about craving jelly beans and it would offend someone." But, as the backlash mounted, she urged fans to listen to "Warrior," released in 2013. "Maybe you'll have more compassion for someone who made a simple mistake," she wrote. "Of all people I know about sexual abuse. You don't have to educate me."
Eventually, the "Sorry Not Sorry" singer tweeted, "So sorry if anyone was offended."
One of Lovato's followers tried to make her feel better, tweeting, "Baby...we know you and your story." But, the singer, replied, "That's just the thing...people DON'T know my full story..."