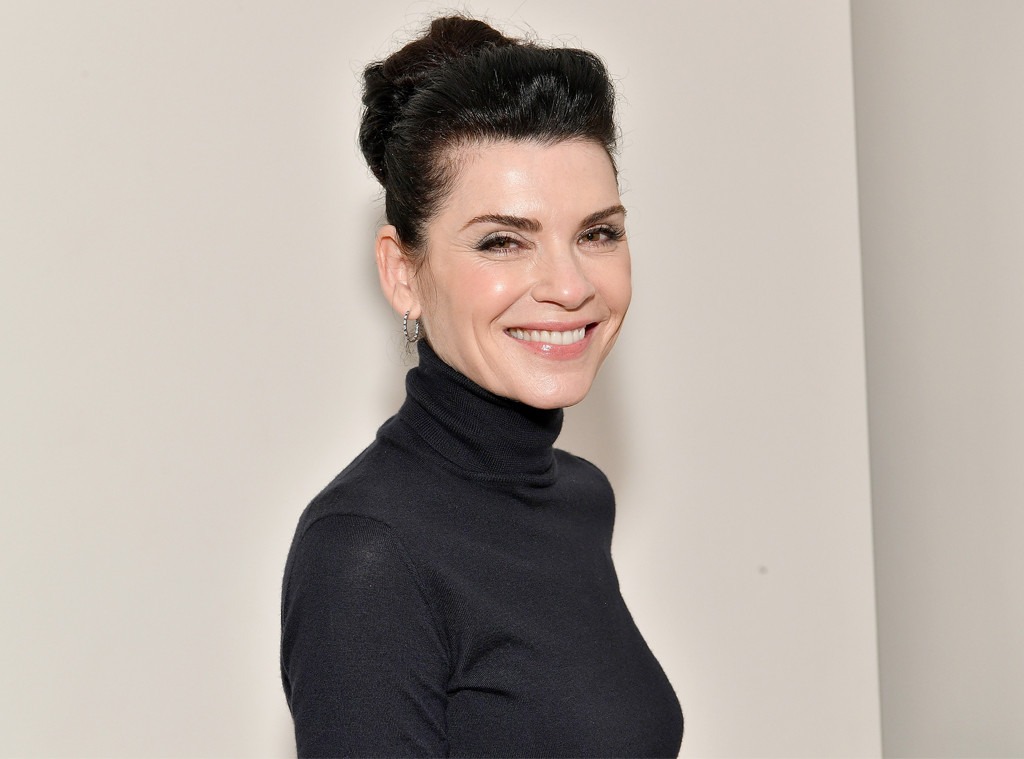 Dia Dipasupil/Getty Images for Vulture Festival
A new red wig, a villainous role, a cable drama—it's a new era for Julianna Margulies.
"Oh, it was delicious!" the Emmy-winning actor said about her turn as icy magazine editor Kitty Montgomery in AMC's Dietland. "It was really fun…people always say it's more fun to play a villainous role and I get it now."
Known to legions of fans for her tenure as Nurse Carol Hathaway on ER and most recently for her seven seasons as The Good Wife's Alicia Florrick, Margulies took two years off from series regular TV work before landing at Dietland, a new drama from Marti Noxon. Kitty Montgomery is a far cry from the characters Margulies has become known for. Alicia Florrick she ain't.
"I think viewers will see her as a villain. Once I got to know her a little better, I think she truly believes she's a wonderful person, but she's such a narcissist she can't see anything wrong with how she acts, which is completely and utterly unempathetic and brutal. She's cutthroat, but then playing her and seeing how she had to fight her way to get to where she is—and at the end of the day, even though she has brought this magazine from 0 to 100 in less than a year, she still has to answer to an all white male board, most of them over 60. So I got to understand her fight a little better, but yeah, I usually play the girl with the heart on the sleeve. And Kitty, I'm not sure if there's a heart even inside," Margulies said.
Based on the book of the same name by Sarai Walker, the AMC series stars Joy Nash as Plum Kettle, an overweight struggling writer who ghost writes Kitty's letters to the editor column. In their first scene together, Kitty sizes up Plum, shocked and visually disgusted by her appearance, Kitty eventually compliments Plum's eyes.
"I had to get over it too, because I'd get on set and say to Joy, 'I'm so sorry. My character is such a bitch to you today,'" Margulies told E! News during a recent interview at the Gramercy Park Hotel in New York City. "And she was like, 'Stop apologizing!' So, for me it was—I keep saying it was a vacation because it was just fun."
Watch:
Julianna Margulies & Joy Nash Praise Women of "Dietland"
Margulies said she straddled the line, not wanting to make Kitty a caricature. "I wanted her, even as crazy as the lines were that come out of her mouth, I wanted to make them as real as possible, even when she was saying crazy stuff," Margulies said. "So, it was a fine balance between satire and realism.
Dietland presented Margulies with an opportunity she's rarely been given before: be funny on TV. Sure, she's had roles in comedies before, like Scrubs, and Margulies pointed out that she hosted Saturday Night Live in 2000, but her TV work very much sits in the drama category. Dietland's dark humor was a "big draw" for her because she's "never cast as the girl who might be funny."
"For me, it was incredibly, I guess, cathartic, to be able to go out there—and I would say to Marti all the time, 'If I'm going over the top, please pull me back, but I have to go for it, otherwise it won't be fun. I can always bring it back,'" she said.
In Dietland, everything changes for Plum (and Kitty) early on when the writer is contacted by an underground organization of women fighting against the messages delivered by the beauty industry and the societal status quo. As if that weren't mysterious enough, there's another shadowy organization working to serve their own brand of justice (maim and kill) to abusive men.
"You know, it's such an interesting time for this show to be coming out and I think, for me, personally, what I would love people to take away from the show is to look through the world through someone else's eyes for a change," Margulies said. "Get out of your own stuck, stigma of what you think, of your judgment. Leave it at the door and start being more empathetic. I'm hoping that somehow Plum's journey will resonate, not just with anyone who's overweight, but to all of us who constantly pick apart other human beings."
Margulies is no stranger to character journeys. The actress spent six years on ER as Carol Hathaway, a character that was never supposed to live past the first episode. The character and Margulies tested well and Carol Hathaway stuck around, growing from brokenhearted to confident nurse. New fans are experiencing Carol's ER journey—and Margulies' first major role—all over again thanks to Hulu.
"It holds up?" Margulies genuinely asked, noting she was surprised by the attention and success ER is having once again.
"So, I left ER 18 years ago, and for the first, I would say 10 years after the show I would get stopped on the street, 'Oh, ER. Carol Hathaway.' And then it died down, except if I went to Europe, it would rise up again. What's been amazing is this next generation coming up...it's been almost 20 years and now I'm getting stopped on the street for Carol Hathaway and I can't believe it. It's all young people," Margulies said.
"My nieces are now watching it. They were too little to see it when I was on it, and I love that this whole new generation gets to see this show that was really—," she paused. "That show was a revelation for television, I think, in that it was so huge and nothing like it had ever been done. I'm just thrilled that Hulu is airing it constantly…streaming it."
And then there's The Good Wife, her latest hit that netted the actress two more Emmys and a Golden Globe.
Margulies spent seven seasons in Alicia Florrick's skin on the CBS legal drama about the wife of a disgraced politician who reenters the workforce to support her family. Series co-creators Robert and Michelle King said the seven-season series was the education of Alicia Florrick. The show wrapped its run in 2016 and Margulies said she's feeling the character's impact now more than ever.
"Well, I feel her impact because I have a lot more time now to be out and about, run errands and ride the subway, and have a normal life, so I didn't really feel the impact of Alicia until I was off the show and had time to have people come up to me and tell me what Alicia did for them. The thing that makes me the most happy is hearing these young women say, 'I'm in law school because of your character," she said. "To think that somehow I might have influenced goodness to come out this…It really didn't have much to do with me, probably had everything to do with the writing, but it makes me really happy to know that young women are molding themselves after a character I so respected."
It's Carol Hathaway and Alicia Florrick that Margulies would say are her defining roles. "I feel so fortunate in that I've gotten really great roles and I've had such great writers behind those role," she said. "So, for me, I mean where I'm at in my life right now—talk to me when I'm 90 and I've played other roles, hopefully—but right now, I would say my most defining role has to be between Carol Hathaway and Alicia Florrick because they're both very different roles, but they both carry tremendous importance, for me, as an actress, anyway."
And it was her time on ER and The Good Wife that really prepared Margulies to take the risks she needed to with Dietland and Kitty Montgomery.
"Well, my past roles didn't prepare me for it, except in my work ethic and knowing what it's like to be on a set. I think what they prepared me for was, for the first time I didn't feel like I was holding up a show on my shoulders," she said. "And so it gave me freedom, it gave me time to really rehearse for myself and know my lines inside out. It gave this incredible freedom to go for broke, you know? I was allowed to be the fall guy, rather than the person holding it all up."
Margulies goes for broke when Dietland premieres Monday, June 4 at 9 p.m. on AMC.