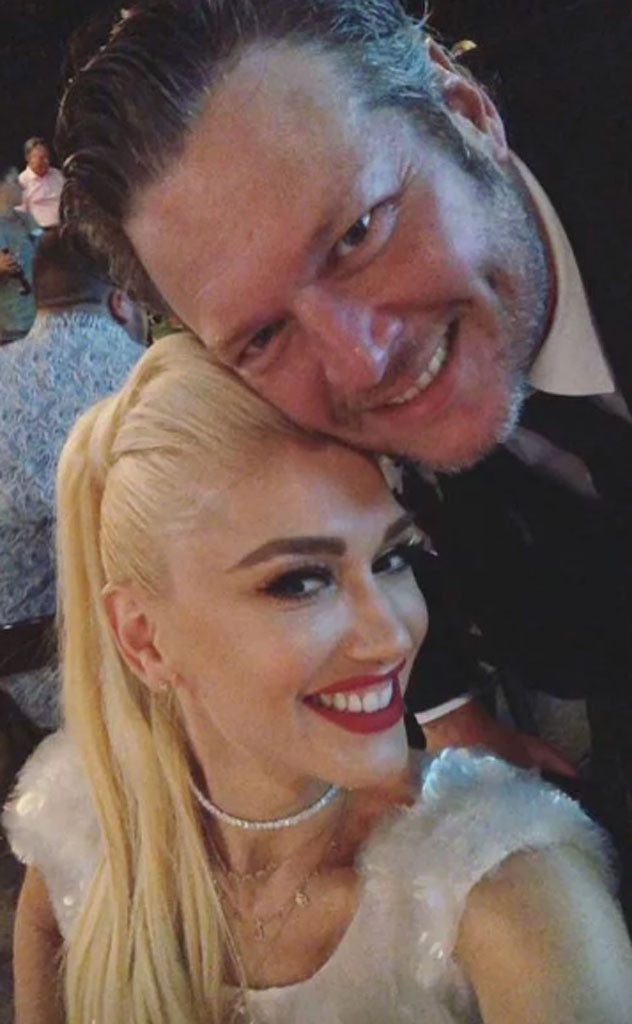 Instagram
If Gwen Stefani comes to your wedding, you should definitely play some Gwen Stefani tunes—and that's just what happened when the No Doubt songstress joined boyfriend Blake Shelton at his pal's wedding at River Ranch Stockyards in Fort Worth, Texas.
During the events, the singer shared several photos and videos while enjoying the night with her main man, who was a groomsman.
Of course, Stefani caught Blake making his big entrance into the reception. She even shared a sweet selfie of the two, who couldn't stop smiling,  
The best part may have been when the DJ spun Stefani's hit "Hollaback Girl" and the singer delighted the crowd when she hit the dance floor.
Along with the Instagram Stories video, she captioned the clip, "Pulled on to the dance floor," along with "Bananas."
For the Texas-sized nuptials, Stefani opted for a black-and-white ensemble and added a pop of color with a red lip, her signature. She kept things sleek with over-the-knee boots and a high ponytail.
In April, Gwen appeared on Ellen DeGeneres' eponymous talk show and gushed over her relationship  "He got sexier," Stefani joked of Shelton, who was named People's Sexiest Man Alive last year. "He just keeps getting better and cuter and more country."
"It's weird because I get nervous when you talk to me about him. I don't know why," Stefani told her. "I just feel like for some reason the cameras are rolling and I shouldn't say something." 
When asked about if she was thinking about marriage, Stefani replied, "If I say, 'We are,' then I say, 'We are!' And if I say, 'No, we're not,' then that would be sad, too."
"I think you should get married," said the host, who wed Portia De Rossi in 2008. "Don't you?"
"What are you doing?" Stefani giggled. "God!"
"You came to me! I'm not at your house," DeGeneres reminded her guest. "It seems like you came to me for advice, and you're asking me, and I'm telling you, 'Yes, y'all should get married." By that point in the conversation, Stefani was blushing. "You know, what? I love weddings. The kids love him. We love him. Everybody loves him," the No Doubt rocker gushed. "He is lovable!"
"Well, just think about it," DeGeneres suggested. "There's no rush."
"I do," Stefani admitted. "I think about it all the time."
"Does he think about it?" DeGeneres asked.
Stefani replied, "I swear...I don't know!"
We bet we know!