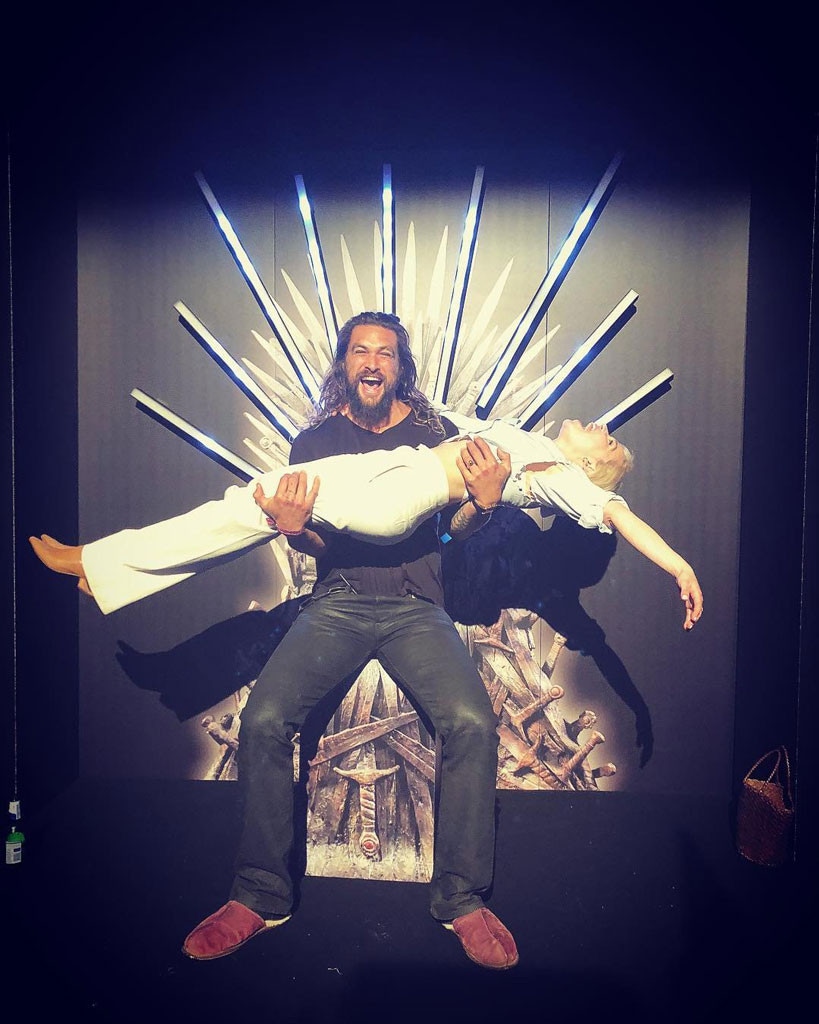 Instagram
Right where they belong!
Emilia Clarke and Jason Momoa (You know everyone's favorite ill-fated onscreen couple—Daenerys and Khal Drago) gave Game of Thrones fans quite a thrill when they met up a Game of Thrones event and couldn't help but have a little fun on the Iron Throne.
Emilia took to Instagram to share the amazing photo of Jason holding her up, along with the caption, "FYI...This is the closest you'll ever get to me attempting 'that lift' from dirty dancing. Yes, my man is sitting. Yes, there's no lake. And yes, I have no idea I'm NOT being raised above his head."
She also hilariously added, "(Id like to take a moment to thank alcohol for giving me courage to attempt this. Ever.)"
The actress, who has played the career-making role of Khaleesi on the hit HBO show since 2011, wrote, "@gameofthrones @prideofgypsies #nooneputsdrogointhecorner #imhavingthetimeofmylife #fyi #thankgodwegotthatmanonathrone #mysunandstarsintheireyes."
Earlier this week, Momoa was recently hanging out with GoT showrunners David Benioff and Dan Weiss in Belfast, where the show has been filming. Some surmise that Momoa may be reprising his role as the murdered Dothraki chieftain—but that could just be a red herring for the show's eighth and final season.
Recently, Clarke spoke about filming her character's final scene for the hit show, which is still filming its final season.
"It f--ked me up," Clarke told Vanity Fair. "Knowing that is going to be a lasting flavor in someone's mouth of what Daenerys is…"
"This story, A Song of Fire and Ice, is done. There's no revival, reboot, spinoff talk," HBO boss Casey Bloys previously told The Hollywood Reporter.
Regarding the final episodes of the series, Bloys and the cast have kept mum on what's to come.
"They're great. It's fantastic," Bloys teased. "The fans are going to be very, very happy."
Even Momoa has spoken about the final episode. 
"It's going to be the greatest thing that's ever aired on TV. It's going to be unbelievable," Momoa told EW. "It's going to f--k up a lot of people. And it was a bummer because I'm a huge fan and I didn't want to know what's going on. I was like, 'Damn, I didn't want to know that!'"
Oof! Well at least we have this image! Long live Khaleesi and Khal!