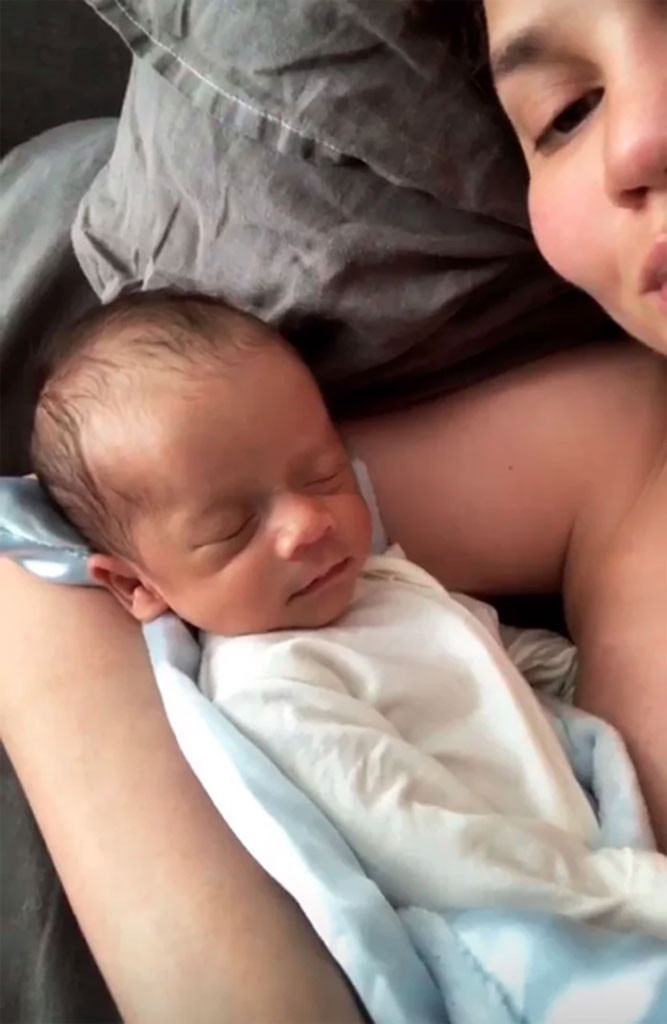 Instagram
Hush little baby, don't say a word, Mama's gonna post a video of you on Instagram Stories...
After hosting a dinner party last night, Chrissy Teigen hopped on Instagram Stories today to share a sweet photo of her two-week-old son Miles Theodore Stephens, who was born on May 16.
On Sunday, Chrissy shared a video of her sleeping baby as she whispered to the camera. 
On May 16, Chrissy took to Twitter to announce the arrival of the couple's first son. "Somebody's herrrrrrre!" she tweeted with a series of baby bottle emojis. 
On May 20, the social media star posted the first pic of her cuddly son and shared his name with the world. The mom of two wrote, "Hello, world! This is Miles Theodore Stephens - We are drowning in his little peeps and nuzzles. Our household feels overwhelmed with love. Thank you for all your well wishes!"
Their newborn son joins the couple's two-year-old daughter Luna Simone Stephens.
The pair have been keeping busy post Miles. On Friday night the pair had a date night decked out in all-white disco attire. Chrissy donned a sparkling white wrap dress and headdress, which was styled by Monica Rose.
The always hilarious social media star threw a joke into the dazzling night on the town, writing on one pic, "I will be sore from this 3 second ass pop all week."
Earlier in the week, Chrissy also posted of pic of Luna doting on her baby bro, which received over two million Likes on the social media platform.
Hours after announcing the baby boy's name Legend appeared at the  2018 Billboard Music Awards red carpet and explained the reason for picking the name Miles.
"We named our first daughter Luna Simone Stephens and every name we give to our kids I think will have a little bit of musical history to it," he explained to E!'s Jason Kennedy on the referencing Nina Simone. 
"Miles of course is the same name as the great Miles Davis and Chrissy really liked the name Theodore, so we put it all together and had Miles Theodore Stephens," the star continued. "When he came out and we hung out with him for a little while, we were like, 'He looks like a Miles.'"
He also looks like a little love bug!