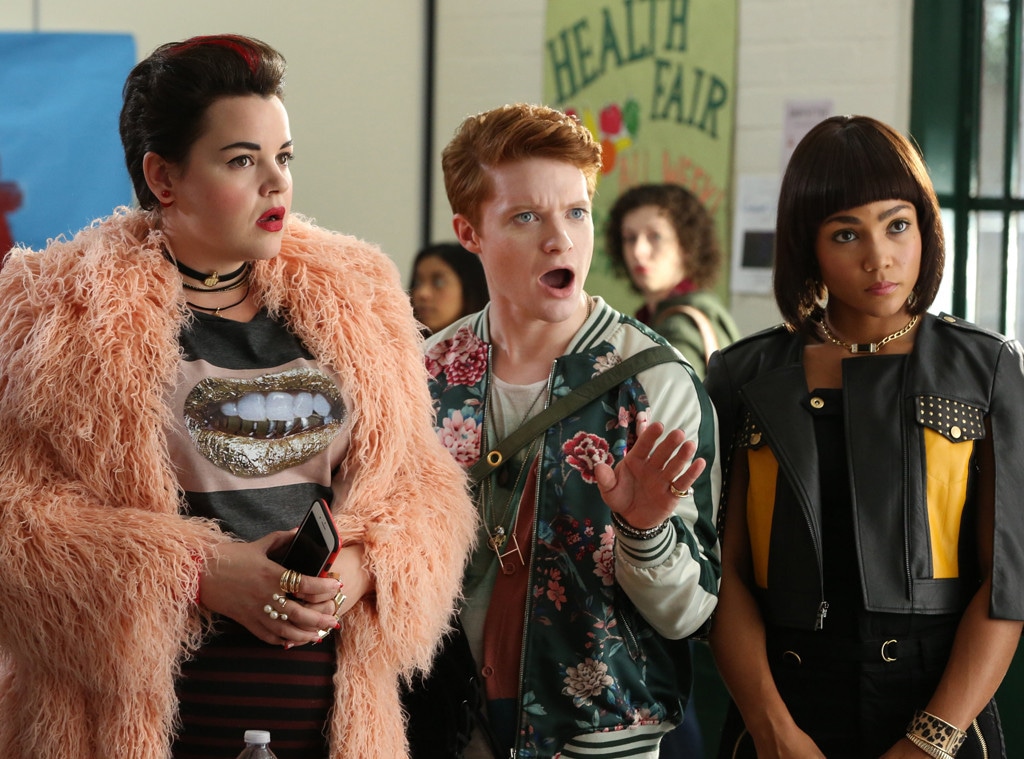 Paramount Network
Three months after the Paramount Network (formerly Spike TV) pushed back the premiere date of the Heathers reboot following the Parkland school shooting in February, the network has announces its pulled the show after the Sante Fe High School shooting in May. The show will not be aired on any Viacom platform.
Paramount Network president of development and production Keith Cox told The Hollywood Reporter, "We were going to air in March and hit pause and then had Santa Fe."
Last month, a 17-year-old shooter killed 10 people and injured 13 more in Texas.
"This was a very difficult decision. We had multiple meetings, and in the end, we didn't feel comfortable right now airing the series and I'm not sure when there might be a time that we as a youthful brand at Viacom would feel comfortable," he told the publication. "This is a bold move and we stand behind it."
Meanwhile, Cox and company are trying to find a new home for the show, which is an updated version of the original 1988 film written by Daniel Waters and directed by Michael Lehmann.
In February, Paramount Network announced that in light of the horrific school shooting in Parkland, Fla. that left 17 dead, they were pulling the black dramedy from its schedule for a launch later this year. The news came just a week before its originally intended March 7 premiere. 
"Paramount Network's original series Heathers is a satirical comedy that takes creative risks in dealing with many of society's most challenging subjects ranging from personal identity to race and socio-economic status to gun violence," the network said in a released statement back in February. "While we stand firmly behind the show, in light of the recent tragic events in Florida and out of respect for the victims, their families and loved ones, we feel the right thing to do is delay the premiere until later this year."
The series revolves around Veronica  Grace Victoria Cox, playing the role originated by Winona Ryder) and her rebel/sexy sociopath boyfriend J.D. (James Scully, originally played by Christian Slater) as the deadly duo deals with popular-but-evil girls—the titular Heathers—and the trials and tribulations of navigating high school.
Much to delight of fans, OG Heather Duke, played by Shannen Doherty, was back in action in the reboot.
Heathers is just one television show that's been impacted by horrifying real-life tragedies in the news. 
Ryan Murphy's American Horror Story:Cult amended a scene last year, a first in the franchise's history, in light of the Las Vegas massacre at the Route 91 music festival. USA's Shooter was delayed twice in 2016 due to the subject matter. And the list goes on.