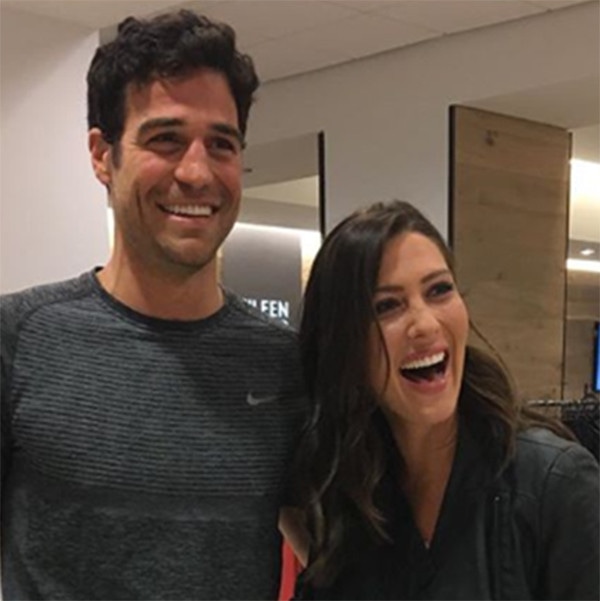 Instagram
Good to see you again, Grocery Store Joe!
Bachelorette contestant Joe Amabile, a 31-year-old buyer for supermarkets, who hails from Chicago, won the hearts of scores of fans when he made his debut the season 14 premiere of the ABC dating show, which aired on Monday. They were shocked when star Becca Kufrin sent him home. On Saturday, the two reunited at a Bloomingdale's in the city, two weeks after filming on the whole season wrapped.
Amabile posted on Instagram Stories a video of himself walking in the street with two guy friends and saying, "I'm Becca, I'm off today. Where you at?" He tagged Kufrin.
Amabile later posted on his regular feed a photo of the two posing for pics inside the Bloomingdales, writing, "Look who I found @bkoof and watermelon swim trunks."
Kufrin also shared on Instagram Stories a photo of her with Amabile, writing, "Annnnnddd looky here," she wrote.
Kufrin recently reminisced about the Bachelorette premiere and meeting and cutting Amabile.
"He was great on night one but I could tell he was nervous and I wasn't sure if he could get past the cameras," she told E! News exclusively. "And it's hard that first night, because I'm really just trying to go off of my gut instinct and there were so many conversations and I had to make a lot of tough cuts. Night one for me happened so long ago and so really I didn't get to know those seven guys."
"He's a sweet guy," she added. "I'm happy that people love him."
And you may not have seen the last of Grocery Store Joe.
After Amabile was eliminated on The Bachelorette, host Chris Harrison hinted on Twitter that he may be headed to the next season of popular spinoff Bachelor in Paradise.