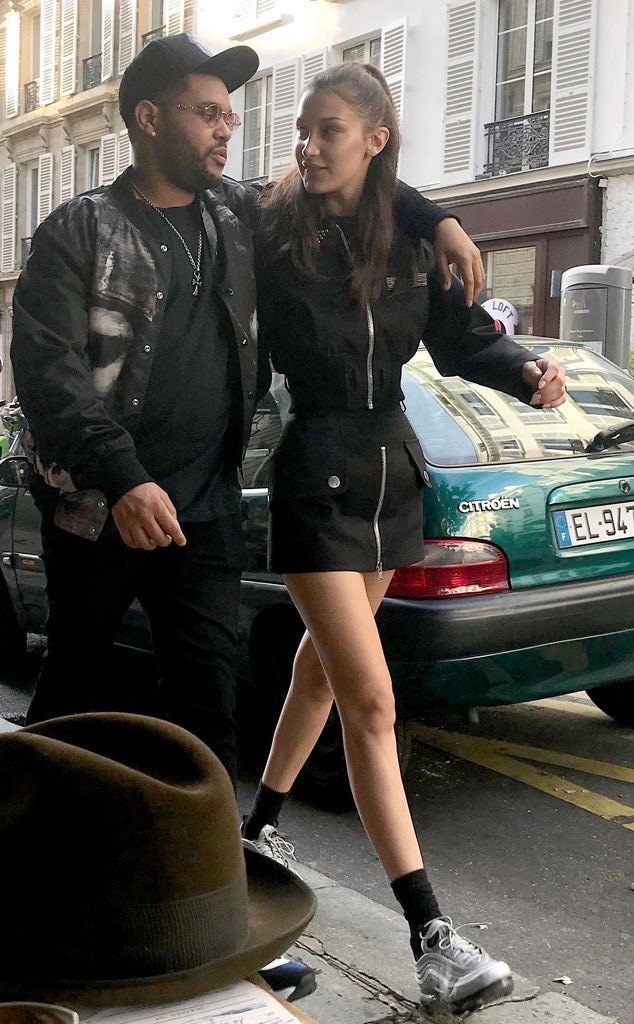 Best Image / BACKGRID
Things appear to be heating up again between Bella Hadid and The Weeknd.
The 21-year-old model and 28-year-old singer broke up in 2016 after dating on and off for a year and months after their split, he went public with his romance with Selena Gomez. They broke up last fall and this past November, E! News learned Bella and the Weeknd were hanging out again. Last month, the two were spotted kissing at a 2018 Cannes Film Festival party and also attended a movie screening together. 
Bella and the Weeknd were recently photographed together in Paris. The two were seen walking together and sitting and chatting at a cafe. The Weeknd also bought a few wrapped roses for her.
"They arrived together on a private jet from London. They spent all day together strolling the streets of Paris," a source told E! News exclusively. "It was a great day for them and they walked all over [the] Pigalle [area]. They stopped at [the] A La Cloche D'or [restaurant] and Blueberry Cafe. They sat outside and had a long conversation. He was showing her things on his phone. She was totally at ease, kicking back with a glass of rosé and a cigarette. They left with their arms wrapped around each other laughing and enjoying the evening. He stopped on a street corner to buy her roses, which he carried around the city."
"Then they walked to Sardegna a Tavola for a romantic dinner," the source said. "They sat outside again and enjoyed each other's company. They were giggling and seemed so happy together. They had a car pick them up at the end of the night and take them back to their apartment hotel."
Bella and the Weeknd have not commented on their trip or the nature of their relationship.