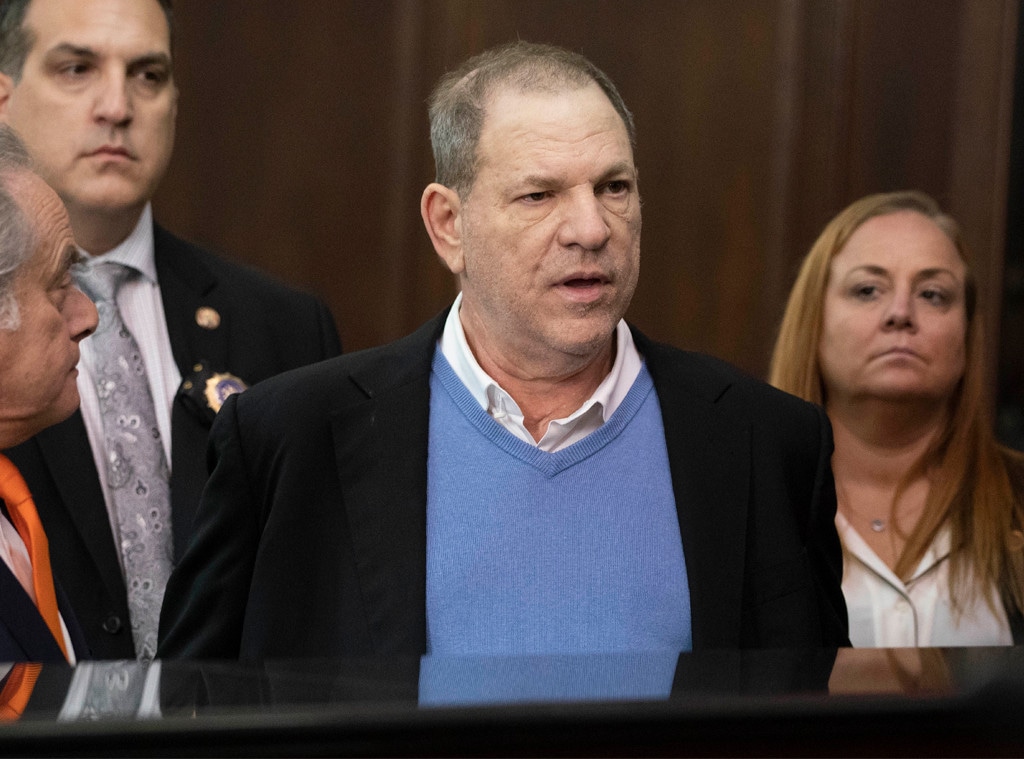 Steven Hirsch/New York Post via AP, Pool
Three women accuse Harvey Weinstein of sexual assault and harassment in a new class action lawsuit filed against the disgraced producer on Friday, two days after he was indicted for alleged rape in a separate case.
The court papers were also submitted months after about 70 women, including famous actresses, publicly accused him of sexual assault and other misconduct. Weinstein had last year denied taking part in nonconsensual sex and his lawyer has said the producer plans to plead not guilty to the rape and other sex crime charges brought against him by two other women, who have not been identified. Weinstein and his legal team have not commented on the new lawsuit.
The court papers state that one of the alleged victims, Melissa Thompson, met Weinstein in 2011, when she worked as a consultant for a technology startup. The papers claim he touched her inappropriately at his office while she was pitching him a software program for his company.
The papers say Thompson and Weinstein later met at a hotel restaurant, where she hoped to "secure the deal" for her company. The papers state that they ended up in his hotel suite, after she initially thought he was leading her to a public screening room.
According to the lawsuit, he allegedly began giving her a massage, after which she went to the bathroom. It states that when she exited, she saw that he had undressed to be naked from the waist down and that he allegedly told her to join him in the shower. According to the lawsuit, Weinstein then allegedly "held Thompson down and raped her," then again asked her to take a shower with him. The papers say that before she left, he allegedly began talking to her about contracts with her company "and for roles he had in mind for her," and told her he would set up a meeting with his colleagues. 
The lawsuit states Thompson sent "video evidence of Weinstein's assault of her to a lawyer. The Blast posted on Friday what it says is a video screenshot of Weinstein touching Thompson's arm inside the room.
The court papers also name Caitlin Dulany as a victim, saying that in 1996, Weinstein, her "mentor" at the time, allegedly met her at her apartment to pick her up to go to dinner. It states that while he was there, she went to the bathroom and that when she came back, she allegedly found him naked in her bed. It states that she told him to get dressed and that he complied and left.
The lawsuit states that Dulany and Weinstein allegedly ran into each other again two months later at the Cannes Film Festival, where they attended a few events together. After a benefit dinner, she was told she had a ride waiting to take her to an after-party. She accepted it and was taken to a hotel where Weinstein was staying. The papers state that ended up with him alone in his hotel room, where he allegedly "undressed her and performed oral sex on her without her consent."
The papers state that a third alleged victim, Larissa Gomes, met Weinstein in 2000 while she worked as an actress and ensemble dancer on the set of one of his company's films, Get Over It. The lawsuit says she later met with him at a Toronto hotel room, along with two associates, to discuss her career, and that the meeting prompted her to accept the invitation to attend another one. This time, Weinstein was allegedly alone. He allegedly demanded she lay down with him, give him a massage and expose her breast.
According to the papers, Gomes started to leave, after which he allegedly followed her, wearing a bathrobe, and allegedly began to give her a massage and touch her chest. The papers state that after she moved away from him, he allegedly told her, "You know Gwyneth Paltrow and Ashley Judd were exactly where you are at one point. Look at them now. Ashley Judd had no problem f--king me."
Paltrow and Judd have both spoken out in the press about Weinstein's sexual harassment of them and the latter star weeks ago filed a lawsuit against the producer over the matter.
Gomes states in the lawsuit that Weinstein also allegedly grabbed her and tried to kiss her but failed and that she then ran out of the room.
The lawsuit also claims that two of Weinstein's attorneys later "used deceptive tactics" to cause her Thompson to "believe that they were working for the victims in order to entice her to turn over her visual and audio evidence of Weinstein's actions," which she says she did. The lawyers denied the allegations to the New York Post, with one stating he has never represented Weinstein.
The lawsuit seeks retribution for the alleged victims' loss of work opportunities, damage to their careers, and "significant physical and emotional distress they endured then, and continue to endure now."