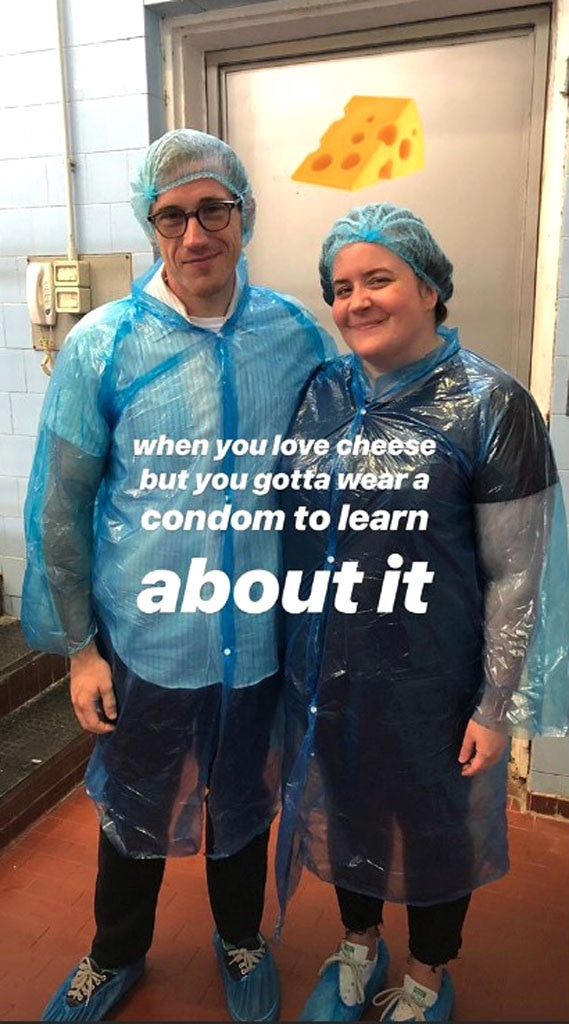 Instagram
First comes love, then comes marriage, then comes a tour of a cheese factory on your honeymoon? For Aidy Bryant it sure does! 
The Saturday Night Live star married comedy writer Conner O'Malley in late April, and the pair are currently celebrating their newlywed status on vacation overseas. In addition to museum hopping and relaxing by the pool, Aidy and Conner recently toured an authentic cheese factory. (This is what dreams are made of, right?)
Bryant documented the trip on social media Thursday, sharing multiple photos of the newly minted husband and wife suited up in protective "condoms." 
"When you love cheese but you gotta wear a condom to learn about it," the comedienne captioned one snapshot. 
Clad in plastic blue ponchos, hairnets and shoe coverings, Aidy and Conner posed in front of a giant wall of cheese barrels. 
Aidy teased in another photo, "When the condom so worth it." 
The pair, who announced her engagement in April 2017 six months after O'Malley popped the question, tied the knot at the Wythe Hotel in New York City. SNL co-stars Michael Che, Kate McKinnon and Mike O'Brien attended the soiree. 
Aidy and Conner started dating in 2008 after meeting  as performers at the Annoyance Theatre in Chicago. 
Congratulations again, you two! Enjoy the cheese.