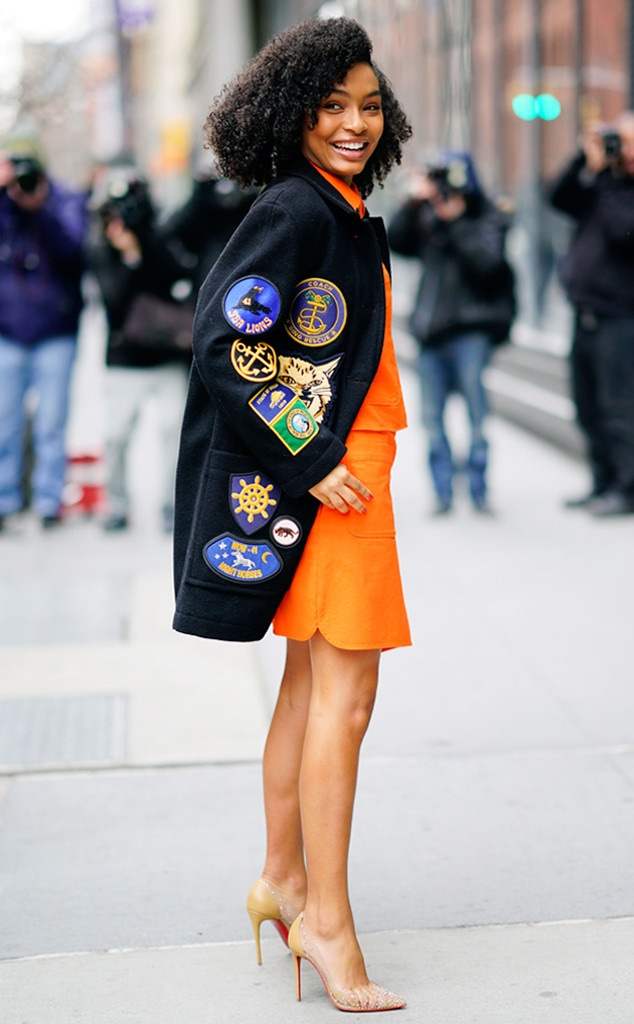 Gotham/GC Images
In honor of National Nail Polish Day, put your best fingers forward. 
Opt for something out of your manicure norm. Choose a color you'd never try. Or just find inspiration from Yara Shahidi, Hollywood's next-gen fashion icon. The Grown-ish actress teamed up with Essie to exclusively share with E! News her one-nail guilty pleasure, celebrity style role model and sage beauty advice.
You're quite the style chameleon—what's your everyday uniform look like?
Tracksuits are definitely my everyday uniform. I look for comfort and bright colors. Anything from bright purple to blue to pastels are within my closet—my favorite is actually my yellow tracksuit. I go with the classics from Nike to Tory Burch, who offer a wide variety. Our friend, designer, Melody Ehsani has really cool monochrome tracksuits. I actually wore one to the wrap party for Black-ish—while everyone else had dresses on, I was in my tracksuit.
How do you decide which risky trends to try and which to avoid?
Although I like to step out of my comfort zone, I still have to feel comfortable. A lot of it has to do with "Why am I doing this?" Is it about being fun, vibrant and enjoyable or because everyone else is doing it? That ultimately decides it. You still want to feel like yourself and in your environment.
RB/Bauer-Griffin/GC Images
You often mix surprisingly prints, colors and textures together. What's your tip for making these pairings work?
I do it all the time, and it's all trial and error! I think I started mixing prints on set because of Zoey [Yara's on-screen character], since she always does it. After that, I wanted to incorporate this into my everyday life. My stylist Jason [Bolden] does a great job at putting these together, but again, it's all about finding that balance and what feels good to you.
Where do find style inspiration?
All around! I have a binder on my phone called "my aesthetic" and it's a combination of color swatches, archive photos, music video references—you name it. I also have a lot of pictures of Solange because I just love her. She is one of those people who no matter what she wears it feels so "Solange." She can be wearing yarn, or a tree like in her music video, but it still feels so her and so right, and it really doesn't matter.
What's one surprising thing we'd find in your closet?
I guess Birkenstocks, they are my go-to shoes for set. This is probably why I always feel like I have to have my nails done, because no one wants to see them otherwise. I always go for a vibrant nail color that pops like a bright white—think Essie in Blanc—to contrast my furry Birkenstocks, which are absurd.
Erik Pendzich/REX/Shutterstock
What's the best beauty or fashion advice you've ever received?
To focus on self-care first. I've learned a lot from my mother, and we always spoke about taking care of yourself first and foremost. She also taught me the importance of properly washing your face—those subtle steps go a long way. Also, I've learned to look at beauty as a creative outlet. Use makeup to express yourself rather than to cover yourself. This is why I gravitate towards louder colors—there's that feeling of taking up creative space when you go bold.
Your skin is flawless—what does your regimen entail?
First, it's finding a great cleanser. I switch them out quite often just to figure out what works. I like any oil-based cleanser because it helps dry skin. I use anything from foam cleansers to Burt's Bees Oil Cleanser. Sometimes I use pure cut Aloe Vera or vitamin E oil. Outside of skin care, my one makeup routine that I consistently follow is my making sure my eyebrows are on point. I'm currently growing them out so it takes work!
What are your beauty guilty pleasures?
It's such random things, like I'm famous for only painting one nail. I love having color on my nails but when I'm on set it's difficult to match, so I'll just paint one of my nails. My go-to color choice is some sort of purple or a green. Essie has this seafoam green that I'm absolutely obsessed with—Mint Candy Apple. I also draw on myself; I'll just outline my nose with lipstick, it's fun. Typically, you wear makeup to be more professional but it's fun to just rewire sometimes.
Favorite nail polish colors?
Yellow is one of my all-time favorite nail polish colors. I think it's just the color of joy so I always go for a yellow. Pastels are also great since they match everything.
How do you like to express yourself with your nails?
I talk with my hands, so my nails are really one of the things people see first. I really gravitate towards big, bold colors. Essie's Geranium is a go-to—it's this really vibrant red. Depending on my mood, I'll either do nail art, like a yellow with stars or a matte black with a stripe, or I'll stick to one vibrant color.
We told you: Style icon in the making.