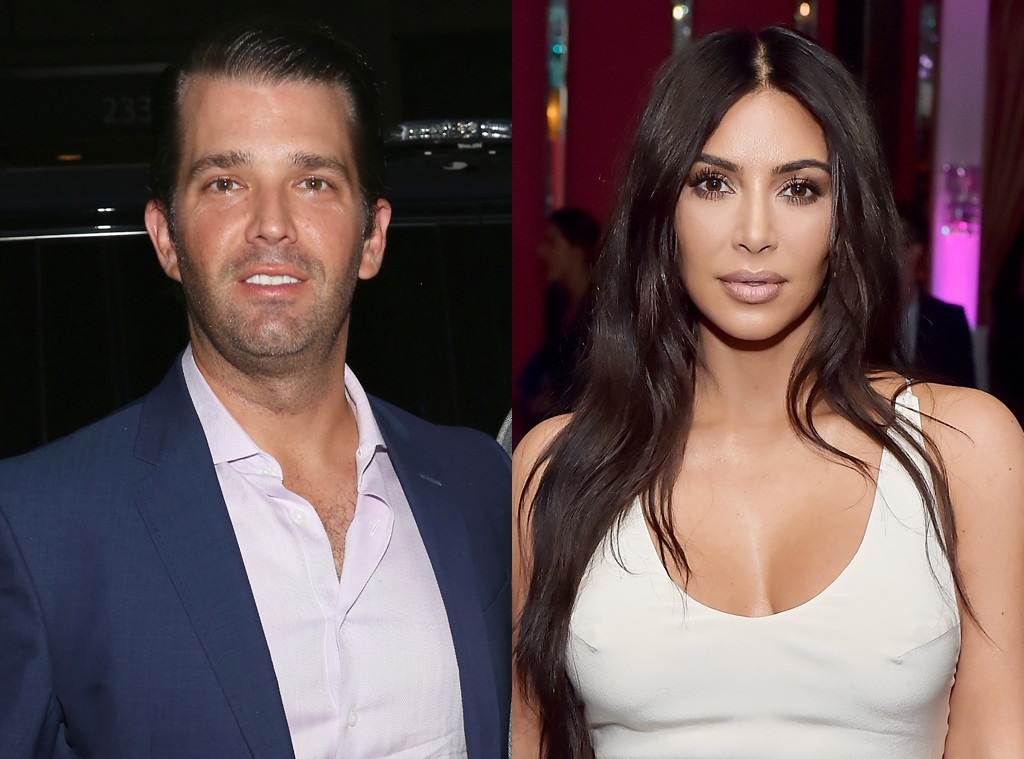 Getty Images
Donald Trump Jr. came to Kim Kardashian's defense on Thursday after the New York Post ran a cover story mocking the reality star's recent meeting with President Donald Trump.
The Keeping Up With the Kardashians star met with the president on Wednesday to discuss prison reform. Later that day, the newspaper teased its new cover. 
"The Other Big Ass Summit," the cover read along with the phrases "Kim Thong Un pitches prez on prison reform" and "Trump Meets Rump." 
The commander-in-chief's eldest son shared the cover on Instagram and defended the reality star in the caption. He also claimed there was a "double standard" in terms of how the media covers the Trump administration versus how it covered former President Barack Obama's administration.
"Hate to always have to point out the obvious but you never got this kind of hate [when] Obama did his parading of celebs through The White House," he wrote. "When he did it they were all amazingly subject matter experts. Why the continued double standard? Here a woman @kimkardashianwho happens to be a celeb has spent years on one case researching it funding legal defense funds but because she met with @realdonaldtrump about the issue that she's taken very seriously, she's mocked and criticized. If she did the same under the prior admin it would have been lauded."
"It's time to open our eyes," he continued. "The BS from the media and left wing agenda really needs to stop. Just look at he numbers. @potus is crushing it. Imagine what he could do without the noise and with 1/10th the support from the MSM and others that Obama got. It would be truly remarkable... and that's precisely what the other side is afraid of. #usa #america."
Kim has yet to comment on the New York Post's cover.
The reality star met with the president and his senior adviser Jared Kushner to ask them to pardon a 62-year-old woman named Alice Marie Johnson, who is serving a life sentence without parole for a first-time, nonviolent drug offense. 
After the meeting, Kim released a statement thanking the president for his time and expressing her hope that he would grant Alice Marie clemency.
"I would like to thank President Trump for his time this afternoon. It is our hope that the President will grant clemency to Ms. Alice Marie Johnson who is serving a life sentence for a first-time, non-violent drug offense," she stated. "We are optimistic about Ms. Johnson's future and hopeful that she—and so many like her—will get a second chance at life." 
Trump also tweeted, "great meeting with @KimKardashian today, talked about prison reform and sentencing."
Earlier this month, E! News reported that Kim had been in talks with the president's son-in-law. However, she first publicly shared her thoughts on the case in October, writing "This is so unfair" along with a Mic video about the case.
Kim's husband Kanye West made headlines in April for tweeting his stance on the president and sharing a photo of a signed Make America Great Again hat. At the time, Kim wrote that "most people (including myself) have very different feelings and opinions about this."