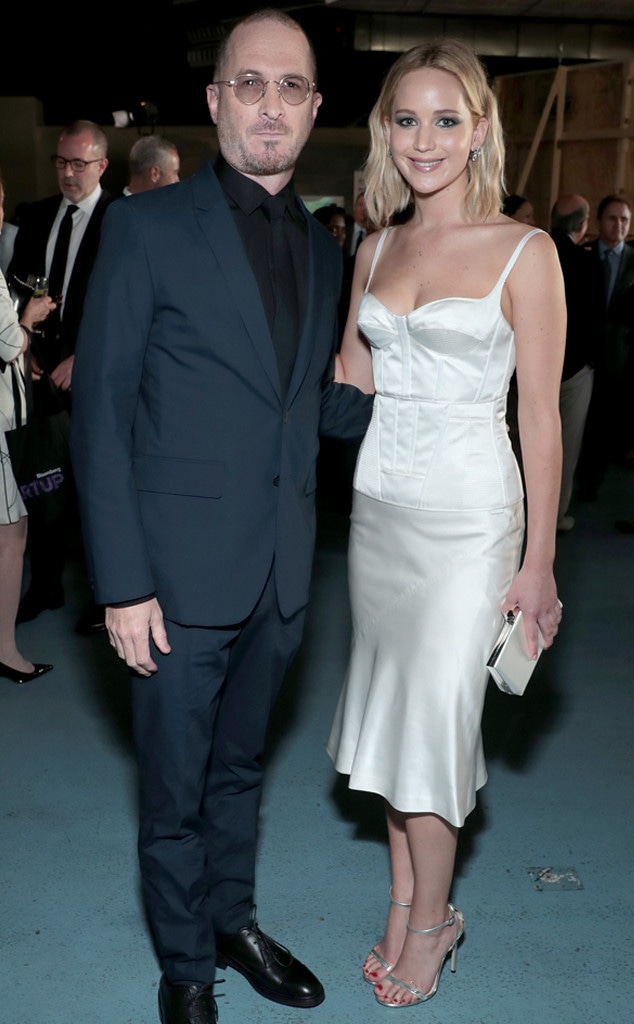 Cindy Ord/Getty Images for Brooklyn Academy of Music
Jennifer Lawrence and Darren Aronofsky might make better friends than lovers.
The 27-year-old actress made her first public appearance in two months at the BAM Gala Wednesday night. Lawrence, who skipped the red carpet and used a private entrance to get inside the Brooklyn Cruise Terminal, joined her 49-year-old director ex-boyfriend backstage before she handed him an award. Clearing her throat at the podium, she laughed and said, "I thought I did that backstage, but I had to an extra one!" All jokes aside, the movie star said, "I am thrilled to be here tonight to present this honor to my very good friend, Darren Aronofsky." Lawrence went on to speak about the filmmaker's "love of science and technology" and their shared concern about climate change—the source of inspiration for last year's thriller, mother!.
(Jeremy Irons, Jack Nusbaum and Nora Ann Wallace were also honored at the gala.)
Lawrence and Aronofsky broke up in the fall of 2017, just as their press tour for mother! was winding down. The two remained close, and in February, Lawrence said, "I still love him very much." As she told Marc Maron on his WTF podcast, she was instantly attracted to the auteur.
"He flew in, pitched me, left. The whole thing was probably an hour and a half, and then I was like, 'He's hot.' I remember I was holding my dog and I shut the door—and when the door shut, I went, 'Pippy that's called sexual tension.' He played hard to get for like nine months, maybe longer, which just killed me." In total, Lawrence estimated they were together for a while. "If we count everything, like two years. I had been saying two years for so long and he was like, 'It's been, like, six months!' I think two years. I mean, I was in love with him for like, two years."
Yes, Lawrence was heartbroken after their breakup, but she's always remained on good terms with her exes. "I have a theory: I think it's because I'm blunt," she said. "I don't think you can have any sort of bad relationship with anybody if you're just blunt. Everybody always knows how you feel at all times and there's no lying; it's just honesty. Everybody's a good guy to each other." She added that "all" of her exes, including actor Nicholas Hoult, "have been wonderful."