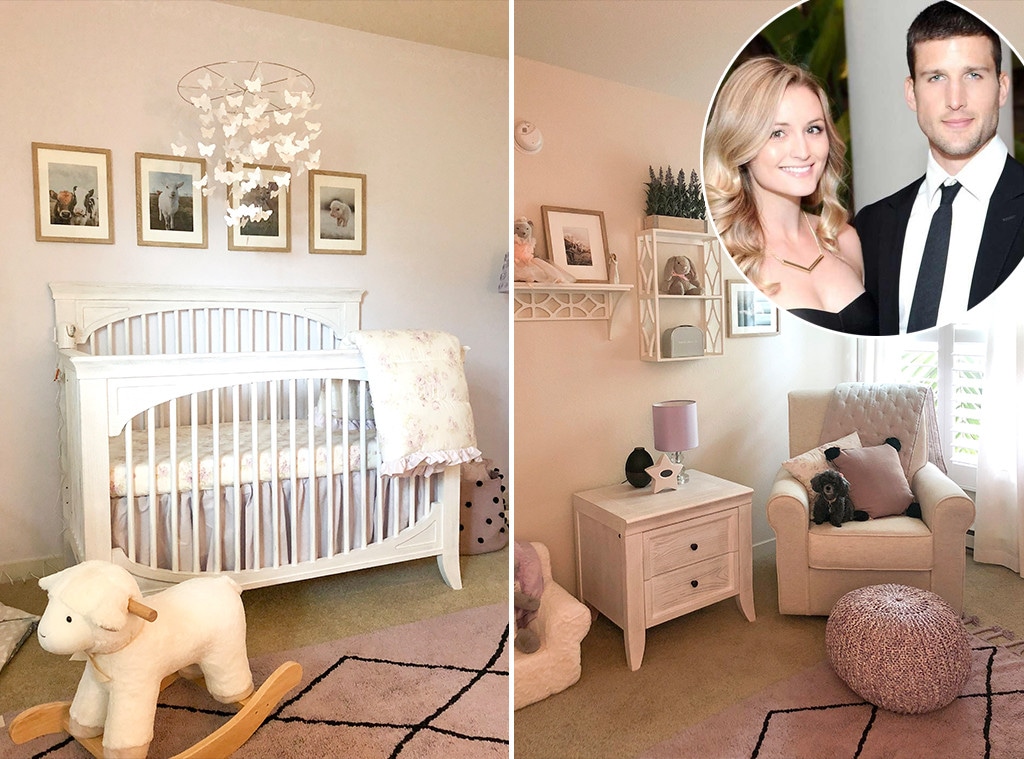 Courtesy Stephanie Weber & Parker Young
Parker Young and Stephanie Weber's baby girl is going to have one special room.
As the Imposters star and his fiancée prepare to welcome their first child together this summer, the proud parents-to-be have been hard at work planning a special nursery for their daughter.
Lucky for us, they are giving E! News an exclusive sneak peek at the barn-inspired oasis that any baby would be lucky to call home.   
"It all started with a photograph. Stephanie stumbled upon a photographer named Sammantha Fisher, an animal activist who captures beautiful and compelling photographs of animals in both slaughter houses and in sanctuaries," Parker shared with us. "As an animal lover, she was immediately drawn to her work and was captivated by a photograph she had taken of a mother cow and her baby in a field of purple flowers, which is the canvas that is now hanging above our changing table. That photograph inspired the lavender wall color, which will also hopefully be a calming color that will help the baby sleep, as well as the furniture."
In photos obtained by E! News, fans can spot the Lorena Canals rug, Nook Sleep mattress, Carousel Designs bedding and a handmade crib and furniture from Milk Street. All of the unique brands and items were found through Gugu Guru.
Courtesy Stephanie Weber & Parker Young
"We think everything looks so beautiful and we are so happy with how it all came together," Parker explained. Stephanie added, "Parker definitely didn't catch the nesting bug nearly as hard as I did, which was fine with me because he let me take the reins on this one."
Back in May, Parker and Stephanie first confirmed the big news that they were starting a family. They would reveal the sex of their baby on Women's Empowerment Day and express their goals of raising a strong, independent female.
"We feel so blessed to have such incredible family and friends to help us raise a strong little girl," Stephanie shared with us. Parker added, "All I know is that I am going to shower this little lady with more love than she knows what to do with. I'm going to take her everywhere, teach her as much as I can and help her and her girlfriends to take over this world and whip it into shape."
Until their daughter arrives, both Parker and Stephanie's love and affection for one another continues to grow. In fact, the journey to parenthood has only strengthened their relationship that started in high school.
"My lady is a superhero. Women in general are superheroes. I can't imagine growing a little person inside of me and I have the utmost respect for all mothers.  I am sure I'd be a cranky mess, and yet my lady hasn't complained once," Parker shared with us. "I'm so thankful to have such an incredible partner by my side."
Catch Parker on The Imposters Thursday nights at 10 p.m. only on Bravo.
(E! and Bravo are part of the NBCUniversal family)