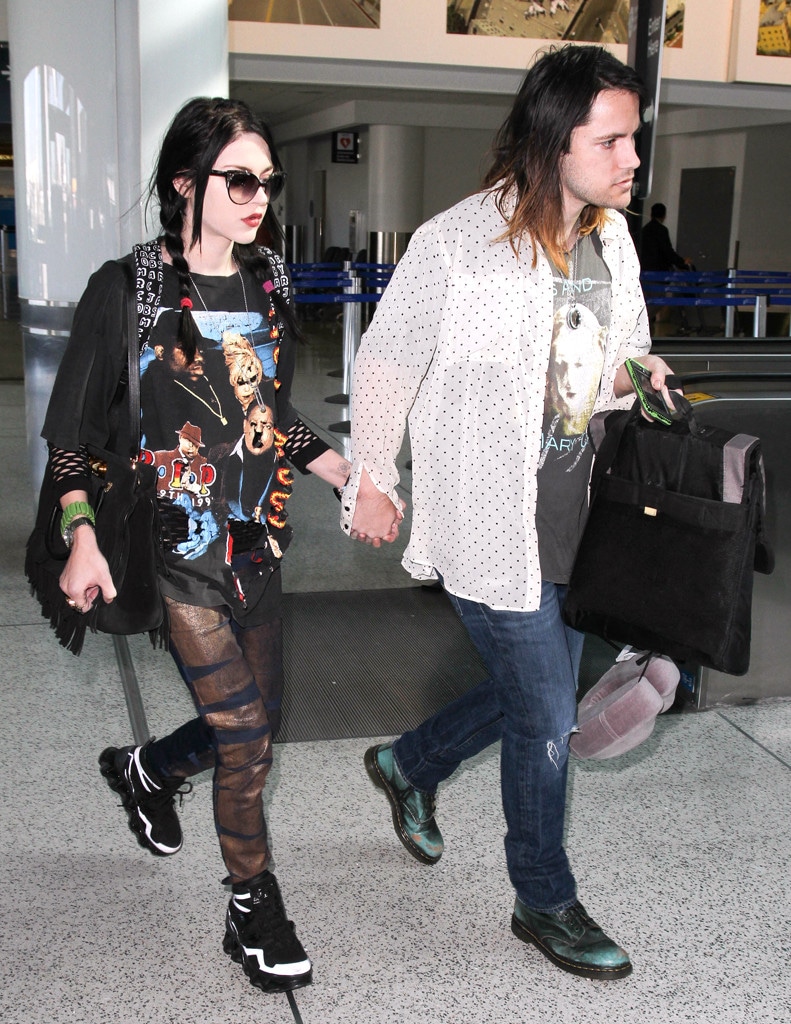 GVK/Bauer-Griffin/GC Images
Frances Bean Cobain's ex Isaiah Silva accuses her mother Courtney Love of helping to conspire to have him killed in order to retrieve one of Kurt Cobain's famous guitars.
Earlier this month, after a two-year legal battle, Frances and Isaiah finalized a divorce to end their almost four-year marriage. They had reached a settlement, under which Isaiah would keep her late father's 1959 Martin D-18E guitar, which he played during his band Nirvana's iconic 1993 MTV Unplugged performance. Isaiah had said she had given him the instrument as a gift, a claim she denied.
Late last week, Isaiah sued Courtney, her manager Sam Lutfi—known for his previous dealings with Britney Spears and Amanda Bynes, his alleged associate 13 Reasons Why and Riverdale star Ross Butler, as well as several other associates, accusing them of planning to kill him in order to retrieve the guitar almost two years ago. They have not commented. 
Rachel Murray/Getty Images for GLAAD
Isaiah states in the court papers that Frances gave him the instrument six months before their 2014 marriage and told him the guitar was a means for him to "form a bond" with Kurt and to welcome him into her family. Isaiah said in his lawsuit he was overjoyed with the gift and immediately texted the news to friends.
Frances filed for divorce in March 2016 and moved out of their home. Isaiah says in the lawsuit that the following June, Sam, Ross and an associate entered his home after breaking glass in a door with a rock, violently assaulted him, then dragged him outside and forced him into the back seat of a car. The lawsuit states that his band mate witnessed the incident and that after the men took him outside, he drove his car to block them from leaving the area. Police then arrived, as the security alarm had been triggered, he said.
Isaiah's lawsuit states that Sam made threats regarding his family, including his daughter, and "concocted a false story" for him to repeat —that the three men were friends from college and that they had played a prank on him, of which his band mate was unaware. He alleges he told the officers what Sam told him to say and that they then left, leaving him with the men, who then allegedly held him hostage for several hours. He said Sam wanted to force him to disclose the location of Kurt's guitar and alternated between making threats and offering bribes.
Alberto E. Rodriguez/Getty Images
He alleges the three left the home just before dawn, after Sam allegedly told him he needed to sign a settlement agreement and ordered him to remain inside until he did. Isaiah's lawsuit states his mother had earlier learned of the incident, as his band mate had texted her, and that she and his sister picked him up and brought him to his family's home. He alleges that during the next two weeks, Sam began threatening and harassing his them and other family members, including his daughter. Isaiah alleges he later obtained a temporary restraining order against Sam.
In his lawsuit, Isaiah also accuses Sam of providing narcotics and illicit benzodiazepines to Frances and Courtney while he and his now-ex were dating and living together.
Isaiah's lawsuit states that Ross routinely delivered the man's drugs to Frances. He also states in his lawsuit that the Los Angeles District Attorney's Office said that Ross could not be questioned over the lawsuit "because he fled to Canada immediately afterward." The actor has not commented. Riverdale films in Vancouver.
 Meanwhile, a separate source tells E! News, "Isaiah has a frightening obsession with Kurt Cobain and will stop at nothing to try and gain possession of Kurt's belongings as witnessed in this baseless lawsuit in which he completely made up absurd unimaginable and somewhat laughable allegations to support his delusions." 
"Kurt would not want this and Courtney will not allow any of it," the source continues. "Frances and the family are prepared to fight with a fury of unprecedented legal force and they will prevail."