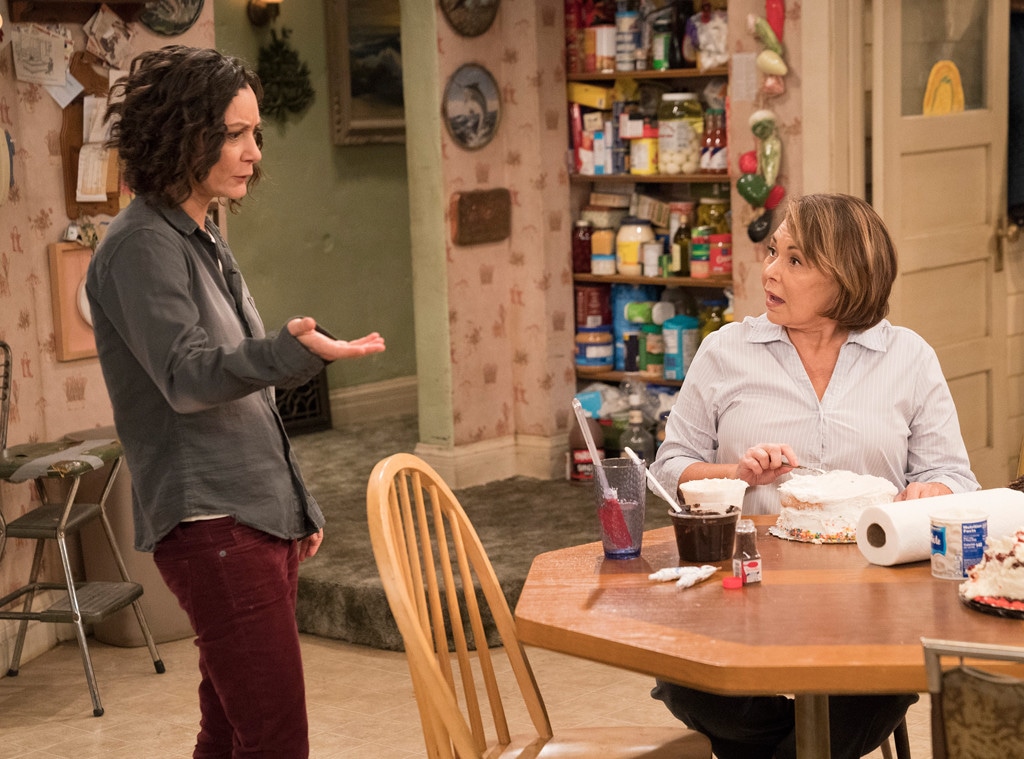 ABC
While Roseanne Barr has apologized for the offensive tweet that incited Roseanne's cancellation, she was less contrite when it came to her co-stars' reactions. 
After the star took aim at former Obama administration advisor Valerie Jarrett in a since-deleted tweet reading "Muslim brotherhood & planet of the apes had a baby=vj," co-stars Sara Gilbert and Michael Fishman issued their own statements condemning her comment. 
"Roseanne's recent comments about Valerie Jarrett, and so much more, are abhorrent and do not reflect the beliefs of our cast and crew or anyone associated with our show," Gilbert, who long portrayed Barr's on-screen daughter, tweeted Tuesday. "I am disappointed in her actions to say the least."
"Wow! unreal," Barr replied in a tweet posted early Wednesday. 
Over on Fishman's Twitter account, the actor, famous for playing son D.J. Conner, posted a lengthy statement in reaction to the cancellation and called his colleague's words "reprehensible and intolerable."
"I believe our show strived to embrace different backgrounds and opinions, through open dialogue," the actor continued in his statement. "While I am going to miss being part of the ABC family, I believe that to sit back, or remain silent in an attempt to distance myself from the actions/statements of others would unintentionally endorse or placate those statements which I find truly offensive. My character was designed to represent the inclusive nature of my views. To represent portions of society often marginalized. In this moment it is important to be clear. We must stand-up against; bias, hatred, bigotry and ignorance to make society a better place for all."
In a retort posted early Wednesday, Barr tweeted, "I created the platform for that inclusivity and you know it.ME. You throw me under the bus. nice!"
The actress' comment was not lost on Fishman. "You fought, built, and designed Roseanne for inclusiveness," he answered back. "That is why yesterday was so out of character with the last 30 years. It was in your hands from the beginning to the end. No one can deny that."
"Please leave me alone, thanks," Barr responded. 
However, the actress verbally rallied behind two of her most famous co-stars when she tweeted, "I just wish ABC had not thrown two of the greatest actors in the world out with me-Laurie [Metcalf] and John [Goodman]. I'm so sick over this-they will never have better character actors on their network."
As for Wanda Sykes, who announced on Twitter she would not return to the show as a consulting producer in light of Barr's comment, the comedian claimed to one Twitter user Sykes' "tweet made ABC very nervous and they cancelled the show."
However, it was Barr's tweet that ABC Entertainment president Channing Dungey cited when she announced the network's decision to cancel the recently revived sitcom.
As Dungey swiftly announced less than 24 hours after the controversial tweet, "Roseanne's Twitter statement is abhorrent, repugnant and inconsistent with our values, and we have decided to cancel her show."
Barr has since explained that she was "ambien tweeting" when she issued the controversial comment and asked in another since-deleted tweet that people not defend her as she did something "unforgivable."
As she replied to a supporter, "I'm not a racist, just an idiot who made a bad joke. thank you for defending me tho."