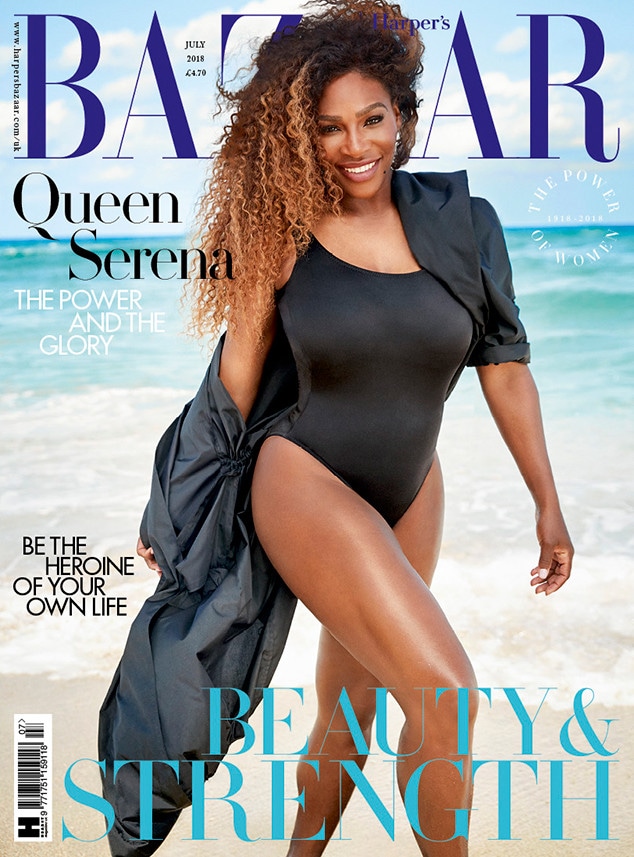 Harper?s Bazaar UK / Richard Phibbs
Serena Williams is finally happy with the way she looks.
The 36-year-old tennis champion and mother of daughter Alexis Olympia Ohanian Jr. had stated in 2004 that she aimed to slim down to a size 4. She no longer has that wish.
"Oh God, I'll never be a size 4!" she told Harper's Bazaar U.K. in an interview published in the magazine's July 2018 issue, which hits newsstands on Thursday and features a photo of a black swimsuit-clad Williams on the cover.
"Why would I want to do that, and be that? This is me, and this is my weapon and machine," she said, gesturing towards her bicep. "But I love that I said that, because I can understand. I can show Olympia that I struggled, but now I'm happy with who I am and what I am and what I look like...Olympia was born and she had my arms, and instead of being sad and fearful about what people would say about her, I was just so happy."
Harper?s Bazaar UK / Richard Phibbs
Harper's Bazaar UK / Richard Phibbs
Williams also drew physical comparisons between her and her 37-year-old sister and fellow tennis star Venus Williams.
"It was hard for me," she said. "I was different to Venus: she was thin and tall and beautiful, and I am strong and muscular—and beautiful, but, you know, it was just totally different.'
In her interview, she also talked about her life as a new mom. On Tuesday, she competed in her first Grand Slam since she won the 2017 Australian Open while pregnant. Wearing what she described as a Black Panther's "Wakanda-inspired catsuit," She beat Kristyna Pliskova in their first-round match.
"If I wasn't playing tennis, I'd be pregnant right now—sorry, I'm one of those women," Williams told Harper's Bazaar U.K. "I've been injured so many times, and played on it, my body is used to adjusting."
Williams also expressed her desire to have more kids with husband Alexis Ohanian.
"I told Alexis I hope it's another girl," she said. "Olympia needs a little sister, and then we can have a boy. I've only been around girls my whole life."