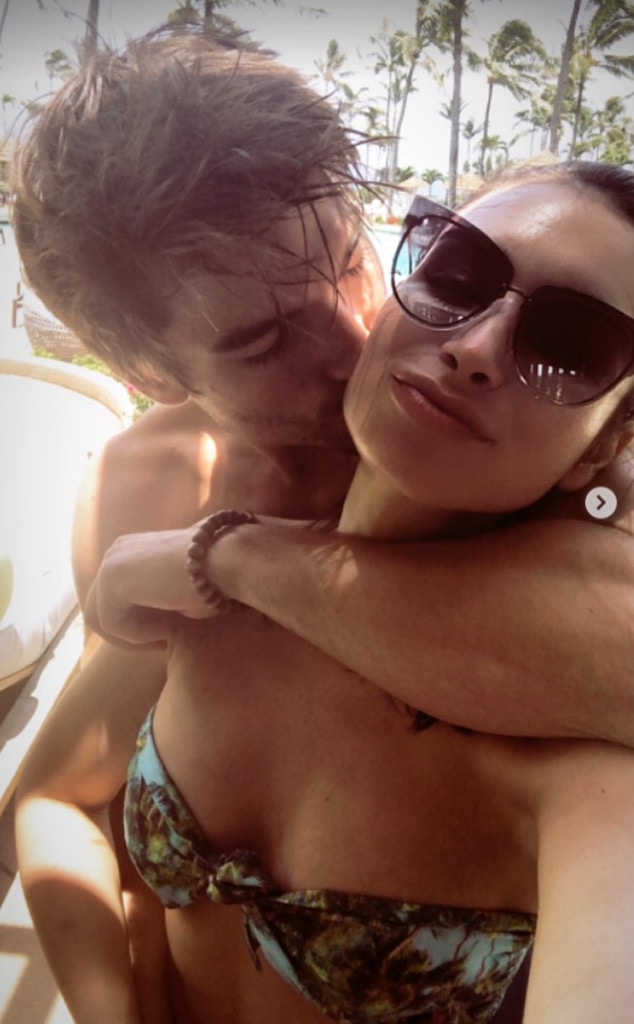 Ashley Iaconetti/Instagram
These two are most certainly on!
Just days after going public with their romance, Bachelor in Paradise reality stars Ashley Iaconetti and Jared Haibon have headed over to Hawaii for a PDA-filled holiday weekend getaway and these two just can't enough of each other.
The two some are currently staying at the Ritz-Carlton, Kapalua and while there Ashley is getting treated to Rob Thomas-style serenades, dinner at the Banyan Tree restaurant, sipping on some champagne and getting in bedside snuggles. Of course, all of it has been documented by the social media-loving couple.
It's a pretty much non-stop makeout sesh with every post—and fans are loving it. 
Ashley Iaconetti/Instagram
In one IG Stories post, Ashley says to their fans, "Jared and I are so overwhelmed by all the love and support thhat you guys have been sending out way. We never expected to get the kind of reaction we've gotten. So thank you, thank you, thank you, thank you from the bottom of our hearts. Every little comment touches us."
Ashley Iaconetti/Instagram
Ashley Iaconetti/Instagram
Ashley Iaconetti/Instagram
The two even shared video of them in bed together.
In a video that shows Ashley wearing a New England Patriots jersey, she says, "This is how much this Giants fan loves this Patriot fan."
Jared then says, "I've never seen her look so sexy."
Ashley Iaconetti/Instagram
Earlier this week, Ashley and Jared shocked fans when they made their big announcement that after three years they'd gone from friends to more.
"Bachelor Nation has seen two chapters of our story. Not the entire thing. We filmed The Story of Us so that we didn't have to condense our story when asked about how we went from being friends to being in love," Ashley and Jared told E! News exclusively. "I'm too emotional to be brief, and apparently so is Jared."
They also released a 45-minute video about their love story, entitled "The Story of Us: Ashley I and Jared."
Meanwhile, earlier in the week, Ashley I also had quite the swinging time, hitting up LA Barre Belle's "sloth" bar class, which was put on by POM Wonderful Antioxidant Super Tea, with Lola the Sloth.
What a week!