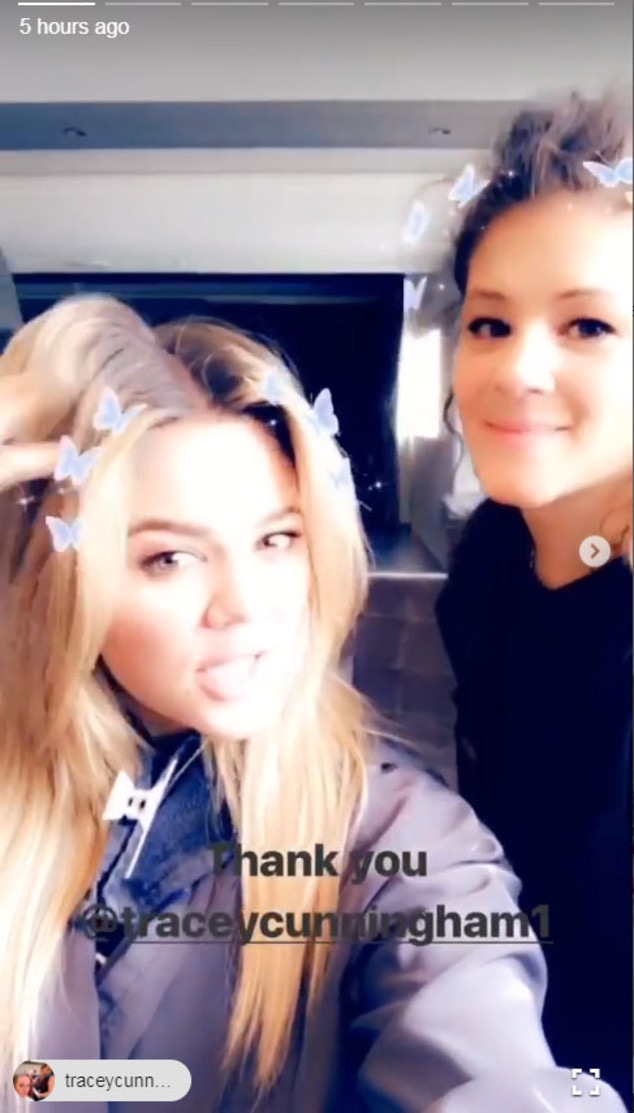 Instagram
That's gotta be one pretty big travel fee!
Khloe Kardashian hopped on Instagram Stories on Saturday to let the world know just how far her hair colorist would go for client—and that's from Los Angeles to Cleveland, Ohio.
The new mom, who has colored her brunette tresses blonde in recent years, posted a video on her IG Stories and said to the camera, "So Tracey Cunningham flew all the way from L.A. because look at these roots! Horrible. She's here in Cleveland like a real sweetie!"
In addition to the reality star, Cunningham boasts A-list clients Jennifer Lopez, Drew Barrymore, Charlize Theron, Toni Collette and Jennifer Garner.
Khloe has ditched SoCal for the Midwest in the past few months to be with boyfriend Tristan Thompson, who plays for the Cleveland Cavaliers, and to welcome their first child together.
Many thought that KoKo would come back home to Cali following Tristan's shocking cheating scandal days before the reality star gave birth to True Thompson on April 11—but the Revenge Body star has kept put in her man's town. She's been spotted supporting him at his basketball game, as well as going on a dinner date.
Khloe has been getting things back in gear just a month and a half after welcoming her daughter, documenting her postpartum weight loss journey.
Earlier this week, KoKo teamed up with one of Tristan Thompson's best friends for a personal training sesh she documented on social media. The male pal caught the new mama laying on the floor, who said she was feeling "so good" but wanted to nap there for the rest of the day. 
During her Snapchat posts on May 21, Khloe explained, "The beginning parts of working out kind of suck cause you're pushing your body so hard. You're so tired and you're trying to get back into your rhythm. And it's much more difficult than I think you expect it to be."
The social media superstar also addressed fans who slammed her for putting focus on her getting her famous form back in gear.
"I've been working out for 11 days now. I feel really good but I'm tired, my body is sore. It's re-waking itself back up. What I'm annoyed about is that I've read a couple of times on Twitter that they feel like I'm focusing too much on my body," said Khloe. "But the truth is I've worked out 5 or 6 days a week before I got pregnant and that's my sanctuary, something I love to do so I want to start doing that now and getting into my rhythm."
The fitness host added that it's important to bring workouts into her life and get used to a "new normal.
Looks like her hair's back to a new normal too!