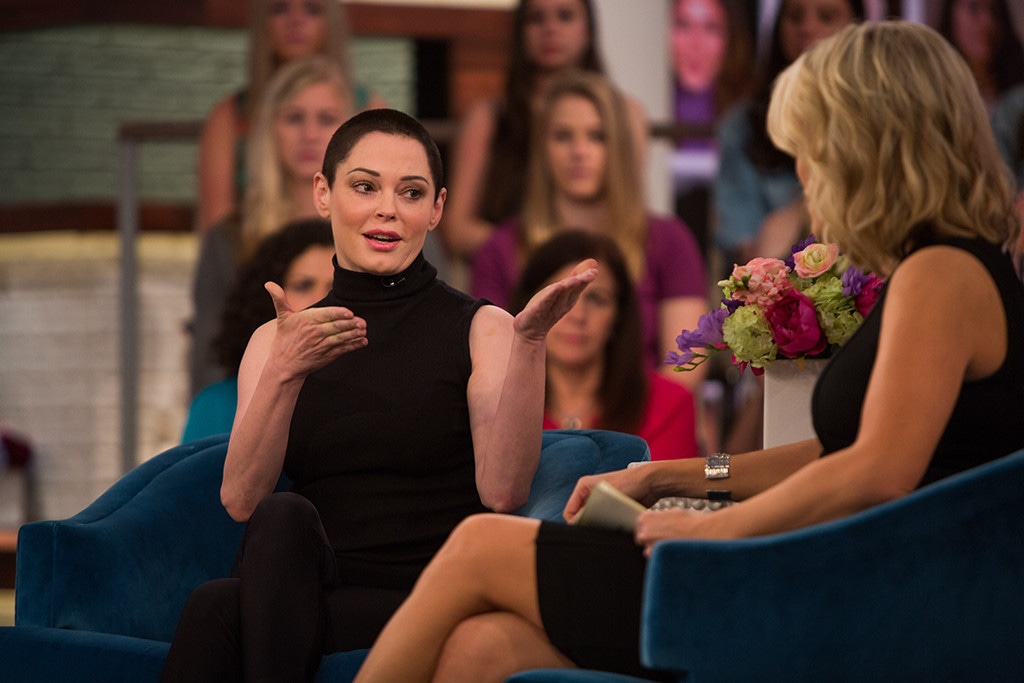 NBC News' <i>Megyn Kelly TODAY</i>
After Harvey Weinstein surrendered to authorities in New York on Friday, Rose McGowan spoke out about the disgraced producer on NBC News' Megyn Kelly Today. 
Weinstein was arrested and charged with rape in the first and third degrees,  as well as with criminal sexual act in the first degree, for forcible sexual acts against two women in 2013 and 2004, respectively. 
"Mr. Weinstein has always maintained that he has never engaged in non-consensual sexual behavior with anyone," Weinstein's attorney Benjamin Brafman said via a statement. "Nothing about today's proceedings changes Mr. Weinstein's position. Mr. Weinstein maintains that he is Not Guilty of the charges filed today and is confident that he will be fully exonerated."
McGowan described the experience of seeing Weinstein in handcuffs as both "surreal" and "real" at the same time. However, she admitted that it was still a "very good feeling." 
The Charmed star told Megyn Kelly she "didn't believe this day would come." She also applauded the women who came forward. The NYPD did the same, stating it "thanks these brave survivors who have come forward."
However, McGowan alleged that Weinstein still "has privileges from  high up somewhere"—noting that he turned himself in on the Friday before Memorial Day weekend, which tends to be a "slow news weekend." 
Still she said "this is a big strike into the heart of abuse of power." 
"It shows people worldwide, which is what I was hoping the whole time, that this cannot and will not stand," she said.
McGowan said Weinstein probably never thought this day would come, either—adding that "the system was created by men like him and his accomplices to protect him."
"He had the nerves to walk in the Women's March down the street at Sundance, where he raped me," she told Kelly. "It's intense."
She also said she knew of a "woman who is sexually harassing somebody," noting that abuse of power is a "gender-neutral" issue. 
When Kelly asked McGowan if she thought she and the other accusers "shamed" Manhattan District Attorney Cyrus Vance into bringing on these charges against Weinstein, the actress replied "absolutely." 
"It's tragic that it takes over 100 women and that probably means like 1,000. Let's be real," McGowan said. "I mean, this man had hunting grounds over the world. He had accomplices and a complicity machine. He was the cult leader of Hollywood, I would say—their king."
Weinstein is one of the many famous faces in Hollywood to face sexual misconduct allegations. While McGowan said she understands there can be a sense of public "fatigue" after hearing all these allegations, she said it is important for everyone to "get rid of the rotten apples." 
"I wanted to show people that if you cut off the head of power, that it will clean house down," she said. "Instead of become activists biting ankles, I wanted to go to the head. I think this whole time, this movement, what it is, is it's just be a good person. Be human. Treat others with human dignity, human respect. There will always be sociopaths and predators like Harvey Weinstein, but I find his complicity machine more guilty." 
When asked what she would say to Weinstein if he were watching, McGowan's words were brief.
"We got you," she said. 
McGowan claimed that Weinstein was a  "constant shadow in her life." Now that he's been arrested, she said she never wants to see him again and that she wants to be "free."
"I will say this: Since the news broke—even though his face is everywhere—I haven't had a single nightmare for the first time," she later added.
In addition to speaking about Weinstein, McGowan spoke about Weinstein's ex wife Georgina Chapman. When asked if she thought the fashion designer knew about the allegations, McGowan told the following story. 
"I was sat between them—between Harvey Weinstein and Georgina Chapman at Cannes about seven or eight years ago. I was purposefully sat there. It was very awkward. She wouldn't look at my face. That's all I'm going to say about that."
Still, McGowan seemed to suggest a form of justice was served today.
"The man who pinned me down had handcuffs on him today," she said.
Ahead of Weinstein's surrender, McGowan took to Instagram to speak out about being "one step closer to justice."
"I, and so many of Harvey Weinstein's survivors, had given up hope that our rapist would be held accountable by law," she wrote. "Twenty years ago, I swore that I would right this wrong. Today we are one step closer to justice. We were young women who were assaulted by Weinstein and later terrorized by his vast network of complicity. I stand with my fellow survivors. May his arrest give hope to all victims and survivors everywhere that are telling their truths."
Back in October 2017, The New York Times published an exposé about Weinstein in which several women—including McGowan and Ashley Judd—accused Weinstein of sexual misconduct. The newspaper reported that McGowan reached a $100,000 settlement with the producer in 1997 "after an episode in a hotel room during the Sundance Film Festival."
At the time, attorney Charles J. Harder told E! News the article was "saturated with false and defamatory statements" via a statement.
Later that month, McGowan accused Weinstein, who has since been fired from his company, of rape via a series of tweets. McGowan is one of multiple women to accuse the producer of rape.
A spokesperson for Weinstein told E! News "any allegations of non-consensual sex are unequivocally denied by Mr. Weinstein." 
McGowan later alleged that "some close to the producer" had offered her $1 million to not speak out about her allegations. She claimed she told her lawyer to pull the offer days before The New York Times ran its piece. 
Weinstein did not comment on her remarks.
People have watched McGowan's legal battle play out on E!'s CITIZEN ROSE. One episode showed the actress moving out of her Hollywood home to pay for legal fees she's racked up fighting "the Monster." She also described Weinstein's downfall as "a long time coming" in the show's promo.
McGowan is currently facing another legal battle. In March, the actress motioned to dismiss a felony drug possession charge that was brought against her after authorities allegedly found cocaine in her wallet. The wallet was found onboard a United flight at Dulles International Airport in January 2017. The motion was denied. McGowan has pleaded not guilty.