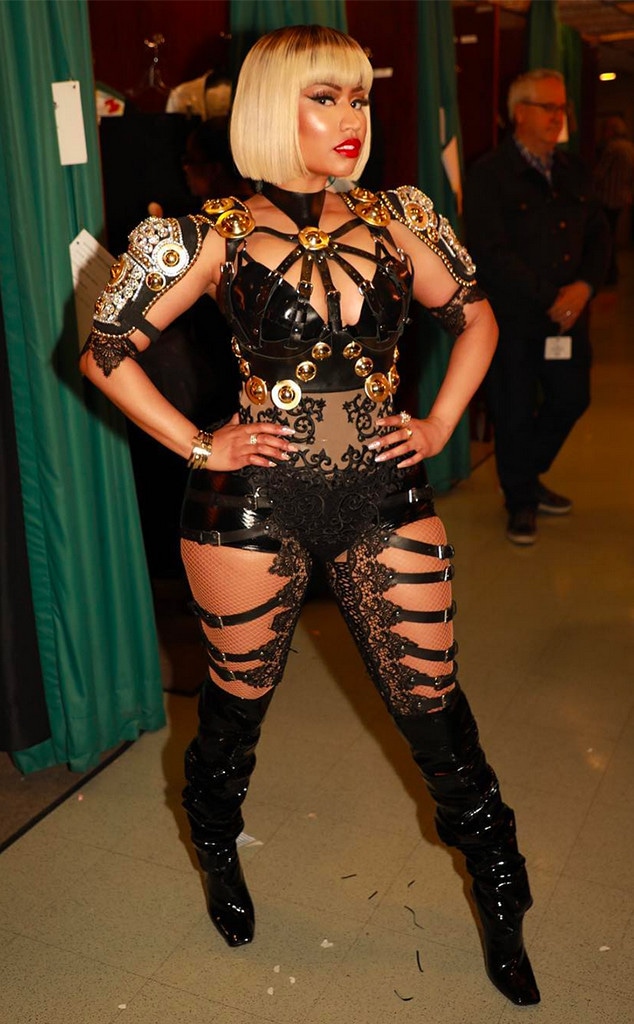 Instagram
Nicki Minaj is asking for a bit more patience from her loyal fanbase. 
Those preparing to drop everything and run to their nearest record store on June 15 were sorely disappointed by the rapper's announcement on Thursday. Her first studio album in four years would not drop on the originally scheduled date after all, Minaj shared on Instagram Live. Queen, as it's titled, will instead come out Aug. 10. 
In April, Minaj released two songs at once, "Barbie Tingz" and "Chun Li," the latter of which she performed on the season finale of Saturday Night Live. The New York native previously described Queen as the "best album I've ever, ever, ever created in my life," and something tells us the delay will be worth the wait. 
Here's everything we know about Nicki's major comeback: 
There's a Perfectly Good Explanation for the Album Delay: 
Nicki chalked up the scheduling snafu to her "perfectionism," explaining, "Trust me, it's the better choice. I can't give y'all half-ass s--t, I just refuse to." The 10-time Grammy nominee also said "some other stuff" regarding her beats further delayed the process. From a business standpoint, Minaj would've faced stiff competition up against fellow rappers with June release dates. Kanye West, Drake and Kid Cudi are slated to drop albums next month, giving Nicki all the more reason to steal the spotlight in August. 
She Drew Inspiration From Princess Diana: 
Nicki compared her own experience as hip-hop's leading lady to the public scrutiny Lady Di faced throughout her life. It's the strength that causes the confusion & fear," she captioned a vintage interview with the late royal. "Why is she strong? Where does she get it from? Where is she going to use it? #WhyDoThePublicStillSupportHer God bless this woman's legacy & every woman who's ever felt like this." 
Mitchell LeffGetty Images
Nicki Promises to Address Her Beef With Ex Meek Mill: 
In an interview with Zane Lowe on Beats 1, the 35-year-old revealed that Queen's lyrics will address her two-year relationship with the rapper, including her involvement in Mill's legal troubles. Just last month, Minaj's former beau was granted bail after spending five months behind bars on a parole violation. 
Nicki's Barbz Will Hear the Album First: 
She's got tricks up her sleeve—three to be exact! Minaj said she'll reveal "three surprises" between June 11 and June 15, including an opportunity to attend a special listening album for Queen. The album art, shot by fashion photographers Mert Alas and Marcus Piggot, will also get a grand unveiling. 
TAO x REVOLVE – DESERT NIGHTS/Al Powers – Powers Imagery
This Will Be Her Most Personal Project Yet: 
In an interview with the New York Times, Nicki said Queen is her deepest album to date. "Sonically, I know what the album's about to sound like," she said. "I know what this album is gonna mean to my fans. This album is everything in my life coming full circle... Now, I can tell you guys what happened for the last two years of my life. I know who I am. I am getting Nicki Minaj figured out with this album and I'm loving her."
The chart-topper dedicated so much of herself to Queen, including a four-month social media hiatus. 
She'll Promote Queen by Giving Away Scholarships: 
In anticipation of Aug. 10, Nicki announced plans to offer money for college tuition and student loans to fans via Twitter.
Her Next Single Is Dropping Tonight: 
Can't wait to hear Minaj's followup to The Pinkprint? She's got you. A new collaboration with YG, Big Sean and 2 Chainz is on its way.