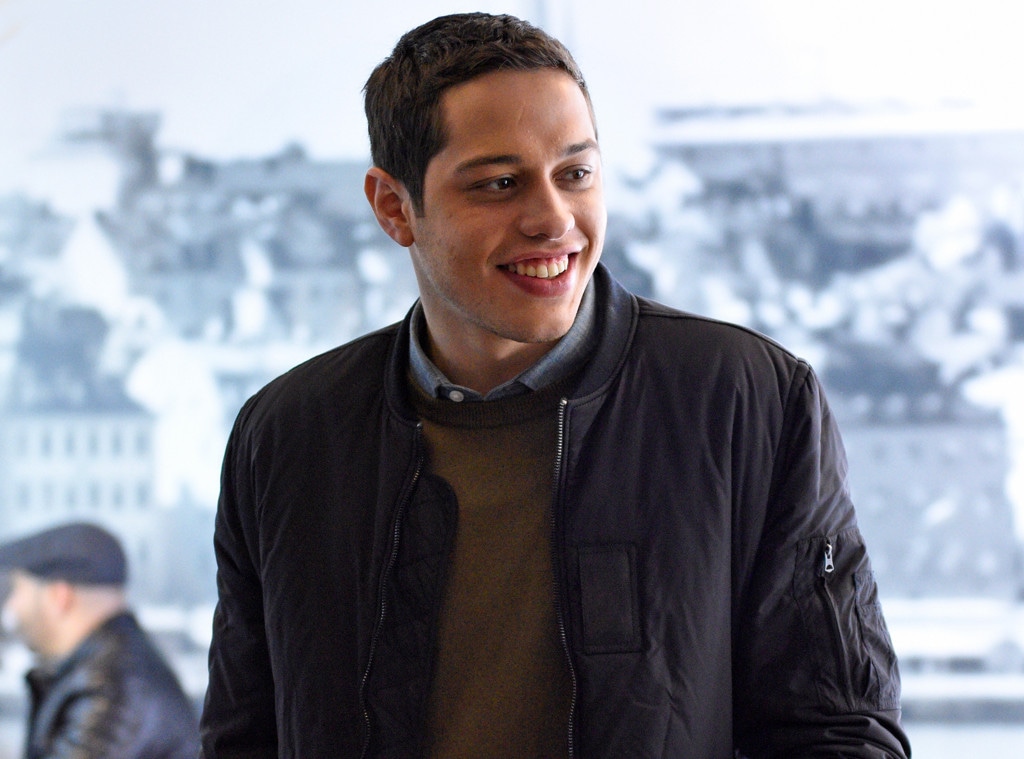 Will Heath/NBC
Of all the raunchy, scathing, years-in-the-making jokes told at the Comedy Central Roast of Justin Bieber in March 2015, nobody had a more memorable one-liner than Pete Davidson.
"I lost my dad on 9/11, and I always regretted growing up without a dad—until I met your dad, Justin," the then 21-year-old comedian said. "Now I'm glad mine's dead."
If you ever wanted to know exactly what a multi-tiered layer of laughter sounded like...that was it. Incredibly amused, shocked, almost a little embarrassed to find that so funny.
But the greater reaction beyond the audience was, Wait, what? 
Davidson had made a name for himself as the youngest-ever cast member on Saturday Night Live, which hired him as a featured player in 2014, and the manner of his father's death wasn't a secret, particularly among the stand-up comedy circuit, but this was the first time a lot of people had heard that tragic portion of his biography. 
The Staten Island, N.Y., native was 7 when his firefighter father, Scott Davidson, was killed, along with a number of others from Ladder 118 in Brooklyn, while his station house was responding to the scene at the World Trade Center on Sept. 11, 2001. His parents were divorced and he's said he has about a year's worth of memories of the family (he has a younger sister) all living together.
It was in the aftermath that he got in touch with his not always morose but certainly unflinching brand of humor, much of it directed at himself.
"When my dad died, I had to go to therapy," Davidson told Interview magazine in early 2015. "My therapist was Afghan. He would be like, 'How do you think your dad died?' I always wanted to be like, 'Why don't you tell me, man? I know you know.' Five people will laugh [when I tell this joke], and the rest will be like, 'Hmmmm, no.' But it's f--kin' funny! Things that I feel really sad about, I talk about. That way, if it's funny, it doesn't hurt anymore."
After the Bieber roast, he further explained his approach to joking about his dad, or the experience of losing him, to the New York Times.
"I'm like, 'Heyyyy, I just want to talk about this, that everybody's uncomfortable about,'" he said. "I like doing that. I like making things that are dark, awkward, weird things that you don't really find funny, funny."
For such a young guy, Davidson racked up a host of credentials ahead of getting the call from SNL mastermind Lorne Michaels in addition to toiling away at his stand-up. He paid for his train rides all over the city to perform at open-mic nights by busing tables (though his mom, Amy, used to drive him, when he got his start at 16).
"I loved the power and the freedom—you gotta listen to what I have to say," he told the Times about doing stand-up. "It was the first time I felt that way."
After opening for Nick Cannon (remember when he was a stand-up comedian?) he landed a job on Cannon's MTV sketch show Wild 'N Out, and then on MTV2's Guy Code. While auditioning for a bit part in the Amy Schumer movie Trainwreck (and got the role playing a hospital patient), he became friendly with Bill Hader, who apparently saw massive potential and got the process rolling for Davidson to get an audition.
Like, a week later.
Hader "called me a week later and said 'Hey, I recommended you to Lorne Michaels,'" Davidson recalled to People in October 2015 after his life-changing previous 12 months. "And I was like, 'Why?' I was just so surprised. I didn't even know that I could audition. And the fact that I got it, I just couldn't believe it."
"Pete's really focused for someone who mostly talks about how much pot he smokes," Michaels, deadpan, praised the newcomer to the New York Times.
Asked what he thought about his newfound celebrity, he replied, "It creeps me out! I hate all of the attention. But I've had the same friends forever and they're cool, so nothing has really changed. Everybody's just like, 'Wow, this is weird!' That's how I feel anyway. It's just really weird."
If he found that weird, news this week that the recently single funnyman is dating Ariana Grande, one of the most talked-about pop stars in the world, may only up the surreality factor.
But Davidson, though still only 24 years old, has dealt with enough challenges for a lifetime, making him wise beyond his years whether he was ready to be or not. 
The SNL star, who was promoted to the full-time cast in 2016, undergoes regular treatments to manage Crohn's disease, has battled substance abuse and was diagnosed last year with borderline personality disorder.
Last year on Marc Maron's WTF podcast, Davidson opened up about the immediate aftermath of his dad's death, which included acting out in class and at one point ripping clumps of hair out of his head. He was never popular and in high school, when he started making funny online videos, it only made him the target of more ire.
Staten Island, where he grew up, "is a terrible place," he said, laughing but not really joking. "...I always thought there was something wrong with me, my whole entire life, I was like 'I have no friends, I've been to three different schools, everybody hates me...It has to be me.' Then I left Staten Island and I was like 'it was literally everybody else.'"
"There is something wrong with me, but it can't be everybody!" he had concluded.
As a boy he started spending summers at a sleep-away camp put on free of charge for kids who lost parents on 9/11, which he loved—and which helped temper the premature loss of innocence.
"I would just love to start [with] no dad," he said frankly on WTF. "...'Cause that kind of taught me what death is, that life could just be taken." Usually it's not until high school when death starts creeping in along the periphery of life experience, he mused. "We're not invincible, but right out the f--king gate" for him.
Sept. 11 is "definitely top three" among tragedies, Davidson cracked. "Us tragedy people, we fight about it all the time at our meeting." 
Michael Loccisano/Getty Images
The WTF chat occurred last September, after he had been to rehab for drug use and, following that, had a nervous breakdown that eventually led to the BPD diagnosis.
He said he was sober and done smoking weed after about eight years of being a pretty devoted user, having started as a teenager when he was accidentally invited to a party (he was there when another guy was getting invited) and he smoked along with a bunch of older people to be part of the crowd.
"I am a pothead," he declared in a smoky sit-down with High Times in the summer of 2016. "I don't think that's my type of comedy, but it's definitely a huge part of my life."
After being diagnosed in his late teens, he actually smoked pot largely to mitigate the pain of the Chron's disease, which causes chronic inflammation of the gastrointestinal system. He performed high, he said, because otherwise he was actually physically uncomfortable.
"I kinda do get a little offended" when people write him off as a stereotypical lazy stoner. "I work really f--king hard and I take care of my s--t. I need weed in order to do that because I'm sick. I have Chron's. It sucks, you know. Smoking weed allows me to do that. I feel like that makes a lot of sense." He was glad he said it, Davidson added, because he thought people should know.
In an April 2016 stand-up special (which aired that October on Comedy Central) he joked that he was going to go to rehab as a Christmas present for his mom.
Davidson did end up taking a break from his day job to seek treatment that December, popping back up on Instagram in March 2017 to fill his fans in on what had been happening.
"Just wanted to let you guys know I'm okay," he wrote in a caption, which has since been deleted along with everything else that came before Dec. 15, when he showed off his Hillary Clinton tattoo. "I know I've kinda been missing, on social media and on the show. I quit drugs and am happy and sober for the first time in 8 years. It wasn't easy, but I got a great girl, great friends and I consider myself a lucky man. I'll always be here for you guys, I promise. Remember to never give up hope because sometimes that's all we got. We are a family and I appreciate all your love and support. It's nice to be back in action."
Explaining what it took to get him into rehab, he said on WTF, "I've been a pothead forever. Around October, September last year [2016], I started having mental breakdowns where I would, like, freak out and then not remember what happened after. Blind rage. I never really did any other drugs, so I was like, 'I'm gonna try to go to rehab. Maybe that'll be helpful.'"
The doctors "told me there, they're like, 'You might be bipolar,' and I was like, 'OK,'" Davidson said. "So they're like, 'We're gonna try you on these meds.' And then I got out [of rehab], and then I started smoking weed again—and I'm on meds." Regular IV drips of Remicade to manage his Chron's had also helped him move past the habit.
On Opie Radio about three weeks after rehab, Davidson said, "I'm healthy and awake, and drinking coffee...No more pot, no more 'shrooms, no more drinking. No more cigs...It sucks, Opie."
"The days are so long and everything sucks," he riffed. "Movies aren't as good. I can't listen to rap." On a plus note, he was sleeping, instead of passing out, having dreams again and waking up with energy (although waking up to realize he'd spent "like 200 grand on weed" was a rude awakening).
"Apparently in a month my doctor says I'll feel great," he quipped.
But what happened instead was, Davidson had a breakdown.
After a few months sober, he had started smoking pot again but felt better because he was on meds. But "two months go by and I just snapped...I had a really bad mental breakdown. I freaked out, thinking 'It has to be weed.'" So he vowed to quit drugs (though he regrets not clarifying he only regularly smoked weed and wasn't on other drugs). "I didn't smoke or do anything for three months...I still felt the same, like something was f--ked up and something was wrong. And I found out I have BPD."
He was still "depressed all the time," but medication plus therapy was "working, slowly but surely," one day at a time. He said, "I've been having a lot of problems. This whole year has been a f--king nightmare. This has been the worst year of my life, getting diagnosed with this and trying to figure out how to learn with this and live with this."
As for the weed, "now it's like occasionally, or whatever."
Davidson credited his girlfriend of two years Cazzie David for being a major part of his support system.
"I just love her very, very much," Davidson gushed to People back in May 2016. David had just graduated from Emerson College at the time and went on to co-create the web series Eighty Sixed, and co-created and is slated to star in the upcoming Amazon series Half-Empty.  
Asked about his girlfriend's famous father, Larry David, the comedian said, "He's the sweetest man in the world, he's the coolest. We get along really well." 
Michael Kovac/Getty Images
"He really loves that I'm dating a comedian," David revealed to Entertainment Tonight in April 2017. "He loves it because he feels like the only people he can talk to are people who also make jokes. It worked out very well."
Jamie McCarthy/Getty Images
Davidson, by her side at the Natural Resources Defense Council's Stand Up For The Planet Benefit in Los Angeles, continued to marvel over his girlfriend, saying, "She's the most beautiful girl in the world, look how lucky I am. She's so smart, look how smart she is. She is a very, very wonderful lady."
Talking about David on WTF a few months later, Davidson tipped his hat to her.
"I don't know how she's still with me. Being in a relationship with someone like myself must be incredibly difficult..but it's always exciting," he cracked. "There's always something new, for sure."
The couple spent a lot of time apart, however, with Davidson living in New York and David in L.A., and a confluence of circumstances ultimately led to them quietly breaking up. Davidson confirmed as much to Complex's Open Late with Peter Rosenberg earlier this month.
And now, he's casually seeing Ariana Grande—who has had her own challenges when it comes to relationships.
Just Wednesday she responded to online critics who slammed her for breaking up with Mac Miller after he had written music about her (just "Cinderella," not a whole album, she pointed out), supposedly spurring him to spiral and get busted for an alleged DUI last week.
"How absurd that you minimize female self-respect and self-worth by saying someone should stay in a toxic relationship because he wrote an album about them, which btw isn't the case (just Cinderella is ab me)," she replied to one particular comment. "I am not a babysitter or a mother and no woman should feel that they need to be. I have cared for him and tried to support his sobriety & prayed for his balance for years (and always will of course) but shaming/blaming women for a man's inability to keep his s--t together is a very major problem."
As for the early stages of her romance with Davidson, whom she seemingly first met in 2016 when she hosted Saturday Night Live, that's all so far—early.
Both 24 and out of two-year relationships, they have a lot in common—and a lot of getting-to-know-you ground to cover.