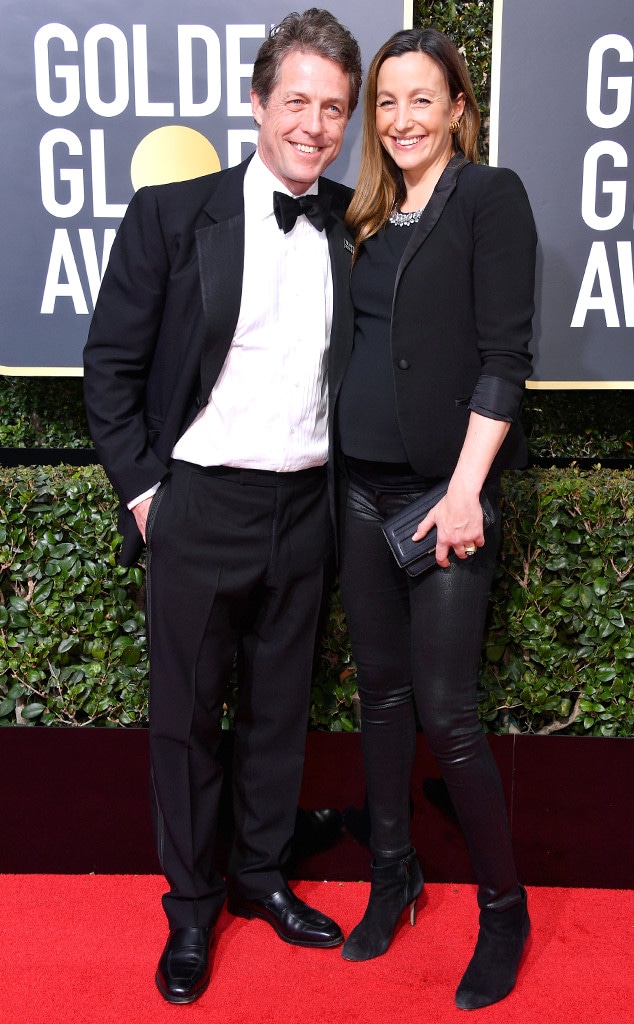 George Pimentel/WireImage
That small earthquake you may have felt was actually just Hugh Grant settling down.
The relentlessly charming actor, whose movie stardom was threatened early on by scandal but who only became more popular after his apology tour, continues to make the most of his 50s. After welcoming five children in the past seven years, he's now reportedly engaged to his longtime girlfriend, Anna Eberstein, the mother of three of his kids.
Grant's rep isn't commenting on the report, but The Sun was the first of several London papers to see the wedding banns—an announcement publicly posted in the Kensington and Chelsea Register Office at Chelsea Old Town Hall, near the couple's home, which stood out even amid all of the royal wedding hoopla over the weekend. (Considering Grant's outspoken dismay about some of the local press' reporting tactics, the tabloid was only too happy to deliver the scoop.)
"This is a day none of Hugh's friends ever thought would come," a source told The Sun. "He will soon be a pensioner and has finally become a family man."
It certainly does seem that the 57-year-old Grant is all grown up...as much as he needs to be. "I seem to have a child every second Thursday," he quipped to the Washington Post in 2016.
The British actor made his presence known on these shores with a vengeance in the early '90s, first as the star of the instant-classic romantic comedy Four Weddings and a Funeral (which established his on-screen reputation as the adorably bumbling suitor) and as the boyfriend of the smokin'-hot model who wore the Versace safety-pin dress to the film's 1994 premiere.
Tim Rooke/REX/Shutterstock
That woman, of course, was Elizabeth Hurley, Grant's longtime girlfriend (not so bumbling, right?) and business partner, and soon-to-be face of Estée Lauder and star of Austin Powers. They had met on the set of the 1988 Spanish film Rowing With the Wind, in which Grant portrayed Romantic icon Lord Byron.
"Hugh did look particularly fine in those cream britches," Hurley jested in an interview. "But I think I might have liked him anyway. There was an instant rapport. He made me laugh."
Grant won a Golden Globe for Four Weddings the following January and the handsome couple seemed to be on top of the world. And they were, until June 27, 1995.
At about 1:30 a.m. on that date, a Tuesday, the 34-year-old was arrested, along with a 23-year-old prostitute identified as Divine Brown, when police came across them in a BMW that was parked on a residential street just off of Sunset Boulevard in Hollywood. His mug shot became one of the most infamous celebrity-wrongdoing images of the '90s. (He later pleaded no contest to lewd conduct with a prostitute and was fined and put on two years' unsupervised probation.)
"Last night I did something completely insane," Grant said in a statement released later that day. "I have hurt people I love and embarrassed people I work with. For both things I am more sorry than I can ever possibly say."
Hurley had spent two years primarily living in Los Angeles while Grant remained based in London or otherwise traveling around the world for work but she had moved back to England to re-settle in with Grant, splitting time between their Earl Court flat and country home about 100 miles outside the city. She was in London when he was busted and was photographed rushing from the office of Simian Films, the production company they shared, into a waiting car.
Ron Galella, Ltd./WireImage
Instantaneously, Grant torpedoed the fleeting notion that someone could be too hot to be cheated on, a lesson that every generation inevitably learns.
While his rom-com cred was understandably called into question, and the pending premiere of the terrified-dad-to-be comedy Nine Months wasn't helping, his theretofore fairly private life with Hurley was thrust into the spotlight, so much collateral damage after his epic screw-up.
"I think it's pretty shocking when it happens for the first time," Hurley recalled on Larry King Live in 2000. "And it's rather like if you remember at school when you used to go into the classroom and you sensed everybody was talking about you. It's kind of a bit like that, actually, everywhere you go. And it's sort of—it's not a really very pleasant feeling, I don't think."
Ironically, just as Grant injected a little octane fuel into Hurley's career, he forever changed the course of late-night television when a pre-scheduled promotional appearance on The Tonight Show With Jay Leno turned into his big first apology interview on July 10, 1995.
"To be honest with you, none of it has been the kind of press you really want. None of it is what you might call nice," Grant told Entertainment Weekly hours before his Tonight Show appearance. "Curiously, though, the suffering one goes through in these circumstances—you don't mind it too much. I almost feel as if I deserve a good whipping."
You could practically hear the tension creaking in Grant's body as he walked out and gave a half-smile of acknowledgment to the applause.
"Let me start with question No. 1: What the hell were you thinking?" asked Jay Leno, who would top the Late Show With David Letterman in the ratings that night and then almost every other night for the next two decades of their late-night rivalry. (Grant visited Letterman a week later.)
"People [have given] me tons of ideas on this one. I keep reading new psychological theories and stuff like that," Grant began, prompting a big laugh. "You know, I was under pressure, or I was tired, or I was lonely, or I fell down the stairs when I was a child or whatever. But I, um, I think that would be bollocks, really, to hide behind that, something like that. I think you know in life, pretty much, what's a good thing to do and what's a bad thing—and I did a bad thing, and there you have it."
(He was stressed: He had recently told Vogue, "I mean, if Nine Months goes well, then maybe I'll go on being at the top. But I think I could quite easily fizzle back to subzero quite fast. And that makes me tense.")
But somehow, it all worked. Grant smiled, he looked exactly like Charlie awkwardly professing his love for Carrie in Four Weddings in a Funeral, and his apology was accepted. He literally charmed his way out of what could have been a snafu that, if not ended his career, made him a laughing-stock. (For longer than it did, that is.)
"He's a wonderful actor, a joy to work with, and I think we should get past this awkward little juncture," Four Weddings director Mike Newell told People at the time.
And we did.
"Contrary to what I read in the paper today, she has been real supportive and we're going to try and work it out. Time is the essence," Grant told Leno. "It might be different with a single man, but it's not funny when you've got someone like [Hurley] hurt." Otherwise, "I'm sure I would be enjoying this [scandal] as much as everyone else, but it's horrible when you're on the other end."
Hurley was by his side—looking not very happy but beyond stunning in a white dress—the next night at the Nine Months premiere. The movie, co-starring Julianne Moore as his girlfriend, was a modest hit, with perhaps not as many people rushing out to see Grant as they would have sans scandal. Yet that proved to be a blip, as the enduring feel-good experiences of Sense and Sensibility, Notting Hill, Two Weeks Notice, About a Boy and Love, Actually were still to come. 
Polygram Film Entertainment
Grant and Hurley, meanwhile, already together for eight years, remained a couple until 2000—and still call each other best friends to this day. Hurley even ranked him a flattering 10 on the bedroom-skills scale when put on the spot by Andy Cohen on Watch What Happens Live. (Never mind that they both called each other brother- and sister-like, even when they were dating.)
Reflecting on how she coped during the immediate aftermath, Hurley told Larry King, "I think luckily I was sort of working like crazy at that time, and I think I worked a bit more. That sort of went into my seven-days-a-week, morning-noon-and-night work stint, which I liked. I loved everything I was doing, and I think I just sort of, you know—you know, I've got great friends, great family. And so, you know, everything turned out OK in the end."
While Grant had said pre-incident that the prospect of marriage was "very scary" to him, and Hurley had said she couldn't imagine not having children by the time she was 40, the then-35-year-old Hurley told King that neither she nor Hugh ever wanted to take that next step, "even though we adored each other."
Asked if she minded Grant dating, Hurley said, "We don't really talk about, to be quite honest. But he says he's very sad and lonely, and stays at home every night having curry and watching TV, but I don't necessarily believe him. I mean, I think we'd both die for each other to be happy."
In April 2002, Hurley welcomed her son, Damian Charles, with producer and real estate scion Steve Bing. Grant is Damian's godfather.
Though he was peripherally linked to a number of women over the years, including Love, Actually co-star Martine McCutcheon, he didn't appear to really be in a relationship with anyone until 2005, when he got together with Jemima Khan (née Goldsmith), the mother of two sons with her ex-husband, Pakistani cricket star turned politician Imran Kahn.
Despite their automatic high-profile status, Grant and Khan never talked about their relationship while they were dating. It wasn't until 2008, a year after they reportedly broke up, that she opened up in Vogue about sensing it was time for a recent relationship to end because the watch her beau had given her had stopped.
"I took it as the clear signal I needed that our time was finally up, though of course I'd known that for months," Khan wrote, per the Telegraph. "Easier this, than to take responsibility for the decision myself." (Grant, meanwhile, had the same watch, a silver and black Italian Panerai—as did Elizabeth Hurley.)
But they too remained friends, with Khan even turning up at the London premiere of Grant's 2016 film Florence Foster Jenkins, for which he earned his first Golden Globe nomination in 14 years.
While they were dating, however, Khan was one of the reported victims of the hacking scandal that would eventually shutter the century-old, Rupert Murdoch-owned News of the World tabloid when it was discovered that editors had been tasking people with hacking into the mobile phones and voicemail accounts of a range of people, from a teen murder victim to British royalty.
David M. Benett/Getty Images for UNICEF
"It was only then that I found that, on a number of occasions, I was unable to access my voicemail messages," Khan said in 2011, according to the Evening Standard, referring to an incident in 2006. "Lo and behold, a few days later, a story appeared in the News of the World, which referred directly to a private phone conversation."
Grant testified during the 2011 Leveson Inquiry at the Royal Courts of Justice about the media's increasingly vicious, invasive tactics to procure information, ironically drawing more attention to himself while advocating for privacy. (Just this past February, Mirror Group Newspapers agreed to pay a reported six-figure settlement to Grant for hacking between 1998 and 2009; he plans to donate the sum to the Hacked Off campaign, as he did with a 2012 settlement from NOTW.)
"Well, I really hate giving newspaper interviews. I don't want people to be able to say, 'Oh look, he's using this hacking issue to get attention for himself,'" he told The Guardian, which had blown the lid off of the nefarious hacking practices, in March 2012 in one of his only interviews on the subject. "It just sticks in my craw if it's about me." 
Grant confirmed to the paper that he was getting so riled up about NOTR during what were supposed to be social outings in recent years, that one night at a club he punched Murdoch's then-son-in-law Matthew Freud. "Er, that is true," the actor said. "I don't want to go into the details, but yeah, he put chocolate cake on my shirt and I lamped him."
He emphasized that he wasn't just arguing for a celebrity's right to privacy. "Your questions are about the trials and tribulations of me as an actor, but my ranting and raving is much more about corruption of the police, intimidation of government; all that kind of stuff," Grant said. "The trials and tribulations of so-called celebrities is the bottom of my list of concerns."
PacificCoastNews.com, AKM-GSI
Grant had even more reason than ever to be particularly particular about his privacy by then, though: in 2011, he became a first-time father.
He welcomed daughter Tabitha Xaio Xi with Tinglan Hong, though he says he purposely didn't show up for the birth so as not to tip off the press (he went the next day). The new parents eventually obtained an injunction to keep photographers and reporters away.
"Had we not got the injunction, I'm sure [Hong would] be in China by now. She is a good person, a nice person; funny, clever, great mother," Grant told The Guardian. "And she's been very badly treated by the media."
Having openly expressed ambivalence, and sometimes downright disinterest, about having children, Grant said, "I like my daughter very much. Fantastic. Has she changed my life? I'm not sure. Not yet. Not massively, no. But I'm absolutely thrilled to have had her, I really am. And I feel a better person."
His rep actually referred to his and Hong's relationship as a "fleeting affair" when Tabitha was born, though it was long enough to also produce their son Felix Chang in 2012. Yet right around when Felix was born, son John Mungo, with Anna Eberstein arrived.
Seriously, what can't Hugh Grant charm his way out of?
Kevork Djansezian/NBC/NBCU Photo Bank via Getty Images
He and Eberstein went on to have a daughter in 2015, and their fifth child together arrived earlier this year—none of them births that Grant himself commented on.
"He had one last week," Hurley spilled the beans on Watch What Happens Live in March. "He has five. He was over 50 when he spawned them all." The star of The Royals on E! called Grant "an enchanting dad. Really, really sweet. Having these kids has transformed him from a very miserable person into a fairly miserable person. It's improved him. He's gone up the scale."
Funny enough, the family-man-inization of Grant started re-pulling the actor out of the attention-averse shell he'd built around himself since he voluntarily retired from dashing-slash-aw-shucks leading man roles to meatier character turns, or stuff he could sink his fun-chops into like The Pirates! Band of Misfits or last year's Paddington 2.
"It's surprising that everyone was right all these years, saying, 'Hugh, why don't you have some children? It really changes your life,'" Grant said on The Ellen DeGeneres Show in 2012, when Tabitha was 6 months old. "And you're thinking, 'Oh, shut up.' And now that I have, it is quite life changing. I recommend it. Get some!"
And then it was full speed ahead on the Hugh Charm Express.
After Jon Stewart revealed to Stephen Colbert at a fundraiser in December 2012 that Grant in 2009 was his worst-ever guest on The Daily Show, Grant tweeted (he got a Twitter account to promote Hacked Off), "Turns out my inner crab got the better of me with TV producer in 09. Unforgivable. J Stewart correct to give me kicking."
Frazer Harrison/Getty Images
"I get very annoyed when people think that I am, sort of, nice, or diffident, or a polite gentleman or Englishman," he quipped on Watch What Happens Live in 2015. "All of those phrases make me gnash my teeth. I'm a quite nasty piece of work and I think people should know that." He also re-confirmed his platonic commitment to Hurley, saying, "She's still my absolute best friend. She's my number one person I call in a crisis."
On The Late, Late Show With James Corden in 2016, Corden told Grant if he remembered meeting each other at a party, after which Grant proceeded to tell Corden everything about his life. 
"I do that now," he deadpanned. "I really don't know why. I have to stop. I can't stop telling people my innermost secrets." He turned to Bryce Dallas Howard next to him, adding, "If there's anything you want to know, Bryce." Grant admitted, "It was really weird, because I spent half my life campaigning for privacy—and the other half, revealing everything about myself."
While they were on the subject, Grant did go to therapy once. "I went mad in 2007," he said, recalling a vacation in the Maldives full of massages that left him emotionally devastated. On the plane ride home "I burst into tears, and I couldn't stop crying for three weeks. It was completely absurd. I'd go to a cafe and they'd say, 'Do you want skim milk or regular?' and I'd burst into tears."
He turned out to be as appealingly self-deprecating about fatherhood as he was about acting and his personal life—and as unassumingly candid, revealing at one point that he didn't exactly live in the same house as his girlfriend and the kids, but they were right around the corner.
A "rather unusually shaped domestic arrangement," he called it in 2016.
"It's just lovely to have all that love around," the actor told People editor Jess Cagle earlier this year. "Suddenly you love someone more than yourself. It's unheard of in my case. And they love you, and it's all enchanting." He was enjoying being more discerning when it came to picking roles, adding, "I have 400 children and so many other things in my life," so "what's nice is when work comes along, it tends to be a bit more challenging. I'm too old and ugly to be the young leading man in romantic comedies now, thank God." 
Just this past weekend Grant was winning rave reviews for his performance in the BBC series A Very English Scandal, in which he plays Jeremy Thorpe, a promising Liberal Democrats leader whose career derailed when he became the first British politician to ever be put on trial for conspiracy to commit murder over an assassination plot against his former lover, played by Ben Whishaw.
"Everything (bar the stutter) that made him a romcom star is still there, but now there is everything else too," wrote The Guardian's Lucy Mangan.
And now, though Charlie vowed never to say "I do" at the end of Four Weddings and a Funeral, he's getting his rom-com ending, too. Grant's come a long way since his days of fearing marriage—or at least he figures the timing is right.
"I can see the lovely aspect if you marry exactly the right person—your best friend and it's cozy and it's lovely. But, people make so many mistakes," he said on The Howard Stern Show in 2016. "Do I think human beings are meant to be in 40-year-long monogamous, faithful, relationships? No, No, No. Whoever said they were? Only the Bible or something. No one ever said that was a good idea...I think there's something unromantic about marriage. You're closing yourself off."
Or perhaps he's actually just closer to the ideal scenario he expressed, however facetiously, to the Los Angeles Times in 1994, before Four Weddings came out, before his arrest, before all of it.
"Did I tell you my views on marriage? About the Von Trapp marriage and The Sound of Music?" he jauntily proposed to the interviewer. "This is my dream of a nice marriage: to be in a big schloss, with enough space so that you and your wife can avoid each other, with a lot of servants to bring the children down, in sailor suits, preferably in step, at 6 o'clock in the evening, have a quick look at them and then send them off to bed again.
"But I cannot seem to envision myself living in a nice semi-detached house in South London with two squawling children on the floor with all those hideous toys that they seem to have now. I can't bear those horrid primary colors—they're really offensive."
With five children, a fiancée and a lot of space in case he needs some quiet time, it sounds as though Hugh Grant is living, more comfortably than he could have envisioned, somewhere in between.