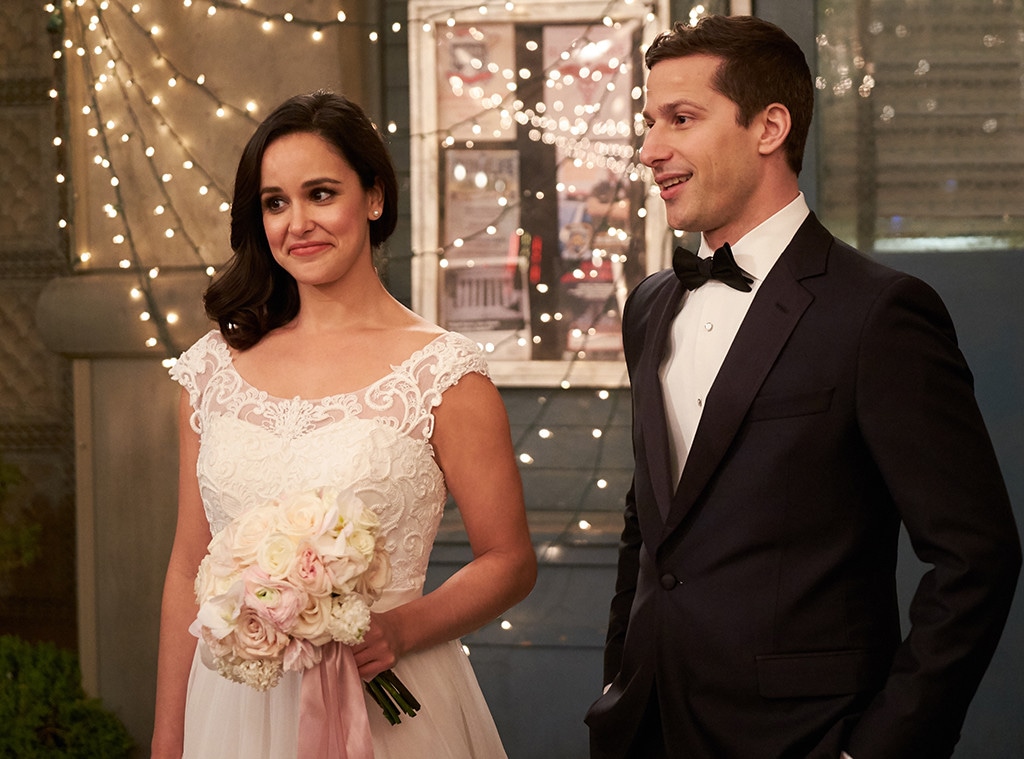 Fox
Congrats to Jake Peralta and Amy Santiago on the biggest wedding of the weekend!
OK, maybe it wasn't the biggest of all the nups, but the Brooklyn Nine-Nine event definitely the toitest of all the nups, even if the original planned ceremony did not go even slightly as planned. 
Everything was a go for Jake and Amy's long-awaited wedding (including Cheddar the corgi as the ring bearer!!) until Jake got a mysterious call that told him there was a bomb in the venue. That meant the bomb squad had to come in and investigate, which is how we learned what had become of Amy's ex-boyfriend, Teddy. 
Teddy now leads the bomb squad, but he hasn't changed that much. He's still totally obsessed with Amy, and more than happy to ruin her wedding. It only sorta worked. 
In true sitcom wedding form, Jake and Amy ended up having an impromptu wedding outside the precinct. Charles put it together, Holt officiated, a robot was the ring bearer, and Amy wore the definitely-a-wedding dress that Gina had originally been planning to wear as a guest at the wedding. It was, of course, much more perfect than the original event was ever going to be. 
We teared up while we watched Prince Harry and Meghan Markle get married, but we haven't had five seasons to fall in love with them as a couple like we have with Jake and Amy, so there were some true sobs that fell out of us during those beautiful, perfect vows. 
"I do have some bad news. There is a bomb at this wedding as well. Your butt. Your butt is the bomb. There will be no survivors," Amy cooed to Jake as he started to cry. 
Meanwhile, Rosa Diaz fell in love with an Uber driver played by Gina Rodriguez, and of everything that happened in tonight's finale, this was the plot that made us most thrilled that Brooklyn Nine-Nine was saved. This still may be the end of an era as the show leaves Fox, but boy can we not wait for a new era at NBC with Rosa falling deeply in love with Gina Rodriguez. 
We also can't wait to find out whether or not Holt gets the police commissioner job, which was the night's real big cliffhanger as Holt finally read his email and then incorrectly believed the squad could figure out the answer from his unchanged facial expression. 
Every character on this show is perfect and hopefully will be cherished next season at their new home. 
Brooklyn Nine-Nine will return on NBC. 
(E! and NBC are both part of the same NBC Universal family.)