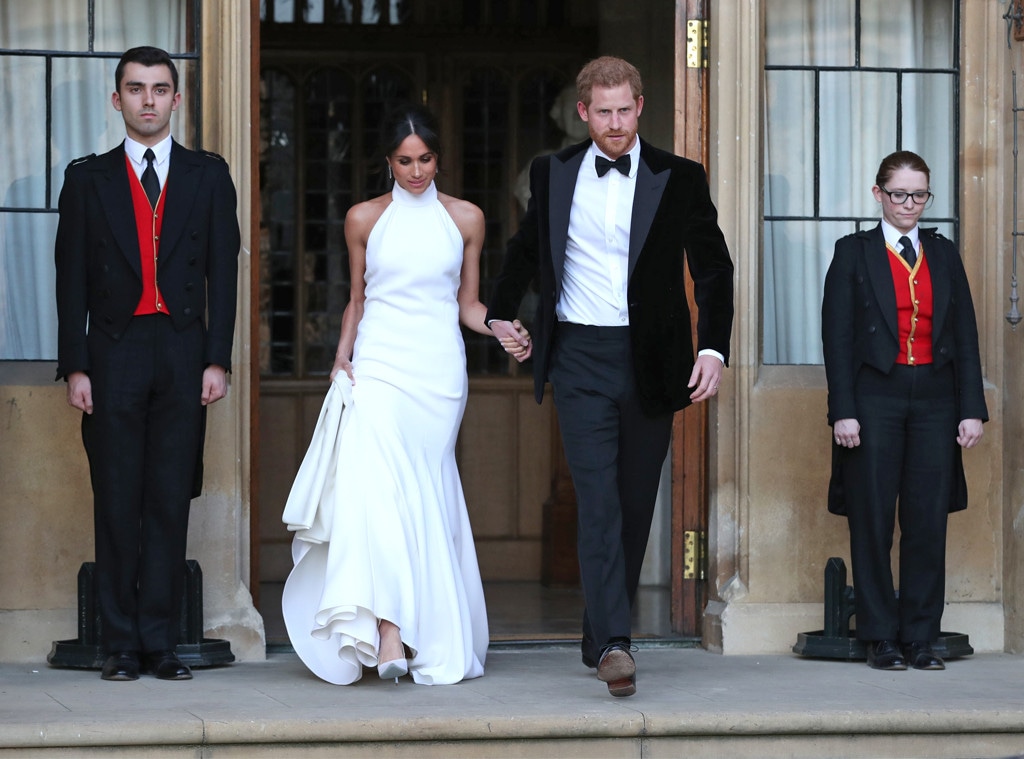 Steve Parsons/PA Wire
The royal wedding continues! After saying "I do," Prince Harry and Meghan Markle arrived to their second reception of the day. 
The newly minted Duke and Duchess of Sussex smiled for photos as they made their way into Frogmore House on the grounds of Windsor Castle. Both Prince Harry and Meghan switched from their formal bridal attire into glamorous, black tie ensembles. The stunning bride wore a Stella McCartney design, while her groom looked suave in a classic tux. 
Prince Harry and Meghan arrived in style behind the wheel of a silver blue Jaguar E-Type Concept Zero. In a sweet touch, the license plate read "E190518," today's date. 
Prince Charles is hosting the Saturday evening gathering, which boasts a much more exclusive guest list than the preceding reception and ceremony. 
Only about 200 of Prince Harry and Meghan's closest family members and friends are expected to attend—a fairly intimate group in comparison to the 600 individuals who were inside St. George's Chapel as the couple exchanged vows. 
Following the royal couple's carriage procession through the town of Windsor, the wedding congregation settled into St. George's Hall for Queen Elizabeth's luncheon. Guests were served a traditional wedding breakfast consisting of canapés and bowl food. Elton John toasted to the newlyweds with a special performance. 
As for what's to come from the second, more private celebration of Prince Harry and Meghan's love, it's anyone's guess. Few photos from inside Prince William and Kate Middleton's after-hours reception in 2011 were made public, and it's safe to say their new in-laws will fancy a similar level of privacy. 
Congratulations to the happy couple! Now dance the night away!