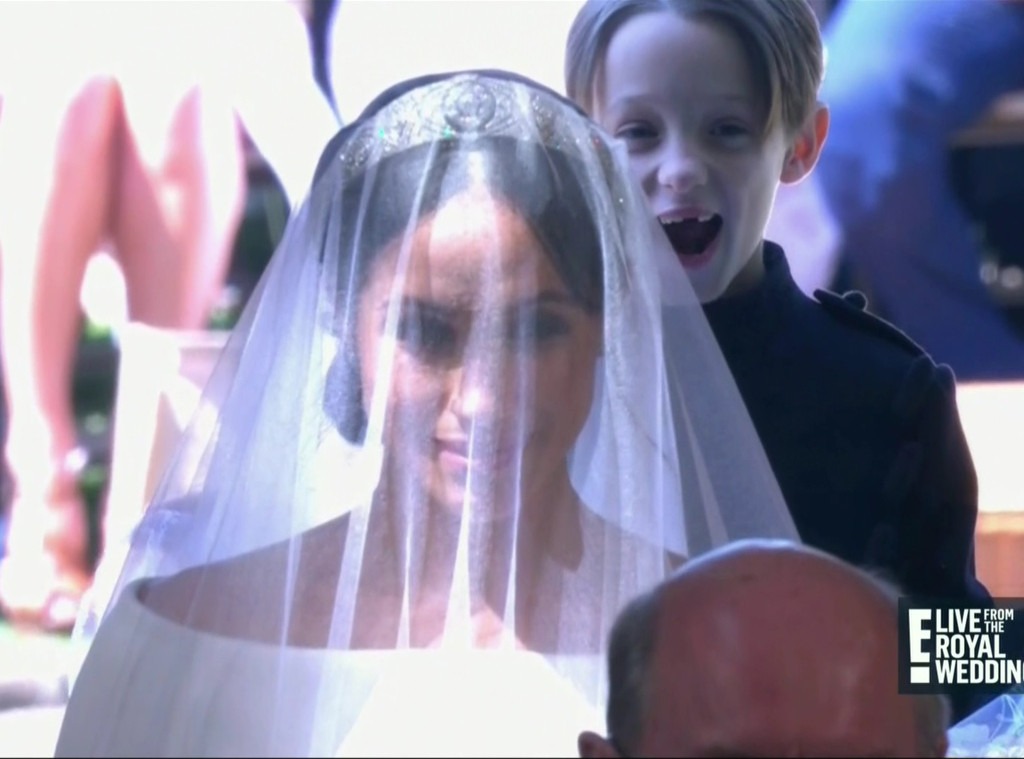 Meghan Markle got a little help from two little guys on her special day. 
The beautiful bride sported a custom-made silk tulle veil with a trim of hand-embroidered flowers in silk threads and organza designed by Clare Waight Keller. Being five meters long, the American star needed a hand getting down the aisle with the tulle following behind her. Enter 7-year-old twins Brian Mulroney and John Mulroney.
As the sons of her dear friend, celebrity stylist Jessica Mulroney, the youngsters played a special role in the ceremony as two of the page boys. With the absence of a maid of honor, the brothers were given the unique duty of carrying the veil as Markle made her way down the aisle inside St. George's Chapel and back out as a married lady. 
As a result of their responsibility, the two had the unique opportunity of riding in the vintage Rolls Royce Phantom with Markle for the last part of her ride to the chapel. 
ANDREW MATTHEWS/AFP/Getty Images
Once the bride emerged from the car, the two assisted their mother as they rearranged the veil outside in preparation for Markle's grand entrance. 
While they were offering a helping hand, the little guys also became two breakout stars during the ceremony as they adorably upheld their duty in sync. When the bride reached the entrance to the chapel, the horns sounded and one of the brothers could be seen over her shoulder looking absolutely thrilled with a wide grin on his face. 
Just like that—a pint-sized star was born!
The brothers could easily be spotted in the group of page boys and bridesmaids as their black Blues and Royals miniature frock coats stood out against Markle's white veil. From start to finish, they carried out their responsibility with attention and joy. As their mom later captioned a photo of the two of them holding the veil, "Proud Mom Moment."