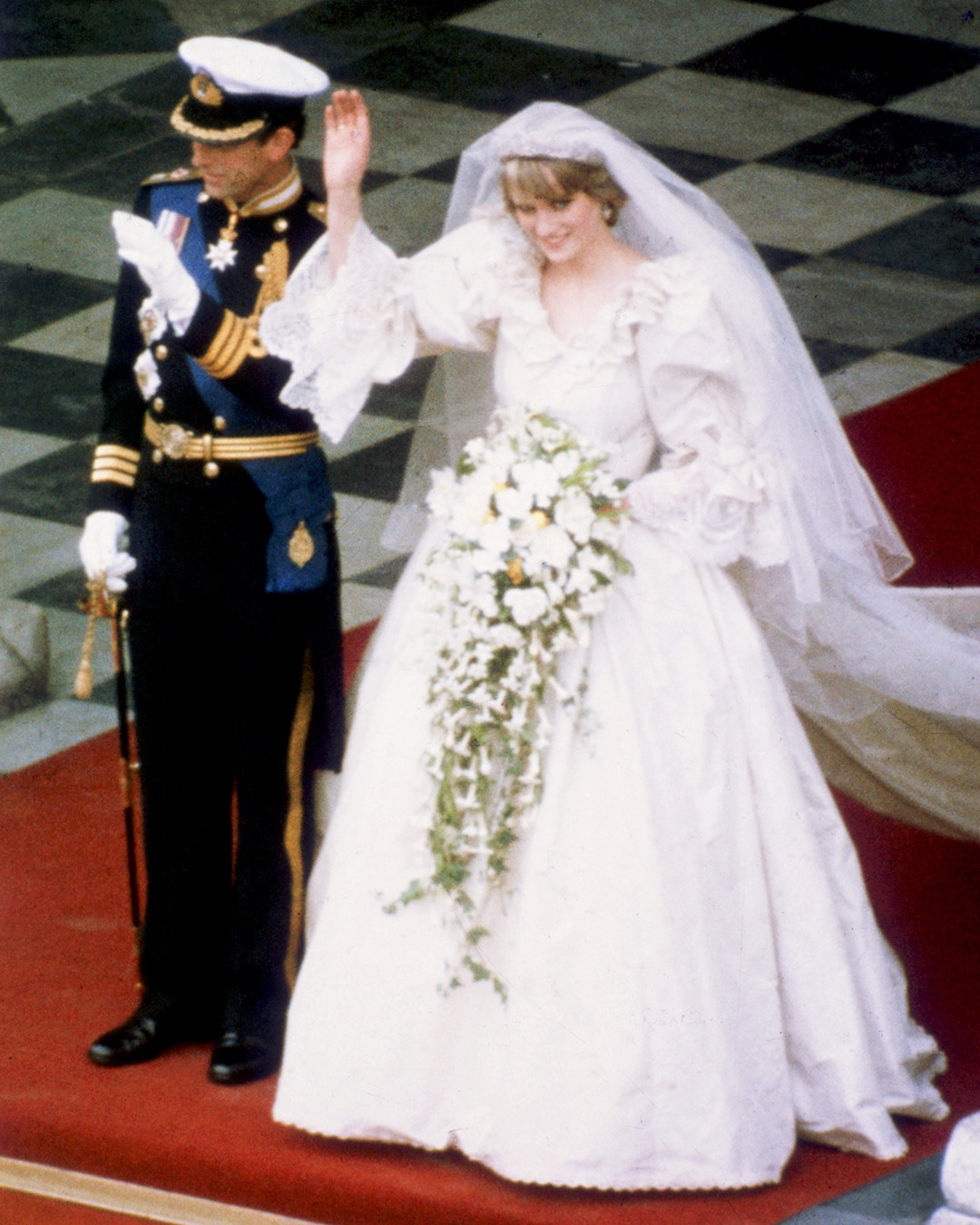 Hulton Archive/Getty Images
What a difference!
At first sight, Princess Diana and Meghan Markle's wedding dresses may not have looked very similar. The late princess' David and Elizabeth Emanuel 1981 design was textured and voluminous, while her daughter-in-law's Clare Waight Keller creation was surprisingly simple, considering rumors leading up to the wedding had many thinking the dress would be heavily embellished. But both custom pieces were thoughtfully designed and may be more similar than you think. 
Total Mysteries: Princess Di's romantic taffeta gown was a closely guarded secret until her wedding day, while speculation about Meghan dress kept going until the minute she emerged from the Rolls-Royce Phantom. Until it was revealed to be Givenchy, many thought Stella McCartney, Ralph & Russo or Alexander McQueen may have been the design house of the moment! 
DANNY LAWSON/AFP/Getty Images
The Long Haul: Princess Diana's train measured in at an impressive 25 feet in length. And her veil extended past the hem of the dress, with a whole length coming in at 153 yards (read: 459 feet!) of tulle! Although Meghan train was much shorter, the Duchess of Sussex's silk tulle veil, which took hundreds of hours to sew, came in about 16.5 feet. 
All in the Details: Just one look at Princess Diana's dress will you tell you in was embellished to a tee, featuring intricate embroidery, exaggerated sleeves and 10,000 pearls. Meghan's very streamlined gown didn't feature many embellishments, letting the double-bonded silk cady fabric, which was sourced from mills across Europe, take center stage. Her veil, however, was just as intricate as the late princess' dress, incorporating flora from all 53 countries in the Commonwealth and her home state of California. Crops of wheat were also delicately embroidered at the front of the veil, to represent love and charity.
The Crown: Or shall we say tiaras! Who could miss the bling atop of their gorgeous heads. Like Meghan, who was lent Queen Mary's diamond bandeau tiara by Queen Elizabeth II, Diana was offered a stunning headpiece by Her Majesty. However, she decided to wear what is now known as the Spencer Tiara, which is made with diamonds shaped into tulips and stars.
Watch:
Meghan Markle Arrives at St. George's Chapel
Sure, the two dresses may have looked entirely different, but both brides were and are undeniably stunning!