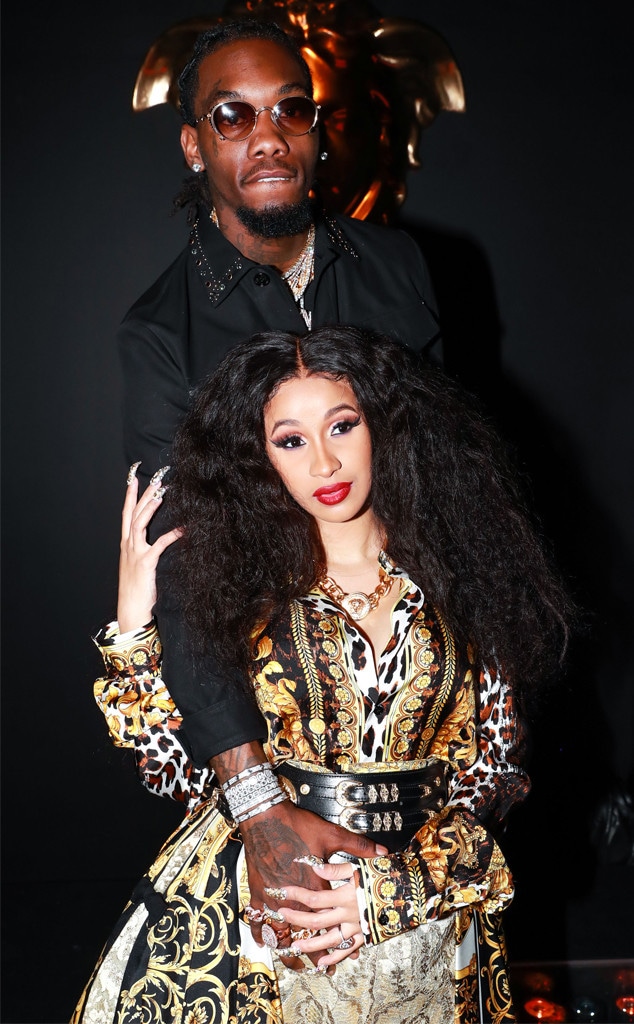 Neil Rasmus/BFA/REX/Shutterstock
Cardi B is speaking out after her fiancé was reportedly involved in a car accident.
In a new message posted on Twitter, the "Bodak Yellow" rapper expressed her gratitude for Offset.
"Sooo grateful and happy today," she shared with her followers. "God be giving messages in the weirdest way. I love you @OffsetYRN."
According to TMZ, the Migos rapper wrecked his green Dodge Challenger late Wednesday night in Atlanta.
As a result of the accident, Offset was taken to the hospital for minor injuries. The outlet reports that he's already been released and is expected to be okay.
The timing comes as the couple prepares to welcome their first child together. During an appearance on Saturday Night Live back in April, Cardi B ended any and all speculation when she revealed her baby bump to the world.
"The love I'm receiving is overwhelming!" she wrote on social media. "I can't thank you enough for always finding the time to share your support!!"
Since then, the former Love & Hip Hop star has performed at the 2018 Billboard Latin Music Awards and the Coachella Music Festival.
She also confirmed she will be having a baby girl and will not be planning a wedding anytime soon.
"People that don't have this job wouldn't understand...truth of the matter is that's it's hard to plan a wedding right now," Cardi told Howard Stern. "First I am not having a wedding pregnant. I want to wear my dream dress and I want to get drunk on my wedding and I want to go on a honeymoon and I want to be drunk for a whole week."
She added, "I know for a fact though next spring we are planning our wedding. but it has to be planned at to a point where there's no worries."