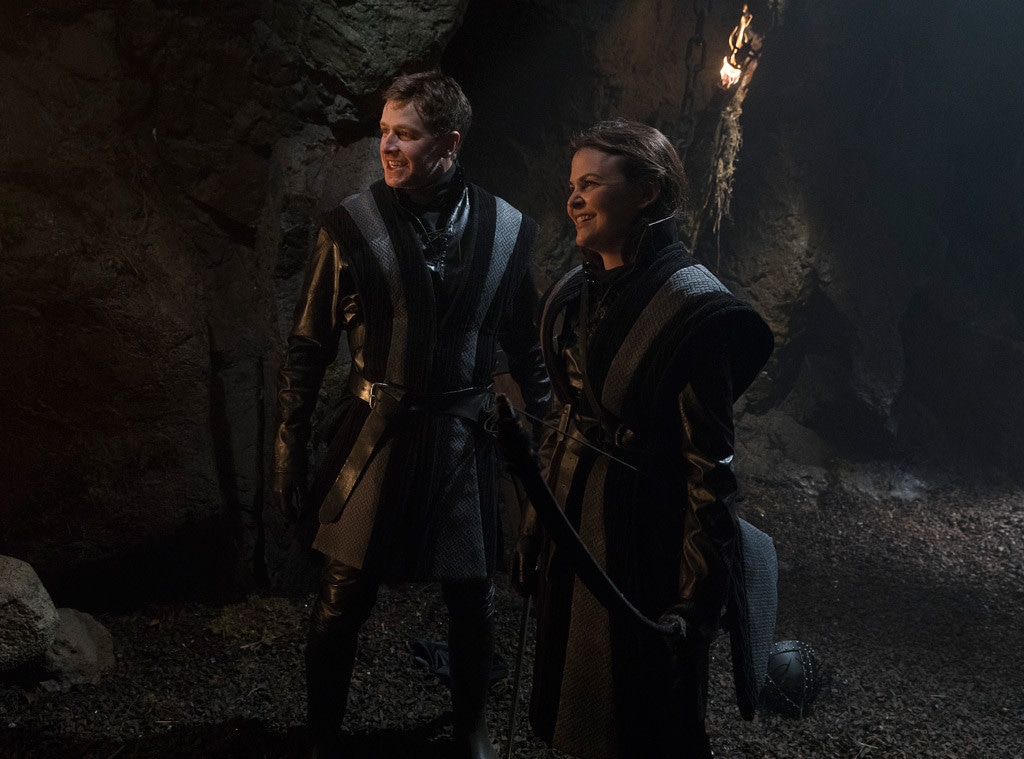 ABC
Ginnifer Goodwin and Josh Dallas are saying goodbye to Once Upon a Time all over again.
The former stars of the long-running ABC fantasy series famously walked away from the show one year ago as a part of the creative reboot that saw most of the original cast written out and Storybrooke left behind at the end of season six. But when the network delivered the verdict that season seven would the show's last, it was abundantly clear that the story wouldn't feel complete without one last appearance from Snow White and Prince Charming.
"I mean, it's a privilege. It's a privilege to come back. We were wondering why it took them so long to invite us back," Dallas told E! News with a laugh. "But we're glad that they did. You know, it's a show that is so important to us. For me, it will always be the thrill of my life to have been a part of it. And to come back was a no-brainer. Of course we couldn't wait to come back."
The show's cancellation hit Goodwin hard, she admitted. "I cried through the last day," she said of filming the final hour, which will Alice (Rose Reynolds) and Robin (Tiera Skovbye) travel to Storybrooke to recruit some formidable familiar faces to journey with them into the Wish Realm to rescue Regina (Lana Parrilla), Hook (Colin O'Donoghue), Gold (Robert Carlyle), Henry (Andrew J. West), Ella (Dania Ramirez) and Lucy (Alison Fernandez) from Wish Rumple. "Because somehow, I thought that it was always going to be there, and it kind of was because it was the show that never ended in the best way." 
When asked how they think fans will feel when the credits roll and it's all over, the couple, who met, fell in love, and started a family while working on the series, were optimistic. 
"I think they'll be satisfied. It's extremely emotional, but it's hopeful, which, you know, Once Upon a Time has always been about hope. I think it brings it full circle. It started out with the Evil Queen and Snow White and Charming and it ends with the Evil Queen, Snow White and Charming," Dallas admitted. "I think they'll be satisfied with how it turns out. It's always been a show about hope and it's a show about second chances and it's about the choices that you make that define your character. And you'll really see that at the end of this."
His wife concurred: "What he said."
Though this may officially be the end of the road for our beloved Storybrooke citizens, Goodwin remains steadfastly proud of what the show accomplished in its seven seasons on the air. "I mean, this is a show that has been championing complex, strong women since the beginning, since before the illumination of the Hollywood mess," she told us. "I also think it's striking that it's a show that the fans have told us they have watched with the various generations of their family. That's a kind of unusual thing."
Unusual, sure, but what good fairy tale isn't?
Once Upon a Time's series finale airs Friday, May 18 at 8 p.m. on ABC.