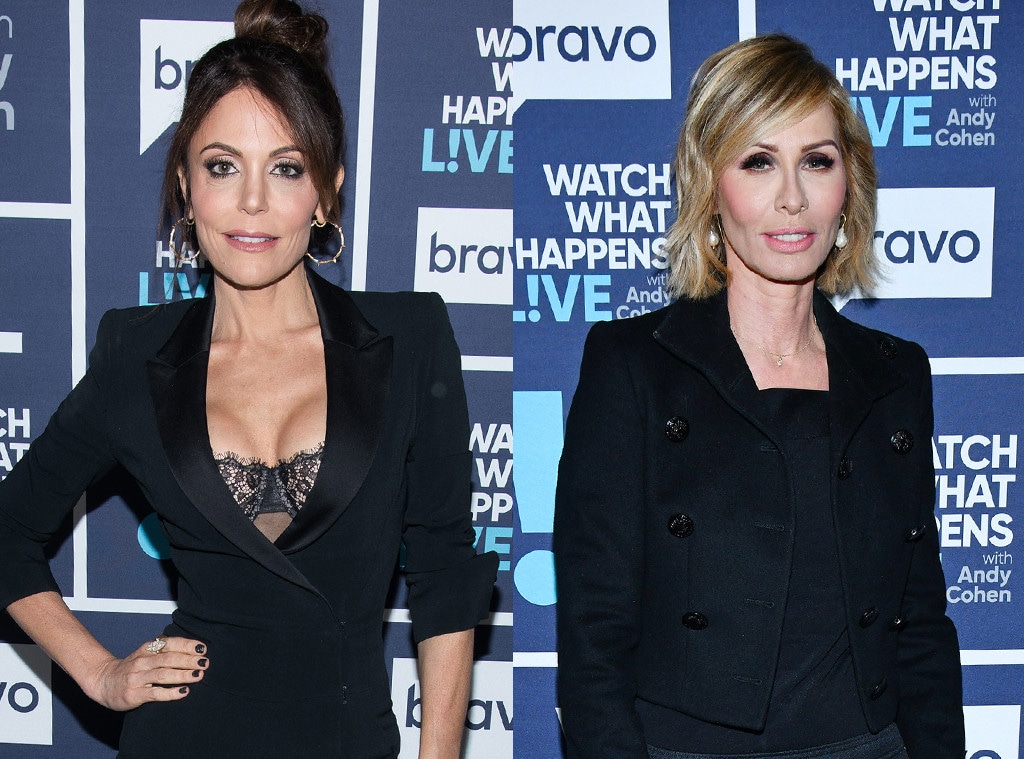 Charles Sykes/Bravo
It seems Carole Radziwill has had enough. The Real Housewives of New York City star took to her Bravo blog to address events that were depicted in the Wednesday, May 16 episode of the reality series, specifically statements made by her costar Bethenny Frankel.
The two costars became friends off screen and started spending time together when cameras weren't rolling. When the season 10 trailer dropped, it included scenes alluding to some kind of friendship fracture between the two. As the season progressed, the two made comments in the show and in interviews. Now in her blog, Carole goes all in.
The May 16th episode featured Bethenny and Dorinda Medely in Puerto Rico, working on the relief effort following the hurricane that ravaged the country.
"I'm glad to see my friend Bethenny step outside her affluent bubble, with her stream of rich boyfriends, rich friends with private planes, million dollar homes, and five-star resort vacations. One gets the impression this is the first time she's witnessed real poverty," Carole wrote. "It can be life-changing. I know it was for me, many years ago when I first covered tragedies as a journalist. The shock of having, then losing, one's home and all its possessions (and having the guts and dignity to soldier on) is awe-inspiring. It is partly why I quietly give money to charities and political campaigns I believe will make a difference in the world. And why, years ago, I created my own charitable foundation."
During another scene in the episode, Bethenny and Dorinda, now back in New York City, discussed their trip and Bethenny said she asked Carole's on-again off-again boyfriend Adam Kenworthy to accompany her on a relief trip as a photographer. Bethenny said Adam wouldn't do it without being compensated and she felt he was a bit of an "operator."
"Dorinda is being used as a pawn to further Bethenny's agenda and she doesn't quite know it — yet.  Not only am I a high maintenance, eyelash-wearing, fashion-obsessed, childless friend who doesn't have a job and isn't interested in what's going on in the world, but guess what, Adam is too (minus the lashes)! As a woman, it makes me sad to watch another women, who I thought was my friend, talk behind my back with such cattiness and disrespect. But it makes good television and in the end that is Bethenny's one true friend. Pass the popcorn," Carole wrote.
"All I'll say about the latest bunch of insults, including the bizarre claim that I don't have a career, is this: I will put my resume up against Bethenny Frankel's any day of the week. When Bethenny was auditioning for B movies, I was travelling for ABC News to places similar to what you saw in Puerto Rico. After that I worked in publishing and wrote for national magazines, and now yes, I am on Reality TV. The irony isn't lost on me that while Bethenny is gossiping about me over pizza with Dorinda, I'm working," Carole continued.
Carole went on to say Bethenny's success, aside for some in the catering world, has been in reality TV. She cited her Apprentice and Housewives roles as opening the door for her to launch Skinnygirl.
"Reality TV has been very good to her. She worked hard, and I'm glad to see she is giving back. I've been her biggest cheerleader. I show up at all her launch parties, from booze to sparklers to candy. Last year in Mexico, I wore my Skinnygirl hardhat with enormous pride," Carole said. "Unlike Bethenny, I don't need to be biting and self-righteous in order to make myself feel better, smarter, or more successful. I hardly recognize the woman on television shaming women simply for having different opinions and interests."
In her post, Carole continued to defend Adam and his charitable work and slam Bethenny for "partying in Ibiza" when Hurricane Harvey hit last summer.
"So get off my jock and if you're going to come for me — you better not miss," Carole concluded. "You did a great thing in Puerto Rico, then you let your ego get the best of you. I'm still rooting for you…Until next week…"
Read the full blog post here.
The Real Housewives of New York City airs Wednesdays, 9 p.m. on Bravo.
(E! and Bravo are both part of the NBCUniversal family.)