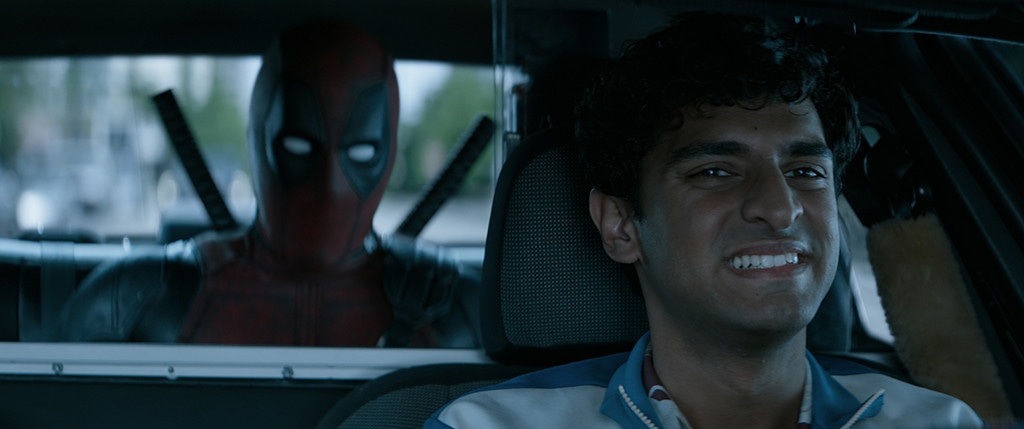 Twentieth Century Fox
The Merc With a Mouth has more to say.
According to critics, Deadpool 2 is badder and bolder than its 2016 predecessor. The R-rated blockbuster, in theaters Friday, opens with Wade Wilson/Deadpool (Ryan Reynolds) traveling around the world to enact justice (in his own special way) and prevent further criminal activity.
Without spoiling too much, he briefly becomes an X-Men trainee…and let's just say his style differs from Negasonic Teenage Warhead (Brianna Hildebrand) and Colossus (Stefan Kapičić). So, Wade assembles a team of his own: X-Force. With some assistance from Weasel (T.J. Miller) and Dopinder (Karan Soni), he recruits Domino (Zazie Beetz) Peter (Rob Delaney), Bedlam (Terry Crews), Zeitgeist (Bill Skarsgård) and Shatterstar (Lewis Tan) to save Russell/Firefist (Julian Dennison) from Cable (Josh Brolin), who traveled back in time to kill the orphaned teen.
Other actors who appear in director David Leitch's film include Jack Kesy as Black Tom Cassidy, Shioli Kutsuna as Yukio, Eddie Marsan as The Headmaster and Leslie Uggams as Blind Al. As always, audience members should keep their eyes peeled to see some celebrity cameos.
Here's what critics are saying about 20th Century Fox's Deadpool 2:
• "Like the first movie, Deadpool 2 will test your limits for 'just because,' but if you like insanely over-the-top action sequences peppered with the fourth-wall-breaking non sequiturs that are the character's stock in trade—yes, the name 'Firefist' will be mocked, and yes, Deadpool calls Cable 'Thanos' at one point—then you'll be just as amused and entertained this time around as before," The Wrap's Alonso Duralde writes. Reynolds' "snark level continues to operate at maximum capacity," he adds. "Does Deadpool 2 pick up its predecessor's baton and run off to new and exciting places? Not really. Is it as tasty as leftovers on the second day? Absolutely."
• "Deadpool 2 is, if less of a surprise than its predecessor, just as funny; if it's less sexy, that doesn't mean you're not going to get to see the protagonist walking around with no pants; it just means that if the sight turns you on, you ought to be ashamed," The Hollywood Reporter's John DeFore writes. There are many action scenes, but the film "doesn't bog down in it as many overcooked comic-book sequels do. With Reynolds' charismatic irreverence at its core, the pic moves from bloody mayhem to lewd comedy and back fluidly, occasionally even making room to go warm and mushy. On the latter front, the filmmakers walk a fine line between embracing Deadpool's mock-everything appeal and needing to make Wade a credible, emotional human."
• "It's not easy to capture lightning in a bottle twice, and it's even harder to push boundaries when you're playing it safe," The Los Angeles Times' Jen Yamato writes. "In Deadpool 2, the manic antics fly fast, but the franchise loses its edge as wise-cracking antihero Deadpool goes dadcore, attempting to infuse standard-issue four-quadrant studio blockbuster beats into what was once a revolutionary R-rated premise." Reynolds' "superhuman charisma" is a plus, but "the film nevertheless feels too much like more of the same: more of the same gross-out gags, more of the same irreverent jokes, more bits where Deadpool has to regrow severed limbs to the disgust of everyone around him, more running commentary on the movie he's in..."
• "Deadpool 2 is chock-full of all the cartoonish ultraviolence, meta commentary and pop-culture references you'd expect. Where it surprises—and why it works so well—is how it balances an actually touching undercurrent alongside superhero subversiveness," USA Today's Brian Truitt writes. "Hilariously self-aware and satisfying on multiple levels," it "continues the relentless lampooning and scattershot jokes of the first movie," but with "a much better story."
• "Despite a tendency toward elephantitis in story and scope, not to mention blatant franchise pandering, Deadpool 2 still plays like the runt of the comic-book litter," Rolling Stone's Peter Travers writes. "We mean that as a compliment." And by this point, "Deadpool is Reynolds' spirit animal, a role he wears like a second skin. No one could play this wiseass assassin better."
• "Deadpool 2 might not be exactly the sequel we need, but it feels like the one we deserve. If the first outing was a scrappy, self-referential riff on the noble tropes of superherodom, the second is all that again, squared: a mega dose of meta (or is it a meta dose of mega?) rolled in radioactive goo and stuffed inside a cinematic piñata of fourth-wall breaks, severed limbs, and Yentl jokes," Entertainment Weekly's Leah Greenblatt writes. But the "numbing sameness to the casual bloodshed" gets stale. "It's in Deadpool's DNA to channel the wild id of a 12-year-old boy—a very clever one who happens to love boobs, Enya and blowing stuff up. Which is dizzy fun for a while, like eating Twinkies on a Gravitron. Eventually, though, it just wears you out."