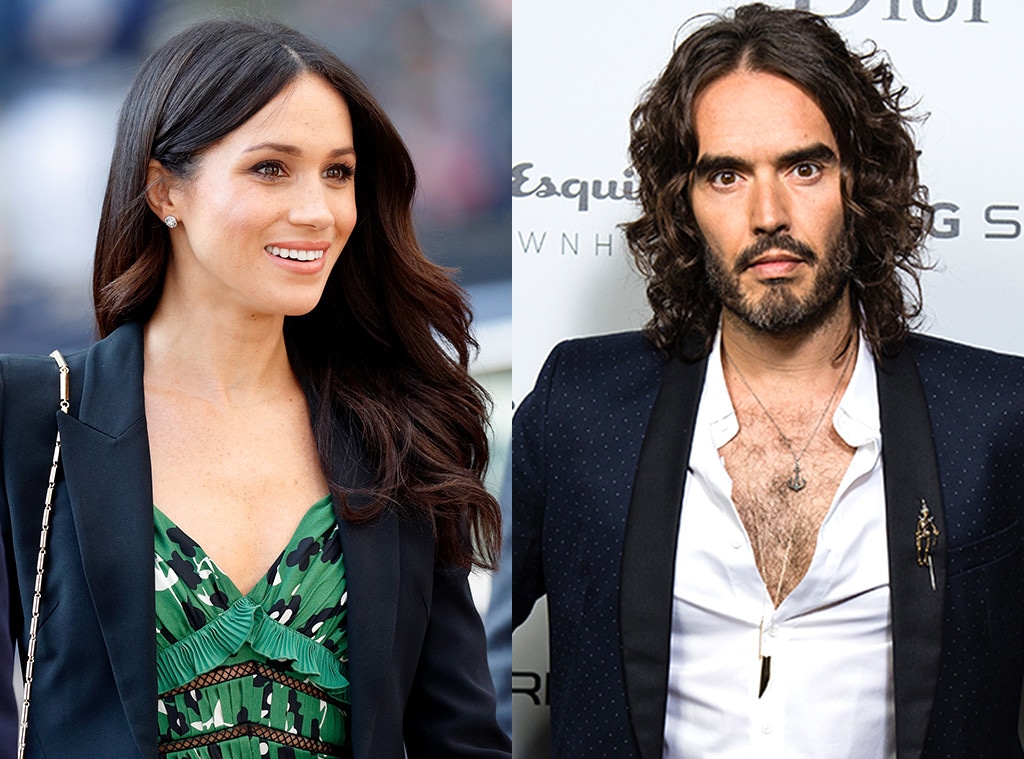 Max Mumby/Indigo/Getty Images, Jeff Spicer/Getty Images
Looks like Meghan Markle's got a thing for Brits!
Turns out before Prince Harry, Meghan snogged another Brit—well sort of! The one-time actress actually kissed Russell Brand back in the day and now the unruly funnyman is dishing all about the 2009 kiss with the future princess, which turns out happened while filming a scene for Get Him To The Greek.
During an episode of the British show Andrea McLean asked if the rumors he'd locked lips with Prince Harry's betrothed were true.
The Forgetting Sarah Marshall star replied, "As a matter of fact it is. But let me say, before you get carried away with it—there's a wedding on Saturday, focus!."
The quick-witted Brit made sure to add, "She was in a film I was in, Get Him to the Greek, it was a bloody good film, Meghan Markle, didn't know at the time because she wasn't married to a royal person."
Of course, he said it wasn't that memorable. 
Brand continued, "I don't remember the film that much, I was still out of it, but I think I planted one on her in the scene. It was scripted in the scene. I only know this because I think I saw a clip of it somewhere."
The loquacious comic added, "Meghan Markle, there we go. They should bring that up at the wedding. 'If anyone has any reason to....'"
He then did an impression of someone stopping the wedding, which is slated for this Saturday, and yelling, "Yeah, Russell Brand snogged her in the film!''
During the appearance, Russell also updated his fans on how his mother Barbara Elizabeth after she broke her neck and back in a car crash
"She had a broken back, broken neck, eight ribs... "But she's making a remarkable recovery due to her spirit and the incredible National Health Service and the people that work there do such phenomenal work.
"It's unbelievable."
In April, Brand announced the end of his comedy tour to his fans due to her accident.
In April, Brand took to social media to announce he'd postponed his ReBrith tour due to his mom's accident.
In a video, Brand said, "My mum has been a serious road accident and has sustained…numerous life-threatening injuries, so I won't be able to do the rest of my Re:Birth tour," Brand said in an emotional video taken from the hospital and posted to social media."
Glad to hear she's doing well!